The Best Insulated Garage Doors
Insulated garage doors are in real demand now - but which ones really work?
The increase in requests and sales for insulated garage doors has been enormous in the last few years and it's not hard to see why. Now that garage doors with very real weather sealing and insulation properties are readily available the older one piece up and over garage doors look pretty useless in comparison letting dust, leave, rain and of course cold air in on all sides in many cases making your garage cold and filthy. But which ones are best for insulation?

Sectional Garage Doors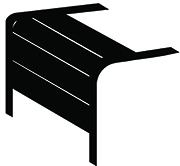 These vertically rising style doors split into several sections and are constructed in 20 or 42mm thick insulated steel panels. They are about the best insulated doors for normal domestic type garage doors. The U-values achieved can be very good if installed BEHIND the garage aperture and also installed correctly with consideration given to the floor levels for the best seal possible and a complete overlap at the sides and head to act as a thermal break. Far too often small compromises in the width and more often the height will mean that you have a door fitted with 42mm panels doing their job up to say 7 feet high and then a single skin layer of steel fascia fitted to make up the gap to the lintel. While this works fine for sealing the opening it does not give the maximum benefits for insulation, so always consider this if insulation is your primary objective. Hormann, Carteck, and Garador all offer either purpose made sizes or additional insulated fascia panels where required.
Roller Garage Doors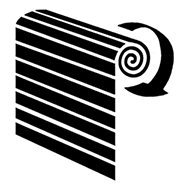 The term 'insulated roller garage door' is widely used, but is a bit misleading as it is almost impossible to get a descent and accurate U-Value rating on a roller shutter garage door. Roller doors are constructed from an average of 24 horizontal double skinned slats, all technically with a small gap between them.
Whilst there is a definite benefit from having these insulated slats, not only for strength but also for some insulation, as they are on average 19mm thick , the installed door will have very different insulation values depending on many varying factors. Rubber or brush type weatherseals in the guides or on the head fascia, a full hood cover for the roll and how much overlap the door slats have to the side and the head will all contribute to how good the insulation will be but do not expect an accurate U value. Also some roller doors do use considerably thinner slats than others so do be aware of what you are being quoted for with this type of door as many features are definitely 'brushed over' in the promotional material.
Side Hinged Doors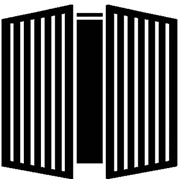 Traditional timber side hinged doors with all the right frame work stops and a good tight fit will actually provide quite a good insulation value. Timber itself is a good insulator, depending again of course on the type and thickness of the timber used. GRP (fibreglass) is also relatively good as well with the same criteria. Recently however
Carteck Doors released a range of side hinged garage doors all made to order as standard with a factory fitted aluminium fixing sub frame and with double rebated edges all round with built in rubber seals. The actual door leaves are constructed using their high quality sectional garage door panels which are 42mm thick, foam filled steel. The overall result is a pair of strong, insulated side hinged doors of high quality, available in a variety of designs, colours and sizes with many double glazed window options. These doors are definitely a very good option for any garage where the use is mainly for a workshop, office, gym, playroom or similar.
Up and over garage doors have one basic flaw when it comes to insulation and that is the whole door panel has to move through the sub frame when opening and closing and therefore has a gap all around the perimeter. Generally most up and over doors do not offer very good insulation but some effort can be made with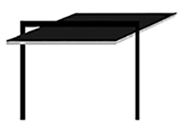 optional insulation packs to add insulation boards to the rear of the panel for example. Again some of the timber doors by their very nature will also give insulation although it helps if the door is fitted with a steel sub frame with built in weather stripping and a descent door stop on the head frame. Underneath the door can be catered for with any number of weather seals available for the door or the floor. They will never be as good as the above options but can be made to be OK for use in the relatively temperate climate in the UK.
To conclude, if you really do want to make your garage as insulated as possible then look at the double skinned sectional doors. LPU42, GSW40, and others all with the 40-45mm thick panels and make 100% sure the door is fitted completely behind the garage opening and now laos consider the 'thermal insulation' kit available from Hormann which gives extra insulation around the door perimeter to give one of the lowest U values for a domestic sectional door.

Call or e-mail us for all the latest prices and technical information on insulated garage doors