The new Hormann HST Side Sectional Door
What is the new Hormann HST side sectional garage door? A sectional garage door that opens sideways?
That is correct, Hormann have added the long and eagerly awaited HST side sectional door to their range of high quality garage doors. But who would want such a door?

We get asked most days for advice and prices on round the corner garage doors and there are many types now available in the UK all manufactured in a factory environment unlike the RTC doors of old. They were always made of timber, but when timber was well seasoned and not so expensive but they always had to be made into a sliding round the corner system on site, and from scratch - very time consuming and labour intensive. To make such a door these days is still perfectly possible but extremely expensive and you have to start with a high quality joiner and the right timber species to stand a chance of the complete system working.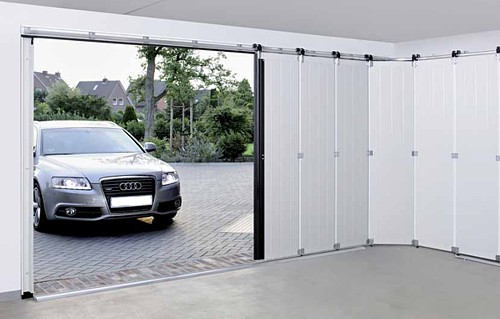 The Hormann HST side sectional is a garage door designed using the already enormously popular, tried and tested high quality panels from the sectional garage door range, the LPU40. This is a double skinned 42mm thick galvanised steel door made from panel sections varying in depth from around 370 to 500mm and is available up to some very large sizes.
The HST garage door merely uses these superb panels and with some high quality tracking enable these panels to travel sideways and around the corner of the garage aperture providing a garage door with many advantages - minimum headroom required, partial opening for pedestrian access, unique designs and vertical lines for listed or conservation areas and quite honestly and very smooth, quiet and reliable operation with very little moving parts to ever cause a problem.
You also get a good selection of surface finishes either in RAL painted colours or the superb Decograin laminate woodgrain finishes and a choice of optional windows, all double sealed units.

The HST side sectional can be either manually operated or electrically operated using any of the vast range of electric operators already produced by Hormann with different ratings for speed and frequency of operation as well as an enormous range of access controls and security devices.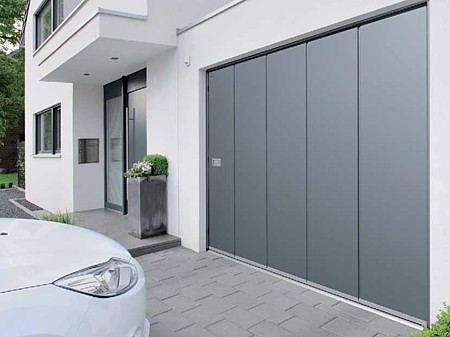 Take a look at this new side sectional round the corner system for your garage, it may well be the perfect solution and those people who may comment that you lose a wall in your garage for shelving, etc consider the fact that this also forces you to keep your garage tidy!! I know I have one. You cannot lean bikes, garden furniture, old pieces of timber and all those sort of items against the wall so you do not, and with this comes a forced tidiness, perfect!!
Of course if you really want to you can create a false stud wall partition for the door to go behind and get yourself a false wall anyway.

See our information page on the Hormann HST door >