The Properties of GRP
Information on the unique and amazing properties of GRP.
GRP is a unique and amazing material. It is ideal for garage doors as it has the optimum blend of resilience, durability, detail and quality finish. The properties of GRP which deliver these performance characteristics are explained in some detail here. Armed with this information strong sales arguments can be built and any perceived negatives countered...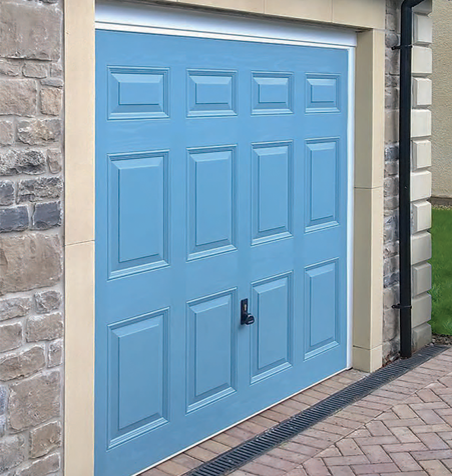 PANEL TRANSLUCENCY
GRP is an inherently translucent product - glassfibre mat is precisely that - glass! It is therefore a feature of the product that strong light can be seen through a GRP door panel. The complaint that a door that lets light through is due to it being 'too thin' and therefore faulty, is inaccurate. The attractive appearance of a GRP door - either a high gloss finish or the faithful representation of natural woodgrain - is down to the ability of the gelcoated layer on the front face of the door to replicate the specific pattern contained in the door mould. Gelcoat, by its very nature, needs to be specific thickness to allow it to form a strong but flexible coating on the door surface.
If the face gelcoat layer is too thick, it will be brittle and prone to cracking and breaking rather than bending or deflecting. This is critical when a force, such as a knock or blow to the door, is applied. It is therefore normal to be able to see strong light through the unbraced areas of the panel on any single skin GRP door (such as the Wessex S Series or 2 and 3 Crown ranges). Typical translucency in a 2 Crown Glosswhite door variations in translucency across the panel are down to the hand applied nature of the laminate and in no way represent a fault in the product. In Wessex 4 Crown doors an extra, relatively thick, layer of gelcoat is applied to the rear of the door which does reduce (but not eliminate) door translucency as well as giving the door a smoother, cleaner appearance. However, because it is applied to the rear of the door it creates a 'sandwich' layer, balancing the face gelcoat layer and is therefore less prone to brittle behaviour.

COLOUR MATCHING
The finishing of Wessex GRP doors is carried out exclusively by hand. Timber effect GRP doors are given a surface coating to modify the base colour of the door and to enhance and accentuate the grain pattern that is such a feature of the product. No two hand-applied finishes will ever be the same, just as two timber doors will never be the same. Similarly, matching a colour to a sample colour is never exact and will only be a close approximation. It is therefore unwise to the finished door to be a match for any sample that been supplied for comparison purposes.

PAINTING
Should you have a change of mind at some later date with regard to the colour of your GRP garage doors and fancy a change, then it is quite possible to repaint them. Both gloss and woodgrain finishes can be treated this way - but you will lose the 'staining' effect on any original woodgrain effect doors. To paint GRP doors you will need to purchase suitable GRP primer and topcoat paints. These are readily available from any marine chandlery outlet or on the internet. If you have a woodgrain effect door you will need to remove all traces of the original staining by wiping down the face of the door with acetone until it is thoroughly clean and no staining residue is left in the grain pattern. Gloss white doors will need cleaning down with a suitable de-greaser.
Once ready, just follow the paint manufacturers' instructions and you will, with care, create a very attractive alternative finish to your door.

COLOUR CHANGE
GRP like any material will change colour (or fade) when exposed to sunlight. This is a natural and unavoidable process which affects all materials and is gradual over the life of the product.
Such colour changes will, under normal circumstances, be uniform over the face of the door. The only exception to this is when the door is located in strong sunlight but where a particular area of the door surface if left in shade for long periods of time. Under these circumstances your GRP garage door (like any other type of garage door) will exhibit varying levels of colour change which is regrettably outside of our control.

PANEL DAMAGE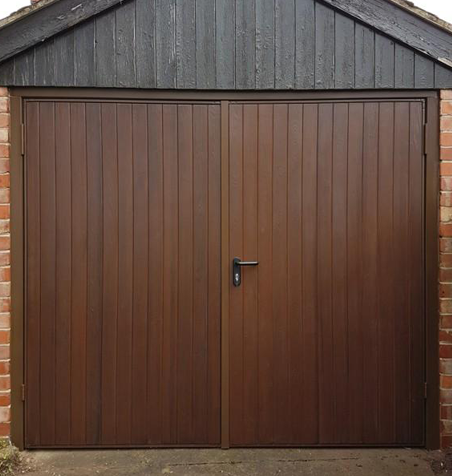 GRP garage doors are probably the most repairable doors you can buy. A scratch, scrape, gouge, (small) hole or chip in a GRP garage door is almost always repairable. The same damage to any other garage door material e.g. steel or timber usually means the door is permanently disfigured or will need to be replaced. The methods used to 'finish' a new GRP door in the factory involve many of the processes used to make good damage in the field - so rather than 'repairing' a GRP panel our service engineers are actually refinishing the product, just as we do every day in the factory.

DOOR PANEL DESIGNS
The size flexibility inherent in many Wessex GRP doors is achieved using a set of moulds that cover the entire size range available for a given door design. To offer the ultimate in made-to order sizes, Wessex identify the appropriate door mould from the suite of moulds available for the selected door style then 'shutter' the door to give the required width and / or height. In this way one mould with a fixed size of panel design, covers a range of opening sizes utilising varying widths of side panel or top and bottom panel to achieve the required size. For instance, where two doors of varying widths are required then there will be a difference in the width of visible side panels of the two doors. The maximum width of side panel is generally a maximum of 13 inches (330mm) and a minimum of 3 inches (75mm). Wessex can provide the exact dimensions of side panel width for a given door size by contacting the sales office at Verwood.

WINDOWS
A proportionately large number of GRP doors are supplied with translucent windows as an option. However, unlike steel up and over or steel sectional doors in a Wessex GRP door these windows are bonded into the rear of the door and therefore become an integral part of the door structure. GRP translucent window doors are therefore much stronger and more secure than cassette type windows found in other garage door products.

COLOUR MATCHING TO UPVC DOORS & WINDOWS
More and more home owners are looking to match existing woodgrain coloured uPVC windows and doors to a new garage door. There are finishes within the Wessex colour range which closely match the usual proprietary uPVC colours but some caution must be exercised on two counts.
Firstly the uPVC colour names DO NOT coincide with the Wessex GRP colour names, e.g. Double glazing 'Light Oak' resembles the Wessex 'Honey Beech' and NOT Wessex Light Oak, similarly the double glazing industry 'Mahogany' resembles Wessex 'Dark Mahogany'.

Please take extra care in ensuring the right colour has been specified. Secondly a GRP colour will never match a uPVC colour exactly. They are different substrates and different grain patterns and grain depths. They are, in general, a pretty close match - particularly if the two items do not actually butt up against each other - and this should be explained to the prospective customer to clarify the situation. As always, colour swatches are available to provide your prospective customer with a guide to the colour of the Wessex product for comparison purposes.