Up and Over Garage Door Gear Types
You do have a good choice of gear types with most one piece up and over garage doors to suit more purposes than you may have first imagined.
Think of a one piece up and over door panel rising from the closed position to sitting above your head in the open position. How did it do that? The concept of a door panel going over your head at 16 feet wide and weighing enough for 4 men to struggle moving the door panel into position for installation is amazing and should be a health and safety nightmare.
The simple fact is modern, well balanced mechanism do take the strain well and do not pose a safety threat if installed correctly.
You have 2 basic main types of operating gear - Canopy gear and Retractable gear.

The canopy gear is what most people are used to seeing and is fairly unique to the UK. It is a gear that lifts a panel from the sides using spring loaded cables to pull the door up in the guides at the side with a wheel running in the guides for stability and smooth running. Is is now only available on doors up to 8 feet (2438mm) wide
You would use canopy gear on smaller width doors where no electric operaion was ever to be necessary and you were trying to maximise drive through width or had obstructions internally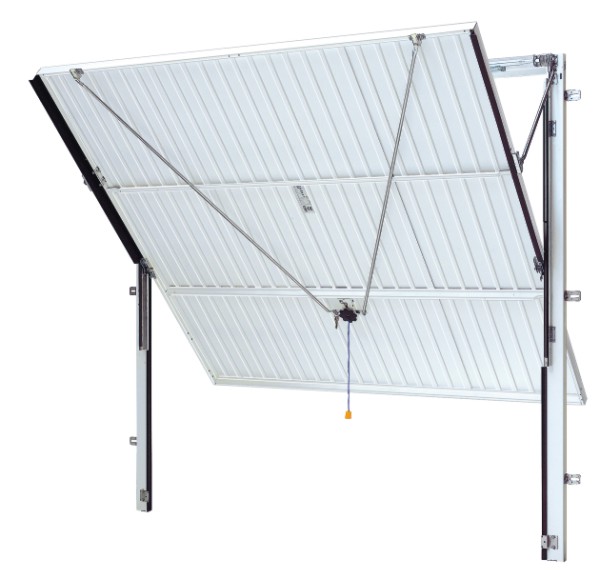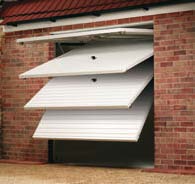 Canopy operating gear shown from the inside and outside

The Retractable operating gear has lifting springs at the sides and the door panel is guided into the garage on horizontal rails and wheels again keep the door stable and smooth.
You would use retractable gear for most doors if possible and the gear is on all doors over 8 feet wide in the UK. It is the preferred gear for remote control operation conversion. Heavy doors always use retractable gear and the door will generally have a longer shelf life with the components used.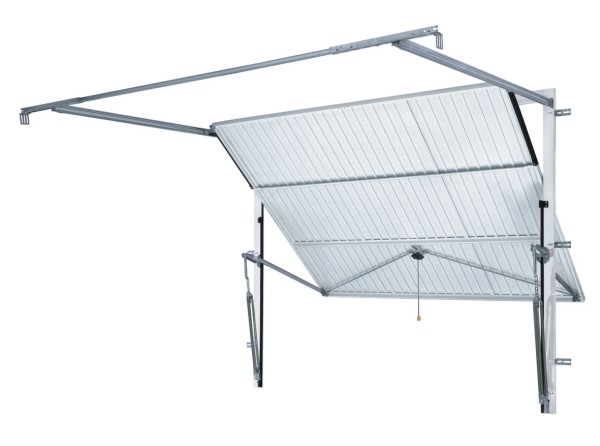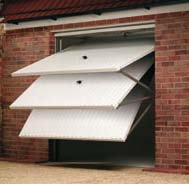 Retractable operating gear shown from the inside and the outside
There are some other specialised gear types available - for example you can have a canopy type gear which is actually a counterbalanced door panel that does not swing out as much as the standard canopy door. There is also a door panel on shorter tracks that does not swing out and is used for arched openings or garages next to public pavements or highways. See the Hormann ET500 for details of this masterpiece of a garage door.
The Garage Door Centre can help you choose and decide on the best gear type for your application, give us a call now on (01933) 229135