What Electric Garage Door Opener Should I Buy?
Look on the internet and you will see literally hundreds of garage door operator models for sale... which one should you buy?
Garage door openers have been produced for many years now and like all things mechanical and electronic the technology has leapt forward the last few years. The older garage door openers were always 240 volt motors with a heavy duty exposed chain and very basic remote controls using handsets the size of a brick! In fairness many had a 'belt and braces' type approach and would lift most doors albeit with a very aggressive tug and then slamming the door shut in the other direction.
Most early electric operators sold in the UK were from the USA as they have a far greater amount of electrically operated garage doors than we do in the UK, mainly due to the doors all being very big so more a necessity.
As with any electrical item you will only get what you pay for and with a garage door operator the consequences can be much more serious as a lot of mechanics are involved as well. Remember, you are actually creating a 'machine' which is remote control operated, and safety should be the number one concern!

Fast forward to the 21st century and technology now means we have as standard in any quality European manufactured operator the following features:

- 24 volt DC motors for quiet and reliable operation.
- Soft start and sof stop during operation to reduce wear and tear on the door mechanism.
- Sturdy, semi covered towing booms with nylon, kevlar or quality steel chain drives.
- Electronic surge sensor technology to detect obstacles and reverse very quickly if hit
- Built in courtesy lighting for lighting the garage on entry
- Rolling code technology for the radio systems for security
- Very slim designs requiring only 25-40mm above the door height to install
- Built in hook latches for added security in the towing arm (Hormann only)

Beyond this basic specification, the list of optional extras also available on many of the higher end models is more than most people would ever require, including:

- Digital keypads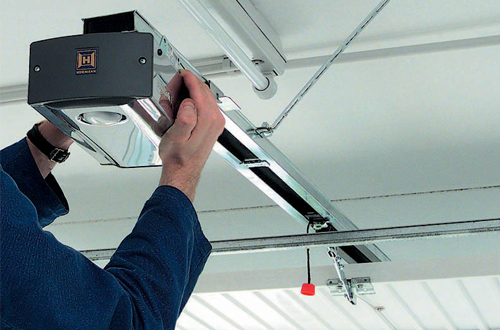 - Electric Keyswitches
- Security de latch kits for internal locking
- Card reader systems
- Finger reader systems
- Auto timers for closing

So who manufactures these kind of operators? Well there are many european manufacturers and many do offer some or all of the specification mentioned above, however be wary of openers not tried and tested for at least a few years from companies simply trying to copy exisitng manufacturers.

Over the last 25 years we have found the following to be by far the most reliable and best value for money:
Hormann
Seip
Marantec
Garador (Hormann operators)
Somfy

All these 5 companies produce operators designed, manufactured and sold by their own facilities with long standing experience in development. They all use the latest technology and safety facilities available and have high quality components.

We are currently assessing many others but it is early days yet to comment too much on reliability and after all reliability is the key to bothering to have a remote control electric opener in the first place.
When you have paid good money for the luxury and convenience of opening your garage door from your car or inside your home the last thing you expect is to have to detach it and lift the door manually because there is a problem with the operator itself!!

Call us now on (0800) 525442