Wicket Doors: A Modern Solution
Pedestrian doors built into sectional garage doors offer convenient pedestrian access
Wicket Doors in Sectional Doors
The modern lifestyle naturally demands modern solutions, and wicket doors within sectional garage doors are certainly a solution within the industry.
In short, a sectional door with a wicket door comprises of a standard, vertically-opening sectional door, with a pedestrian door fitted within the panels. This product is particularly convenient for users who frequently access the garage by both vehicle and on foot.
Why a Sectional Door?
Although a side hinged door may also offer a solution not too dissimilar, a sectional door offers more beneficial properties in regards to solutions for the average homeowner, such as higher levels of insulation and security.
The pedestrian door's placement allows one to simply open only that door upon entry, rather than having to open the entirety of the sectional door. This functionality can be integrated successfully within households that have incorporated the garage as an additional room to the main house.
The pedestrian door can, in the majority of cases, be positioned within the sectional door according to your own requirements, for example on the left, right or centrally.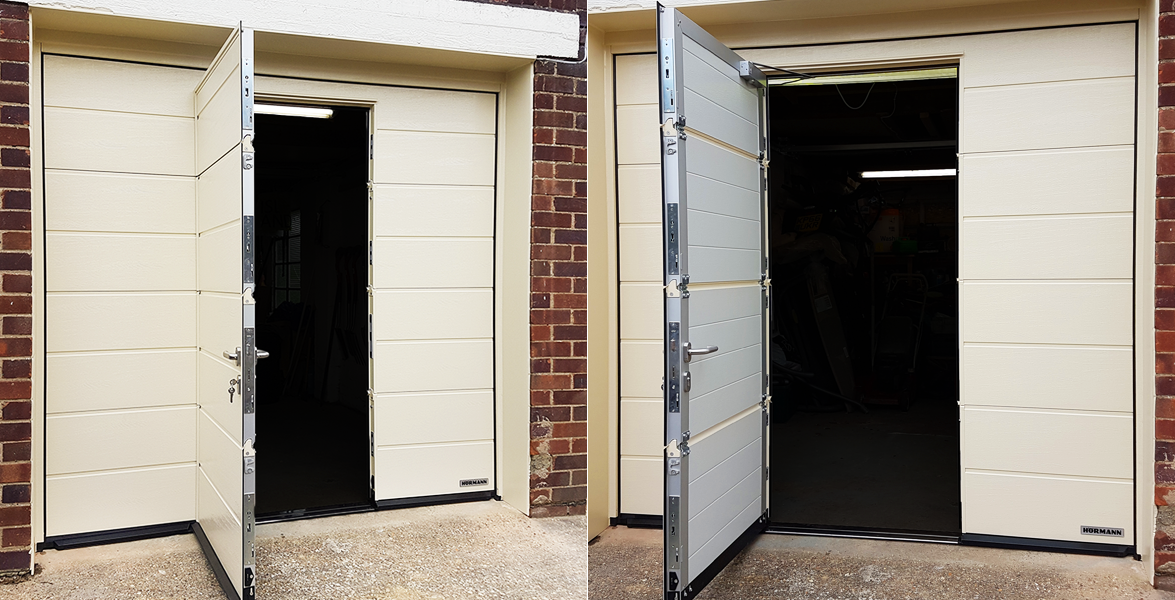 Manufacturers
Hormann
Hormann's LPU 42 sectional doors are renowned for their brand-quality, and can now be equipped with a wicket pedestrian door. Hormann's wicket door is fitted with a unique threshold that is only 10mm in the centre and 5mm at the sides, significantly reducing the risk of tripping.
Security levels remain high with concealed hinges fitted in the pedestrian door, as well as the option of a multi-point locking system so that the door is locked through the entirety of its height.
Ryterna
Ryterna are an alternative brand who manufacture sectional doors that can be equipped with the convenience of a wicket door. Unique for their vast design possibilities, Ryterna doors can be personalised with patterns, colours and designs of a significant variety.
These sectional garage doors are 40mm thick, providing insulation and security alongside a plethora of colours, finishes and design choices.