Woodrite Timber Garage Doors
High Quality is standard with a Woodrite timber garage door.
The Garage Door Centre has always loved specifying, supplying and installing high quality timber garage doors of all types. The beauty of timber always enhances any property and tre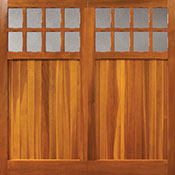 ated correctly the issues normally associated with timber are not an issue.
We see timber doors that have been installed, treated and finished correctly still looking like new after 10 years!!
Woodrite Garage Doors are a rare breed of manufacturer passionate about their products to the point of obsession.
Not a bad thing these days with mass produced building products promising a lot but delivering very lttle.

Why so Different?
The superb range of timber garage doors produced by Woodrite are hand assembled and machined using the very latest wood working equipment. Every piece of timber is treated BEFORE assembly takes place so there are no untreated timber sections likely to give issues later in the door life.
The timber used is of the very highest quality and the operating gear used is the very latest available with options on steel or timber fixing sub frames. Standard or purpose made is no problem and the finer details of chamfered edges and over cladding of steel sub frames all make for a timber garage door that looks and feels worth every penny. The Woodrite doors are true value for money.



The Range
Woodrite timber doors are available as side hinged traditional type doors or up and over one piece doors from 6 feet and up to 16 feet wide with every millimetre covered inbetween. Side hinged pedestrian doors are also made to compliment the garage doors. The door range is constantly evolving with new designs and more recently for example certain designs available in Idigbo, a beautiful hardwood, light in weight but ideal for pairing with oak on a building with very similar graining and colouring but not the expense or weight.
All the standard doors are manufactured using grade one selected cedar wood for the highest quality of door panel with the advantages of light weight and durability in the UK weather.
See the range in our product catalogue>

Finishes
Each timber door is available with a base-treatment that you will need to stain in a colour of your choice, or a factory fully finish is available in various classic timber shades. Woodrite uses a high quality wood finish system and recommends this for on site finishing by others.
The finish provides a low gloss surface that can be wiped clean with a soft cloth and water. Re-staining is recommended at least every three years, but always keep an eye on the finish as south facing doors in strong sunlight may require more regular care with darker colours used.

Operating gear
Woodrite doors are now available in 4 different up and over gear types depending on various factors such as the fixing sub frame and size but the main operating gear used is a highly developed retractable mechanism using a box section steel sub frame chassis for strength and stability with the added advantage of extra security as the edges are always steel and combined with a steel sub fixing frame you will have steel against steel on the inside edge providing maximum resistance to an attempted forced entry.
All Woodrite doors can be manual or remote control electric operation including the side hinged range of doors.

Other Touches
Woodrite have been the first company to offer a timber sub frame that is clad with cedar wood so you have a frame matching your door panel if required. Most timber sub frames are either sorted redwood or red meranti and neither timber are anything like the cedar door panel in colour or graining so can clash badly is stained in a light colour.

Woodrite have also followed a German technique of overlapping the front face of their doors on steel chassis systems so from the front it is only timber you see, very pleasing to the discerning eye!!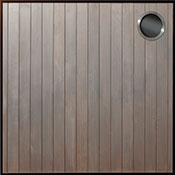 Woodrite offer stainless steel window elements as well as modern wood stain finishes in trendy colours and can change standard door designs to suit a particular design you may require to match some other part of your home.





Let us quote you for the timber door of your dreams and offer you a timber garage door that we can all rest assured will give years of trouble free use. A door of the highest quality making your garage a pleasure to use and look at.
Call now on (0800) 525442 or email your requirements