Cedar Up and Over Timber

Cedar Garage Doors specialise in the manufacture of timber garage doors using either traditional joinery methods or modern techniques involving a pre fabricated aluminium sub frame chassis to produce one piece up and over doors up to 18 feet in width (5500mm) as well as 10 feet (3048mm) in height.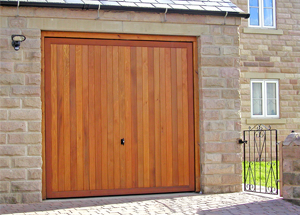 As well as a standard range of designs, bespoke designs in cedar and other timber species are available to help you specify a garage door to match other joinery products such as windows or entrance doors.
Timber species such as Larch, Iroko, Pine, Douglas Fir, Mahogany and European Oak are used for constructing garage doors in traditional joinery methods or using one of the Hormann N80 or DF98 open for infill systems available. Cedarwood is the most popular choice for garage doors as it is both light in weight and in colour enabling wood treatments to colour to most shades required.
Cedarwood is also very stable in our unstable UK weather resisting movement in temperature and air moisture content changes.
All cedar timber door panels are fully dipped in tank of Sikkens light oak dip-coat stain which gives a mild seal coating and could last up to 6 weeks after installation. It is recommend that the door is top coated immediately after installation to the external and internal surfaces with a Sikkens top coat system to the stain manufacturers instructions.
Cedar Timber Up & Over Door Designs
Haddon

Timber

Ashford

Timber

Wessington

Timber

Bakewell

Timber

Barlow

Timber

Tideswell

Timber
Click here to view all Cedar Timber Up & Over garage doors >
Timber Up & Over Door Colours
Timber garage door colours availableTo compliment your new garage door you have the option to have your door factory fully finished with the Sikkens 955 power-feed finishing system.
A choice of 9 standard colours are offered which will give the door a hard satin long lasting finish that could last up to 7-10 years before recoating.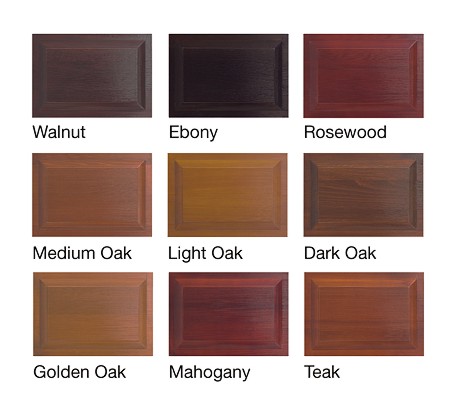 If a particular Sikkens finish is required other than those shown and is suitable for exterior use please speak to us for a price. Many new colours and finishes are being introduced all the time.
Automation
All Cedar constructed one piece up and over and side hinged garage doors can be remote control electrically operated by most good quality electric operators. Manufacturers such as Hormann, Garador, Cardale, Seip and Somfy offer a range of different electric operators for all up and over door types.
A special adapter is required to automate side hinged doors when using a standard boom operator. Various hydraulic and mechanical worm drive gate style operators can also be used to automate side hinged doors if a boom operator proves to be impractical inside the garage.

Special Designs
Cedar Garage Doors offer the ability to create your own unique design. Should a standard design be not quite right for you then talk to us and we can offer different designs, wider timber boards, odd shaped windows and so on.
It is also possible to have a pedestrian door inset into the main garage door panel to provide easy access to the garage without opening the whole door. This door can be on the left or right hand side and can be varied in size if required depending on the garage door design shosen.
This particular garage door option proves particularly useful when there is no other entrance into the garage or the garage is accessed frequently on foot or the garage is not used for a vehicle.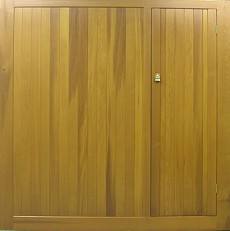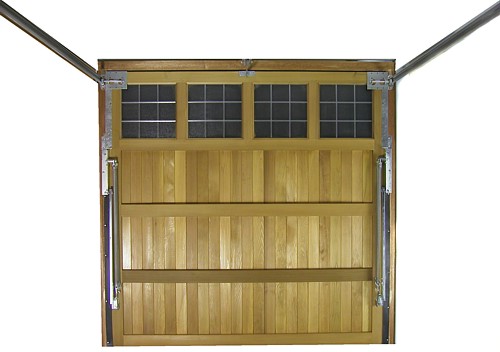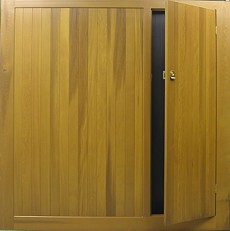 This image above shows the inside layout of a traditional joinery constructed timber up and over garage door with fully retractable operating gear. The arms at the side are lifted by tension springs which are adjustable depending on the weight of the door panel.
View the Cedar Brochure (PDF) >
Go to the Cedar Up and Over Timber Door Catalogue >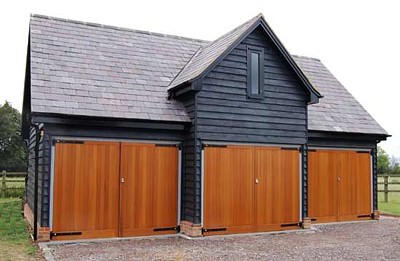 Looking for Up & Over doors with in-built pedestrian doors? Click here >