GRP Side Hinged
GRP Side Hinged Garage Doors
Incredibly Beautful... Amazingly Strong... Virtually Maintanance Free...
One price for any size - all made to order for a perfect fit!
What exactly is GRP?
A modern composite laminate, GRP (Glass Reinforced Polyester or fibreglass) is a versatile and well proven construction material that has been in use for over 50 years in a huge variety of applications, from boatbuilding, to motor vehicles, to building materials. Polyester resins are reinforced with glass fibres to produce a remarkably strong material that faithfully replicates the textures and nuances of the natural materials from which the moulds are taken.
So why choose a GRP side hinged garage door?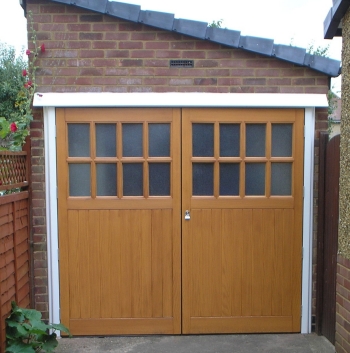 Sheer good looks...
Whether the individual choice is for a high gloss or a fabulously authentic looking woodgrain finish the appearances are stunning. A beautiful range of colours, finishes and styles provides an immense choice.
Convenience…
GRP garage doors are virtually maintenance free. Minimal maintenance is needed to keep the door panel in good shape. Just regularly wash the door down with fresh running water (do immediately remove bird droppings the same way). Do not rub the door with any abrasive, caustic, acidic or proprietary cleaners, all of which will damage the surface finish. If you choose a Glosswhite GRP garage door the gloss appearance an be enhanced after time by washing the door down then by carefully applying a very fine polishing paste or liquid such as 'T - Cut' to the surface and polishing off.
Also very handy is the fact that doors can be 1/3rd 2/3rd opening, perfect for regular pedestrian ingress and exit.
Durability…
Surprisingly, GRP has a superior strength to weight ratio than steel. GRP is a very stable material - it won't warp, shrink or swell, rust and, because GRP is an inherently dent resistant laminate, it is able to withstand knocks and blows that would easily permanently deform and damage a traditional steel door.
GRP garage doors are particularly useful for coastal areas that substantially challenge steel and timber doors rendering them often to a disappointingly short live. A further significant feature of GRP is its' ease of repair. Should a door panel become scratched or damaged, GRP, more than any other material used in garage door construction, is easily and effectively restored leaving a repair that would pass the closest inspection.
There are essentially one manufacturer of GRP side hinged garage doors in the UK - Wessex Doors. Wessex offer an incredibly wide selection of style and conveniently offer one price for any size up to 8 feet wide (2438mm) making ordering easy.
Firstly let us take a look at Wessex ...
There are 14 attractive styles to choose from with 9 having 50/50 opening and 5 having 1/3rd 2/3rd opening arrangements. Please note that the leading door is always the right hand door looking from outside - the left door leading is an optional extra that must be requested on the point of ordering.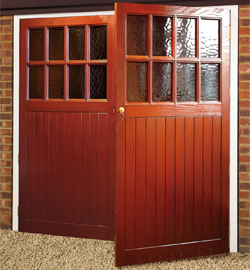 Weather Sealing
The doors have a draft strip to all three sides and a bottom brush strip all as standard. This gives a very good level of sealing against rain, dust and leaves.
Inward Opening
If your drive rises upwards from your garage this option could prove to be absolutely invaluable - obviously you need to check that you can still get your car in to the garage!
Rising Butt Hinges
The option of fitting rising butt hinges is offered - particularly useful if there is a small degree of floor obstruction in the opening area.
Matching Side Entrance Gates and Personnel Doors
Bespoke special design service available - submit your ideas and requests - if they are achievable Wessex will provide a quote!
Never Say Never
Wessex are extremely obliging in terms of modifications to satisfy individual requirements. Need a letter box cutting? Just ask. Cat flap? Again just say - if it can be done it will be done.
Download colour brochure PDF >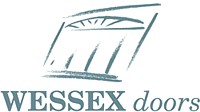 | | | |
| --- | --- | --- |
| WARWICK | MAJESTIC 2/3RD 1/3RD | FRENSHAM |
| YORK 2/3RD 1/3RD | YORK | SHERBORNE |
| HASCOMBE 2/3RD 1/3RD | HASCOMBE | RUSHMOOR |
| SHERWOOD | BOSTON 2/3RD 1/3RD | COUNTY |
| LOXWOOD | CHELTENHAM 2/3RD 1/3RD | EDWARDIAN 2/3RD 1/3RD |
| ELMSWORTH | NEWBURY | GRAFTON |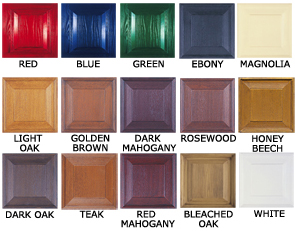 There is a truly glorious choice of 15 wood tone colours and 5 of the Wessex GRP side hinged garage doors are available in gloss white.
All of the Wessex side hinged GRP doors are produced as either the Classic or Premier version.
The Classic range is based on the three crown version of the up and over range which features open backed, white powder coated bracing. The Classic retains all of the benefits of GRP but has been priced by Wessex to make it an affordable and very acceptable option to the Wessex Premier range.
The locking arrangements on the Classic door comprises of a Yale lock night latch and a pair of monkey tail shoot bolts to the inactive leaf as standard - however if security is a particular issue it can be easily upgraded to a multi point (four lever) Euro lock on the active leaf together with top and bottom steel shoot bolts fitted to the inactive leaf. Incidentally the Classic, Cheltenham, Newbury, Warwick and Boston all have a multi point (four lever) Euro lock on the active leaf together with top and bottom steel shoot bolts fitted to the inactive leaf.

The Wessex Premier range is based on the equivalent of the four crown up and over GRP door, with the bracing on the rear of the door being fully flo coated for a totall smooth clean finish.
This covering certainly prevents ingress of dirt and grime to the rear of the door, it also adds to the rigidity and robustness of the panel.
All Premier doors are fitted with a multi point (four lever) Euro lock on the active leaf together with top and bottom steel shoot bolts fitted to the inactive leaf.
Frame Options
All doors come pre-framed as standard (depth of 50mm or 65 mm) in a choice of white, brown or black plastisol. A very positive upgrade option is foil laminated steel frames, which particularly compliment some the woodgrain colour finishes. Also offered is the upvc frame kits available in white, golden oak and rosewood (70 mm only and this is the most expensive option).
One Price Covers all Sizes!
Made to measure at no extra cost. Each GRP door has one price only covering the minimum to maximum size - whatever size you need does not change the price (as long as it falls in the matrix).

Please be aware that whilst The Garage Door Centre will make every effort to satisfy all customer requests we do reserve the right to restrict the areas for which we offer an installation service and that these area restrictions may change at any time without notice. In addition all orders are subject to survey and the right is reserved to decline any order at the point of survey