Secure Your Garage and Home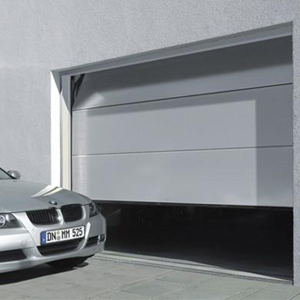 All the comfort and peace of mind a 'Secured by Design' product offers is also enhanced with one of the highest levels of insulation for any garage door in the UK...
The Hormann LPU range of sectional doors when fitted with one of the new series 3 range of electric openers is now officially 'Secured by Design'
The Hormann sectional garage door in either the EPU or LPU panel range has always offered excellent levels of security because of the double skinned panels used along with the mechanics of such a door. All sectional doors use multiple rollers either side as part of the basic operation method and this offers very good levels of resistance to forced entry indeed.
So how do you make the whole door properly secure without the weak point of a manual locking and handle system? Hormann also manufacture one of the most secure electric operator systems with the Promatic and Supramatic options and apart from some trick technology in the reading of the code for operating the main advantage comes from a patented steel latch built into the towing mechanism that effectively 'double locks' the door when closed using the motor to hold the door as well as this latching lock system. The result? A very secure door when closed, taking some serious tools and effort to get anywhere near opening by force.
Watch this short video below to see the various unique features of a Hormann sectional garage door providing insulation, style and security once fitted with a Series 3 electric motor unit:
The official launch of the accreditation by Hormann is described below:
'With immediate effect, Secured by design accreditation applies to the following doors:'
EPU, LPU and LTH sectional doors fitted with a ProMatic or SupraMatic Series 3 BiSecur operator.
What does Secured by Design mean?
Secured by Design is the initiative from the Association of Chief Police Officers (ACPO) that aims to reduce crime through effective and forward thinking environmental design.
What does this mean for you, the customer?
The accreditation given to the Hormann sectional door range recognises existing german TUV Nord testing, but specifically required the operator system to be used, and because Hormann have not had to modify the doors or electric operators in anyway, there is absolutely no additional cost – Hormann are the only manufacturers of sectional doors in the UK market to be Secured by Design approved!
As well as being a good solution for house Builders with Secured by Design requirements it is a recognisable and reassuring brand for all consumers, which you can combine with a matching Secured by Design ThermoPro steel entrance door – another first from Hormann!
Please note that this accreditation applies only to LPU and LTH Hormann Sectional garage doors and only when fitted with a ProMatic or SupraMatic Series 3 BiSecur operator. If another operator, even another Hormann operator is fitted, then the complete door and operator cannot be Secured by Design accredited.
Plus, a Hormann operator fitted to another manufacturers door is not accredited for approval.