Hormann Front Entrance Doors for the Home
Designer Front Doors - Built For The Home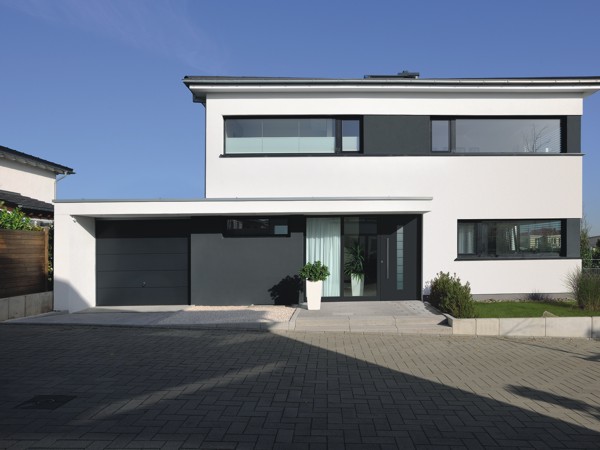 The Garage Door Centre is pleased to be a UK specialist dealer for the new Hormann range of designer front entrance doors for the home now available in the UK.
This fantastic range consists of a mixture of both Steel and Aluminium doors comprising of modern, contemporary, abstract, artistic, classic and traditional designs which can offer safety, security and can enhance the appearance of your home. These doors are split into two ranges called the ThermoSafe and ThermoCarbon (aluminium) range and the Thermo46 and Thermo65 (steel) range.
The ThermoSafe and ThermoCarbon front entrance door range are of the very highest quality Aluminium insulated entrance doors with unique features and qualities not available on other doors anywhere.
The Thermo46 and Thermo65 range is also a specific range of high quality entrance doors specifically sized for the UK market.
Many of the Hormann entrance doors have been designed specifically around the very latest range of sectional garage doors also available from Hormann to give a co-ordinated appearance in finish and design, ideal when your garage door is on the same elevation as your front door.

Would you appreciate the benefits and the stunning aesthetics you can now achieve with a high-class range of front entrance doors with matching garage doors and high tech operating systems? Whether your property is traditional, conventional or contemporary The Garage Door Centre will provide the perfect combination of doors in materials and finishes to suit your home.
For our PDF information brochure, please click here to download >
The current Hormann range can be split into two main categories - doors in steel or aluminium.

Hormann ThermoSafe and ThermoCarbon Range
The ThermoSafe and ThermoCarbon range of aluminium entrance doors from Hormann represents the very highest in quality and specification. The thermal and acoustic insulation properties are at the very highest levels achievable and are completely watertight against the elements thanks to all round flexible sealing.
The aluminium range of Hormann designer doors for the home comes in 2 ranges:
The ThermoSafe Doors have a 73mm thick aluminium door leaf, suitable for saving energy in your home.
Providing you with added security and break in protection these doors are equipped with multi point locking as standard.
The profile cylinder has an anti-picking system and drill protection. In addition, it offers an emergency and hazard function i.e. the door lock can still be operated when a key is inserted on the inside. The tamper proof locking cylinder is certified according to DIN 18252 and is delivered with 5 reversible keys.
> H5 5 point lock with security rose escutcheon and swing bolt.
> "Rondo" interior lever with cylinder rose escutcheon.
> Three way adjustable aluminium hinges.
The ThermoCarbon Doors have 100mm thick standard, triple or quadruple thermal insulated glazing and triple sealing. The 8mm thick laminated safety glass provides maximum security against burgulars.
Not only do these doors provide you with excellent thermal insulation they also set new standards for security:
All doors are equipped with multi point locking as standard.
The tamper-proof cylinder, certified in accordance with DIN 18252, features premium fittings: an anti-picking system, drill protection, and an emergency and hazard function. This means that the door lock can still be operated when a key is inserted on the inside.
The ThermoCarbon Entrance Doors have concealed hinges between the door frame and leaf, i.e. they are not visible from outside or inside.

Hormann Thermo46 and Thermo65 Range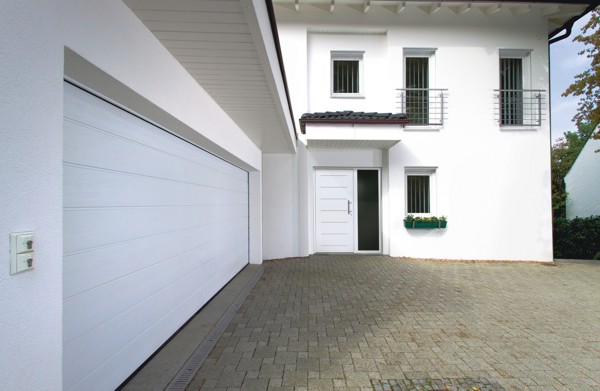 The Hormann Steel Thermo range entrance doors come in a wide range of beautiful styles and designs to give your home that perfect look. Security is ensured thanks to a multiple-point locking system which is supplied as standard.

The Hormann Thermo46 range have a 46mm thick door leaf completely filled with PU rigid foam, these doors provide excellent thermal insulation. This ensures that all draughts are excluded and your energy bills remain low.For our PDF information brochure, please click here to download >

Thermo46 Range
Heat preservation is also further ensured with help from double seals on all four sides of the door. With additional corner seals near the bottom, extra protection is provided against both heat loss and adverse weather conditions.

Thermo65 Range
The Hormann Thermo65 range have a 65mm thick steel door leaf mounted on an aluminium frame. The frame adds to the insulation value as it offers a better thermal break. The thicker the door is filled with rigid CFC free PU foam the better the strength and insulation.
For extra insulation the entrance doors have triple seals on the threshold strip and another thermal break which gives the door a thermal value as low as 1.0W/m2K.

Without visible leaf frame
Hörmann's Thermo entrance doors have an exclusive appearance. A beautifully-shaped smooth door leaf made of steel, without a visible leaf frame, simply looks good.
The best sealing possible
Double seals on all four sides with additional corner seals near the bottom provide extra protection against bad weather. Heat loss is kept to a minimum.
Certified brand quality
All Thermo doors are manufactured in line with ISO 9001 and regularly subjected to the strictest quality tests. A CE mark indicates that the doors comply with EU directives in accordance with EN 14351-1. All of the most important door requirements laid out therein is adhered to. The benefits and advantages for you:
Water-tight under heavy rain
Stable under heavy winds
Airtight
Acoustic insulation
Thermal insulation
Click a door to view full details in our product catalogue



Thermo65
Style 600

Thermo65
Style 850

Thermo46
Style 400

Thermo46
Style 750



ThermoCarbon




Style 860




ThermoCarbon




Style 314




ThermoSafe




Style 45




ThermoSafe




Style 504