Guide to Garage Door Sizes
The way different garage doors are measured, priced and ordered varies from one door mechanism type to another, so this basic guide has been devised to help you understand the sizing references and what to look out for. A lot of people think garage doors are ordered like internal doors, windows or other building products, but there really are some strange rules with certain doors that do not necessarily follow any logic.
Up and Over Doors
The ordering sizes for all standard up and over doors refer to the dimensions INSIDE the fixing sub frame, which can be either steel or timber.
For example, a door referred to as a 7'0" by 6'6" means that it is to fit a sub frame opening of the same size 7'0" by 6'6" and the sub frame size is in addition to these size references.
A tolerance is always allowed for in the garage door panel itself, slightly different for each manufacturer and door material specified so the door panel is always smaller than the ordering sizes to ensure the door operates correctly.
If the door is to be purpose made and includes a steel fixing sub frame, it is best to supply both the ordering size and the overall size of the door and frame required to be sure it is correct.
The diagram below shows the basics for ordering sizes of both a canopy and a retractable up and over door.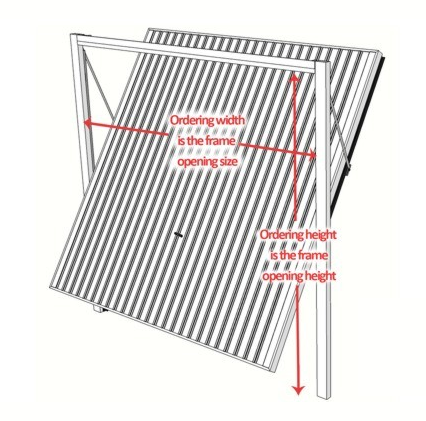 Roller Garage Doors
Roller garage doors are available in two different types generally – steel single skin curtain doors and double skinned aluminium curtain with a foam filled core. The way they are ordered differs and so do different manufacturers too, this is one door type to be careful of when ordering!!
For aluminium roller doors the ordering size is usually the overall width including the side guides which are available in different dimension.
The ordering height is usually the height to the top of the side channels with the curtain roll an additional measurement on top of this.
Hormann and Garador require their insulated roller doors to be ordered as the opening size inbetween the guides but are about the only exception in the UK with the ordering height being the guide height still.
For single skin steel roller doors the ordering width is the opening size required between the side guides PLUS the amount of roll curtain overlap which is 25mm per side minimum on single doors and 50mm per side on double width doors generally. There are only a handful of manufacturers of these steel roller doors, and the side channel size does vary a little so always check this.
The ordering height is the top of the side guide channels again like all the other roller doors. More internal face width is required for installation as there are fixing lugs to the side of the channels so beware of this when ordering!!
See the diagrams below for basic information
| | |
| --- | --- |
| Aluminium Insulated Roller Garage Door | Steel Single Skin Steel Roller Garage Door |

Sectional Garage Doors
Sectional garage doors are always ordered by their internal fixing sub frame opening sizes so you have to allow for the side frame legs and the headroom required for the particular mechanism you want to use. For example a 2134mm x 2125mm sectional door means an opening size of 2134 x 2125 and for a Hormann or Garador standard door you would require a further 90mm either side of the 2134mm and a further 100mm above the 2125mm for installation. Of course the measurements depend on whether you are installing BEHIND or INBETWEEN your structural opening and the amount of tolerance required when fiiting inbetween depends on how square the opening is and maybe other factors such as whether it is rough stone, cut stone, brick ,etc. Always remember the steel fixing frame legs and head rom required though in all calculations.
The sectional door is one that is often misunderstood as there are so many different headroom options as well as how far the actual door tracks come into the garage and also where the lifting spring is situated.
Single Size Sectional Door Sizing Example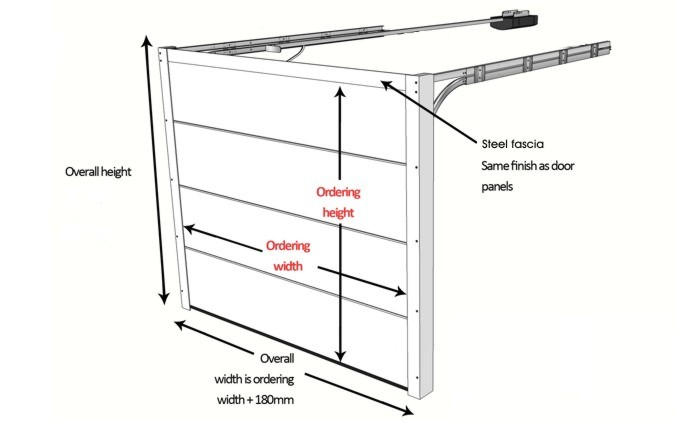 Side Hinged Garage Doors
Side hinged doors are like up and over doors, with the general rule being for standard size doors you order the doors as the internal sub frame dimensions. When the door is to be purpose made it is again always best to order as overall frame dimensions with a reference to the internal frame sizes required too.
The Carteck insulated side hinged doors always have a factory fitted fixing sub frame and are always ordered as overall frame dimensions - this rule applies to some other manufacturers such as Ryterna.
Round the Corner Garage Doors
Round the corner doors are more complex in their ordering sizes as the amount of door curtain needed to travel past the internal returns is quite often included in the sizing and pricing equation so be very careful and check!
For example if you have a structural opening width of 4000mm and then an internal return garage wall size of 1000mm as well then you would be ordering a Vertico door at 5000mm wide not 4000mm as the price and ordering is for the total amount of door curtain required.
Many track variations are available for the different models so it is best to involve specialists for these doors from the beginning - The amount of internal length is also of course a very important measurement to consider too.
Specialised Garage Doors
We offer many different specialist type garage doors for domestic and commercial use, and nearly all of these doors have quite involved pricing and sizing details. Sliding, Folding, Stacking and other unique mechanisms all get a bit too specialised for generalisation.
Doors like the ET500 from Hormann or the Domina trackless sectional doors or the DF98 doors from Hormann all require detailed discussions to ensure not only the correct size is ordered but the end result gives sufficient drive through dimensions for the intended use.
One of the single biggest issues today is still garage doors being purchased and fitted and then not giving sufficient width, height or length in a garage to make daily use easy or even possible with modern vehicles still becoming wider, taller and longer for so many models.
Many people use their garages for anything but a vehicle but still need to consider that the actual door is to be fitted, not only for cosmetics, but also practicality and insulation properties. As we all know, internal and entrance doors on a house are installed between the opening this is not the case with garage doors at all.