New Hormann Products & Upgrades
2019 Additions to Hormann Range
The year of 2019 is seeing a plethora of product upgrades and improvements within Hormann's comprehensive range of garage and entrance doors, including a new collection of side hinged doors equipped with a continuous hinge, and brand new features that upgrade the HST side sectional's water tightness from Class 0 to Class 2.
Additional significant products will be available later in 2019, but for now we are excited to introduce these new additions that once again extend and improve our excellent range of garage doors.
Hormann HST Side Sliding: NEW Seal & Floor Rail
Hormann's HST side sliding sectional garage door has recently earnt itself an excellent upgrade, immediately improving its functionality and desirability.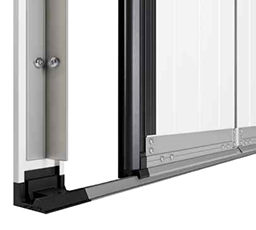 The HST now features a new floor rail as standard, as well as a new, continuous bottom seal, ultimately upgrading both the water tightness and air permeability from Class 0 to Class 2. These additions work to further prevent the entry of the elements entering the garage from the outdoors, therefore also improving the existing levels of insulation provided by the 42mm thick door sections.
The HST boasts an already excellent garage door, however these additional features truly seal its quality. Convenient for garages with limited headroom, or where pedestrian access is frequently required, the HST's side sliding mechanism is often a great solution for various applications.

Side Hinged Garage Door with Reliable Finger Trap Protection
The introduction of Hormann's brand new DFT 42 side hinged garage door range sees the addition of an external continuous hinge cover, offering dependable finger trap protection for automated doors, a significant safety feature for applications where young children are present.
The manual edition of the DFT door is out now, with the automated version available later in autumn 2019.
This new range features 60mm thick aluminum frame profiles and aluminum block frame, with 42mm thick sections to ensure excellent levels of insulation to aid in maintaining warmth within your home and garage.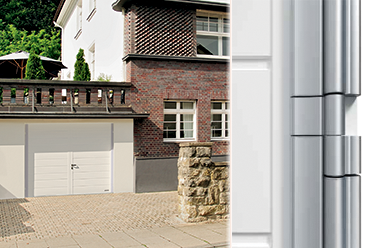 With a variety of colours also available, the panels can be manufactured with either Woodgrain, Sandgrain, Silkgrain or Decograin surface finishes.
To find out more about the DFT 42, give our team a call on 01933 229135 - coming soon to our product catalogue.
Visit Our Showroom!
The most effective way to discover Hormann's quality range is to see their products for yourself! Come along to our showroom where you can browse at your leisure, with our expert team on-hand where any guidance may be required. Visit us >
Contact us
0800 525 442
Wellingborough Showroom:
6-8 Meadow Close,
Finedon Road
Wellingborough,
Northants. NN8 4BH
Telephone: 01933 229135
Facsimile: 01933 442676
Opening Hours:
Monday-Thursday 8:30am to 6pm
Friday 8:30am to 5pm
Saturday 9am to 1pm