Available in a variety of styles and colours, you can give your garage a modern and secure make over. If you are looking for a door that provides style, security and convenience, consider installing a sectional garage door today!
The sectional garage door is fast becoming the most popular door type in the UK, and for good reason. Unlike up and over garage door, known as 'swing out' doors, a sectional garage door opens in a space saving vertical motion. Another benefit is the effective weather sealing on all sides, due to their construction and operation method, which is useful in rain and snow, weather that is becoming more prevalent these days.
Sectional garage doors provide a variety of advantages for homeowners. They are strong, durable, energy efficient and stylish. Here are some of the key benefits of sectional garage doors:
1. Space saving
Don't worry if headroom is your biggest issue. Sectional garage doors open vertically to minimize space using. While being used, door panels do not extend through the opening. Henece, a space-saving feature enables the space nearby, such as the drive, to be utilized and functional. For example, a SeceuroGlide Sectional Compact requires just 90mm above the opening. The rear-mounted springing system reduces the need for space above the door opening and the neat design requires as little as 85mm on either side. Perfect for maximising your drive-through space! Or the SeceuroGlide Sectional Elite is also a fantastic space-saving solution, it needs just 100mm of headroom and has a unique side-mounted mechanism that adds strength.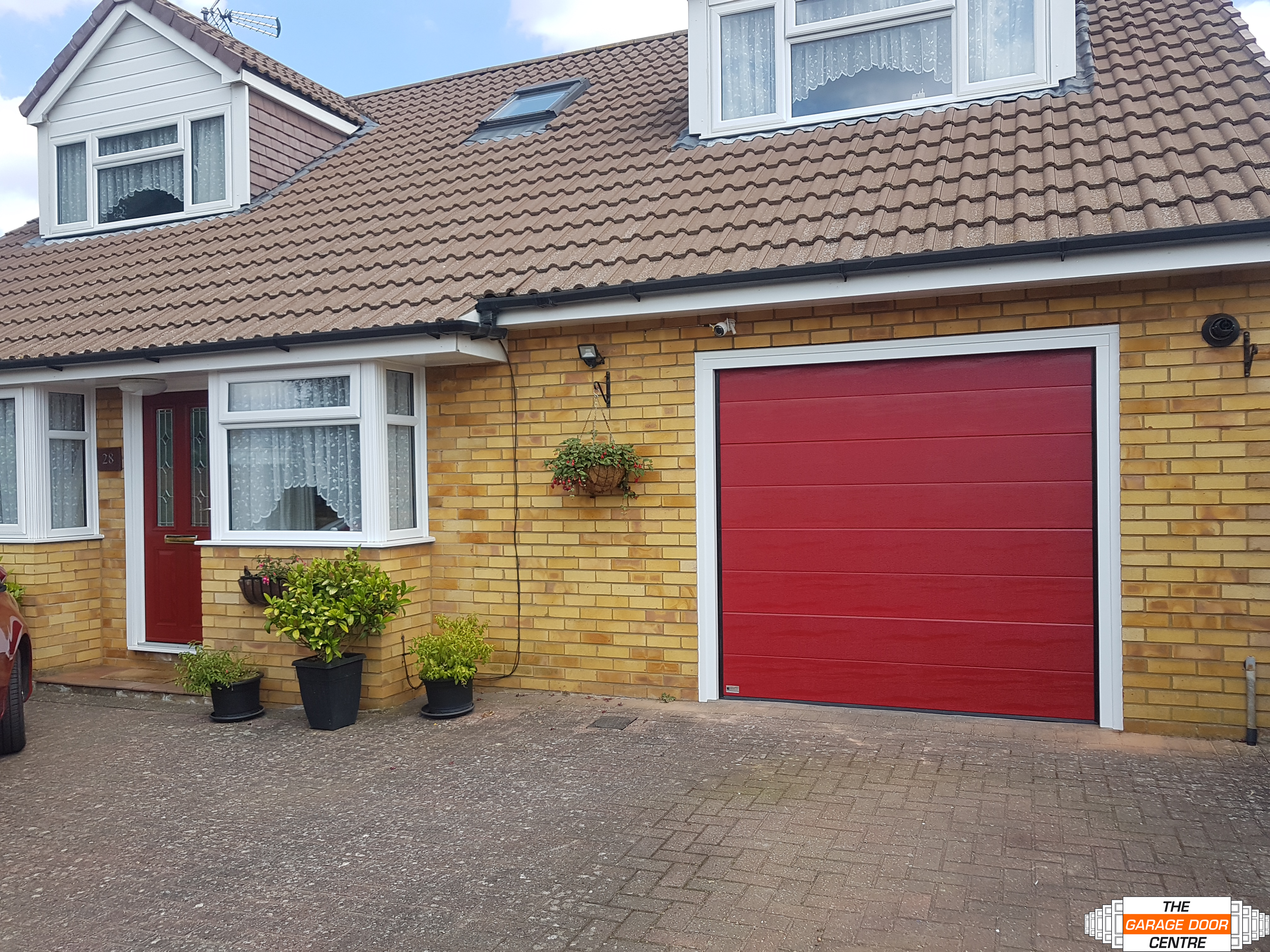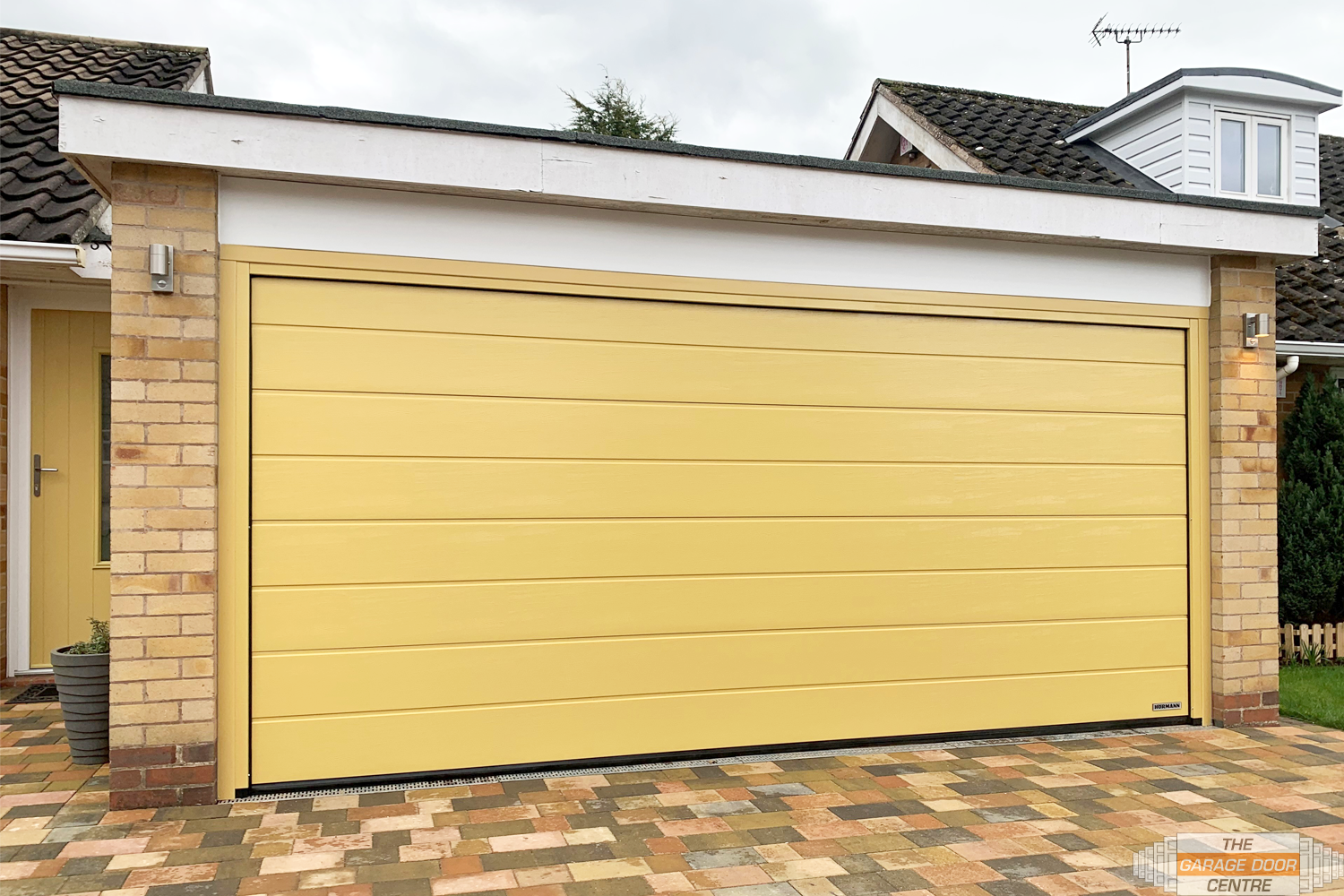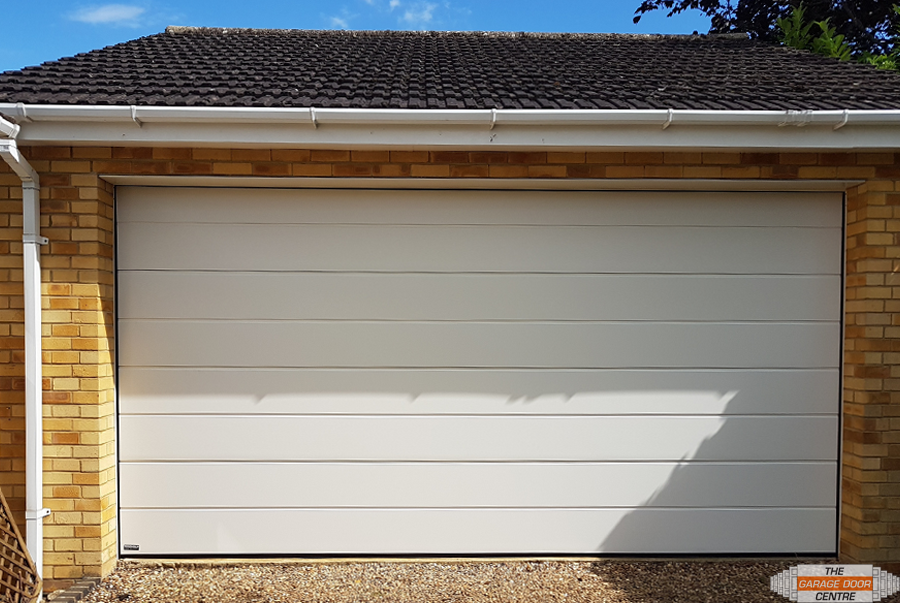 2. Sturdy and Durable
Sectional garage doors are made from tough materials, making them extremely durable and able to withstand damage from various weather conditions. The standard sectional garage door supplied by The Garage Door Centre has minimum 42mm thick panel construction, proving incredible strength whilst reducing damage from knocks and bumps.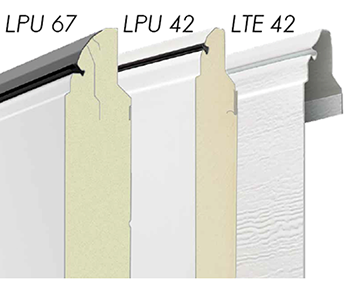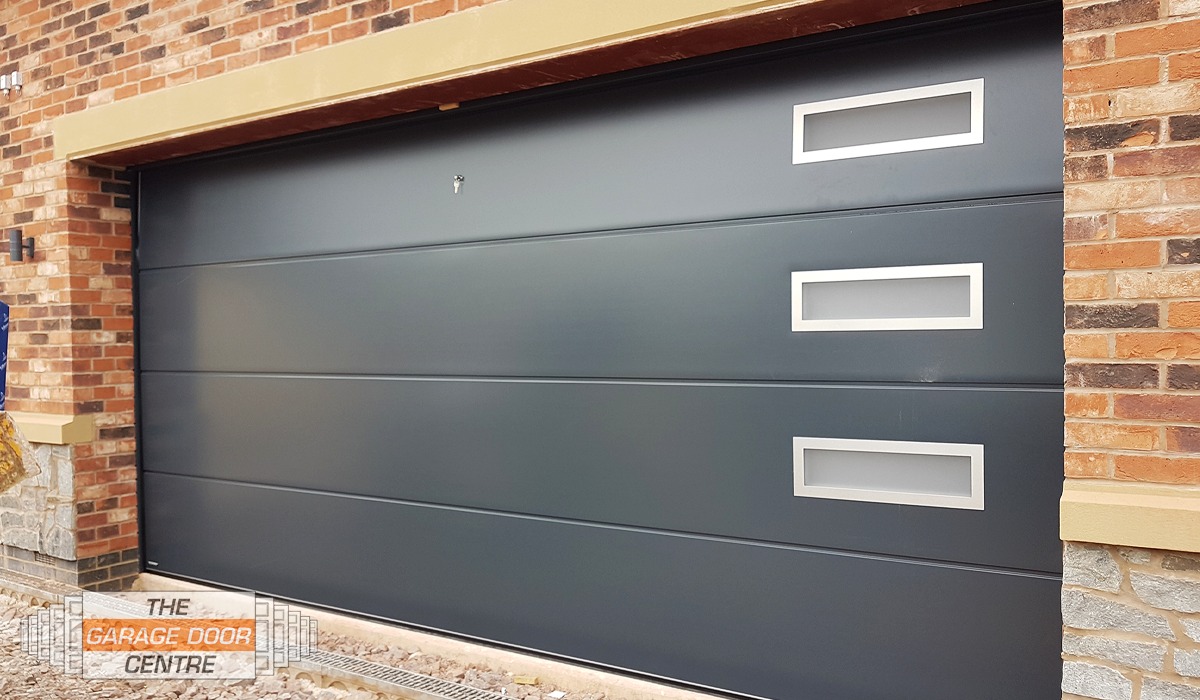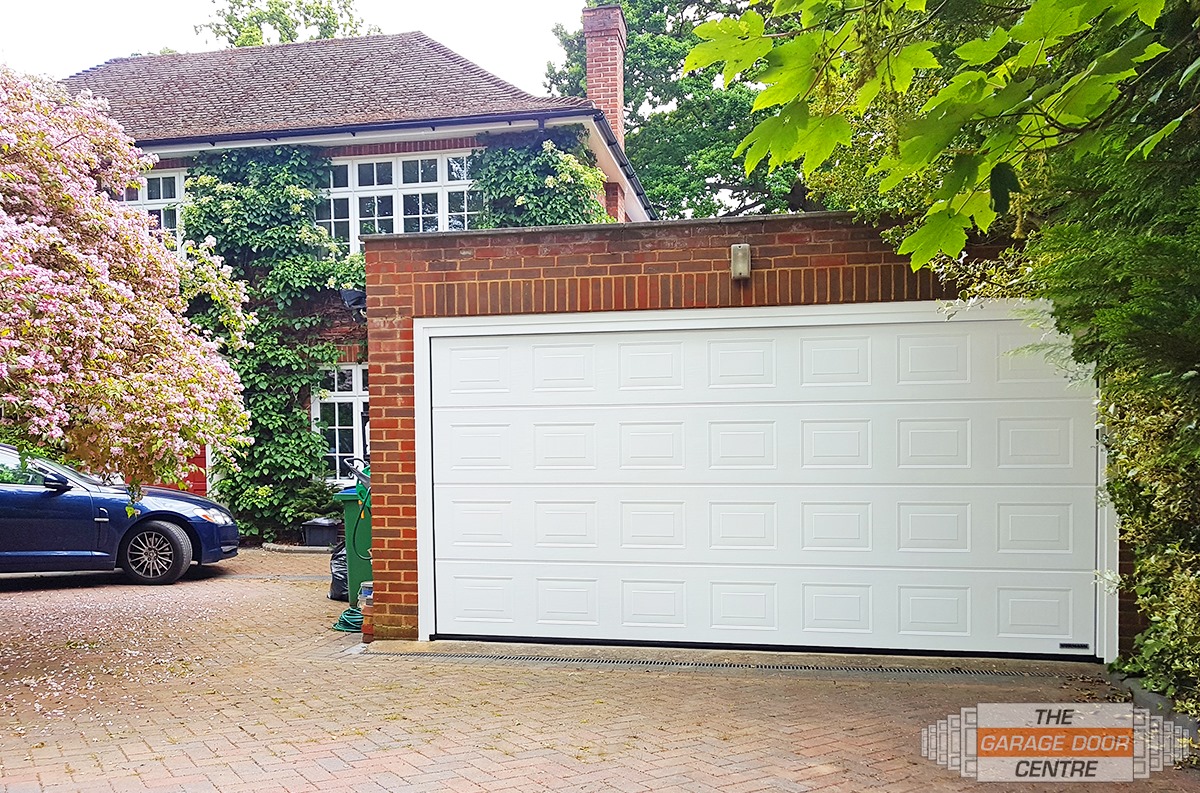 3.Various designs
You won't be disappointed with how a sectional garage door looks either. If you would like to add some bespoke doors instead of plain traditional ones, we have lots of options which your house could instantly improved kerb appeal.
3.1 Sectional doors with windows
The addition of windows to a sectional garage door can provide a number of benefits, including increased natural light in the garage and improved curb appeal. Windows can be placed in various patterns and sizes, allowing for customization to match the style of the home. Additionally, many sectional garage doors with windows are designed with insulated glass to help maintain a comfortable temperature inside the garage while still allowing for natural light.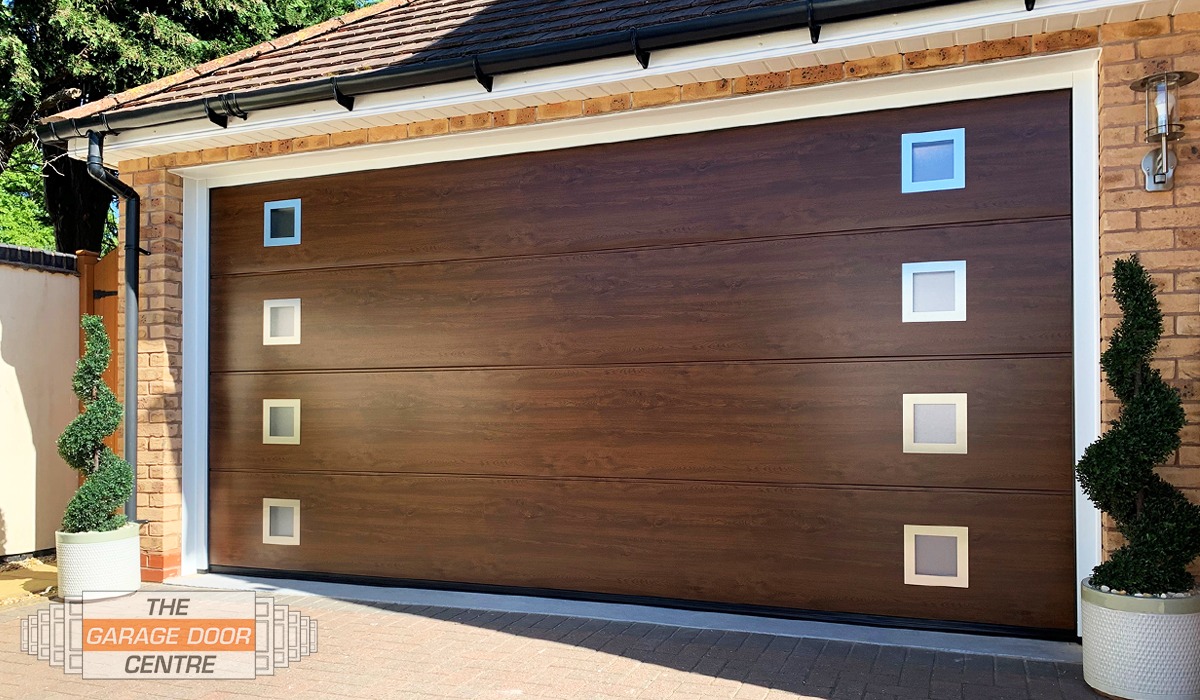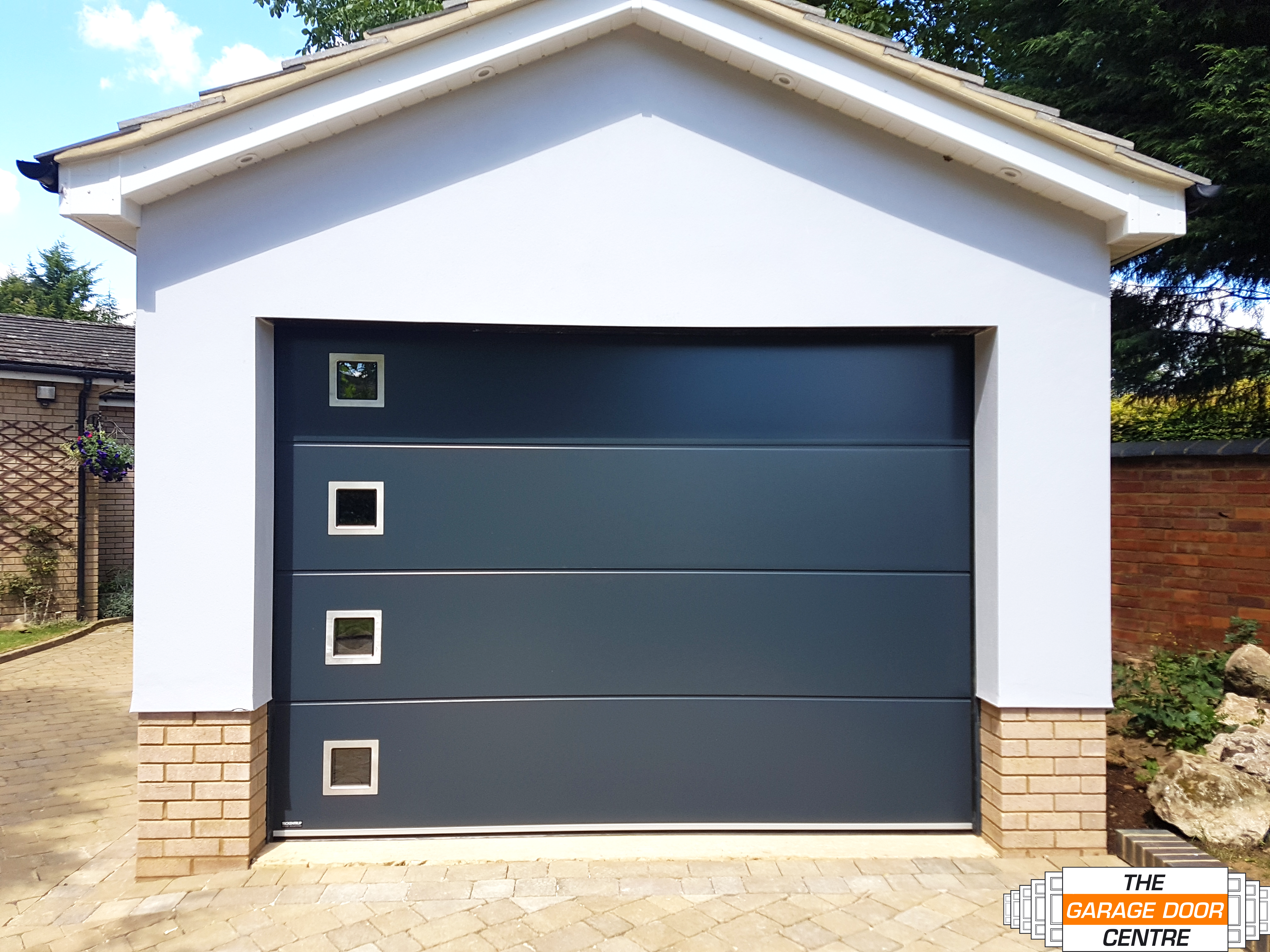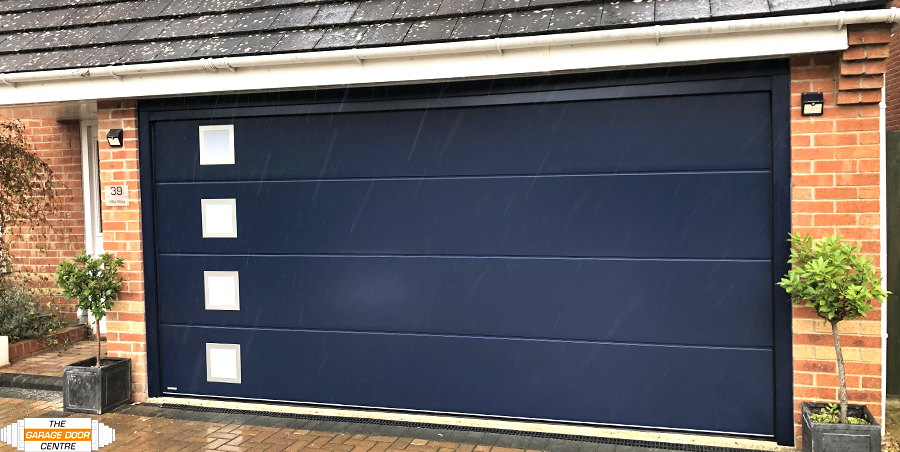 3.2 Sectional door with wicket doors/pedestrian doors
A sectional garage door with wicket doors is a type of garage door that includes a smaller pedestrian door built into the larger sectional door so you could easily access to the garage without having to open the entire garage door. If you are a homeowner who use your garage for more than just parking cars, such as using the space as workshop or storage area, this type of door is for you. The wicket door allows for quick and easy entry also could help conserve energy by keeping the larger door closed. At The Garage Door Centre, we have a variety of styles and materials in sectional garage doors with entrance doors, making it simple to find one that fits the aesthetic of your house.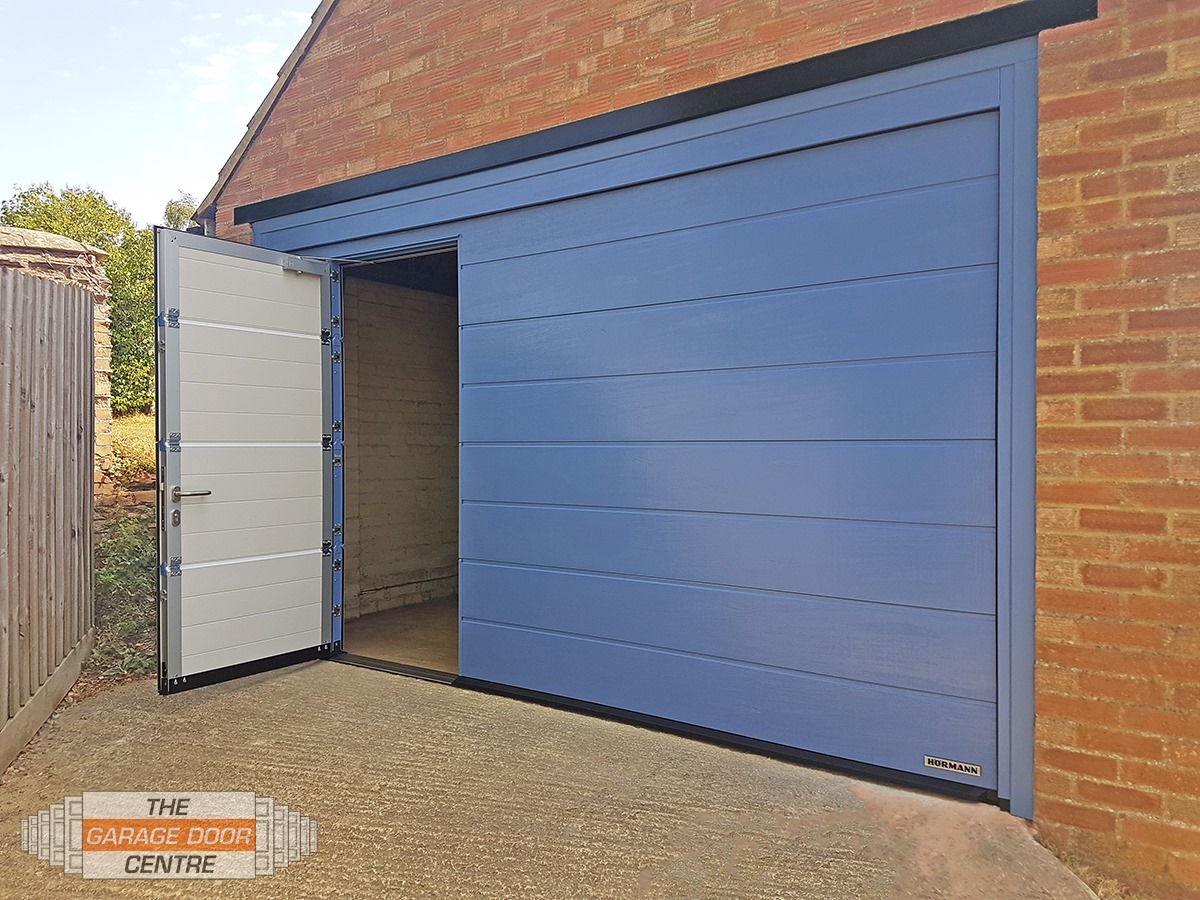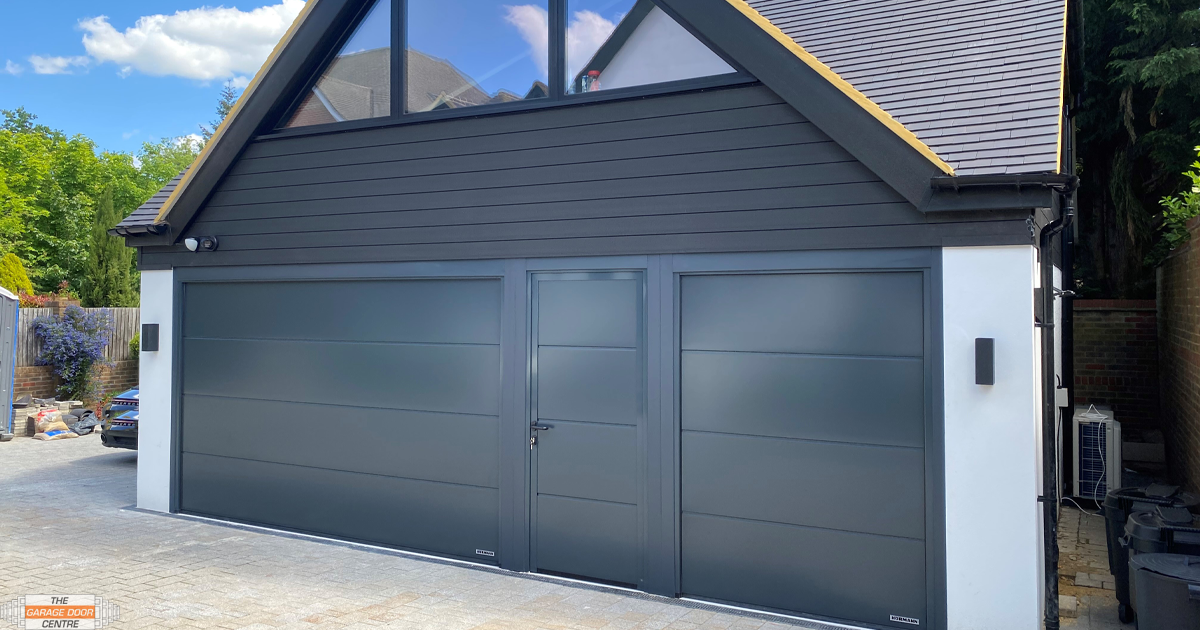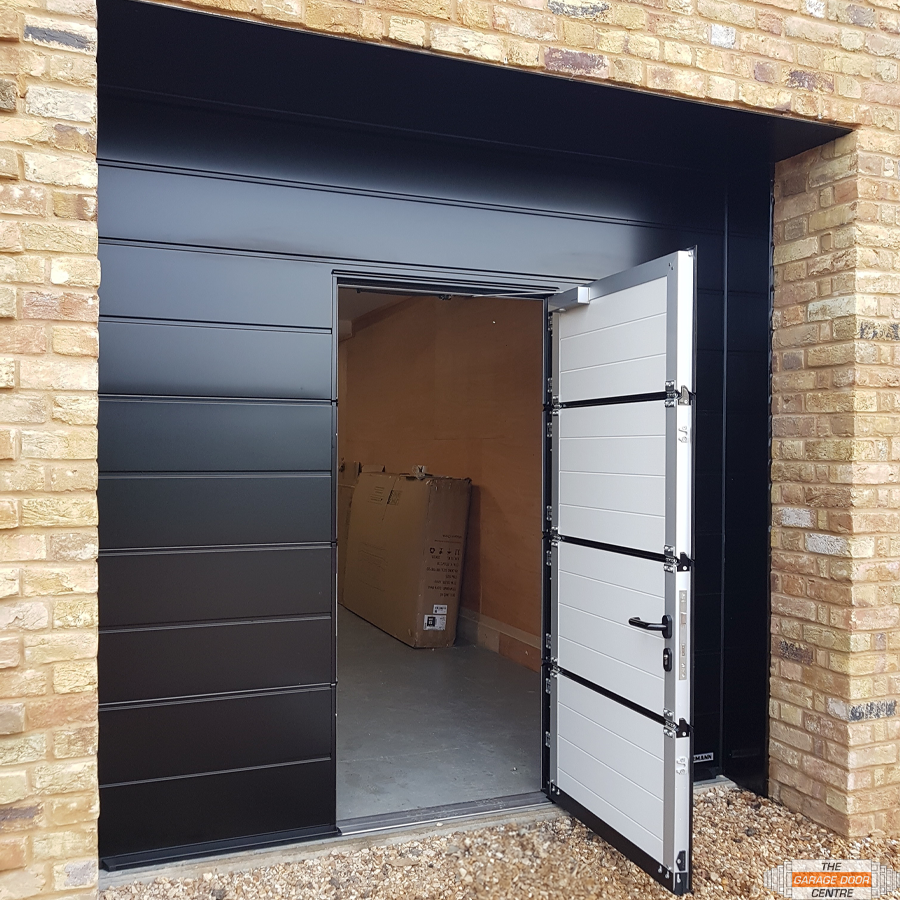 3.3 Glass sectional garage door
A glass sectional garage door is a modern and stylish alternative compared to traditional garage doors. It is constructed using full-view glass panels that are framed with aluminium or steel, which allows natural light to filter into the garage, creating a bright and welcoming space. It is constructed using full-view glass panels that are framed with aluminium or steel, which allows natural light to filter into the garage, creating a bright and welcoming space. For homeowner who used their garages as a workshop or a gym, this function is such a valuable addition.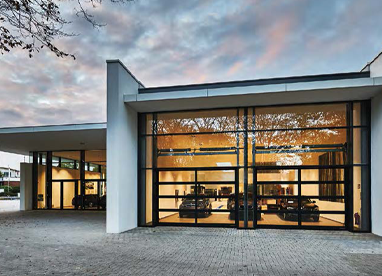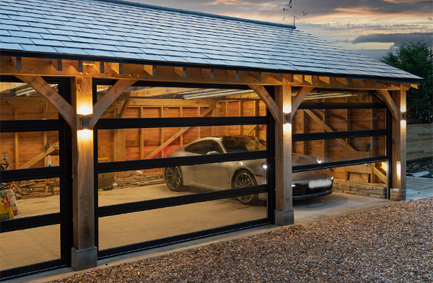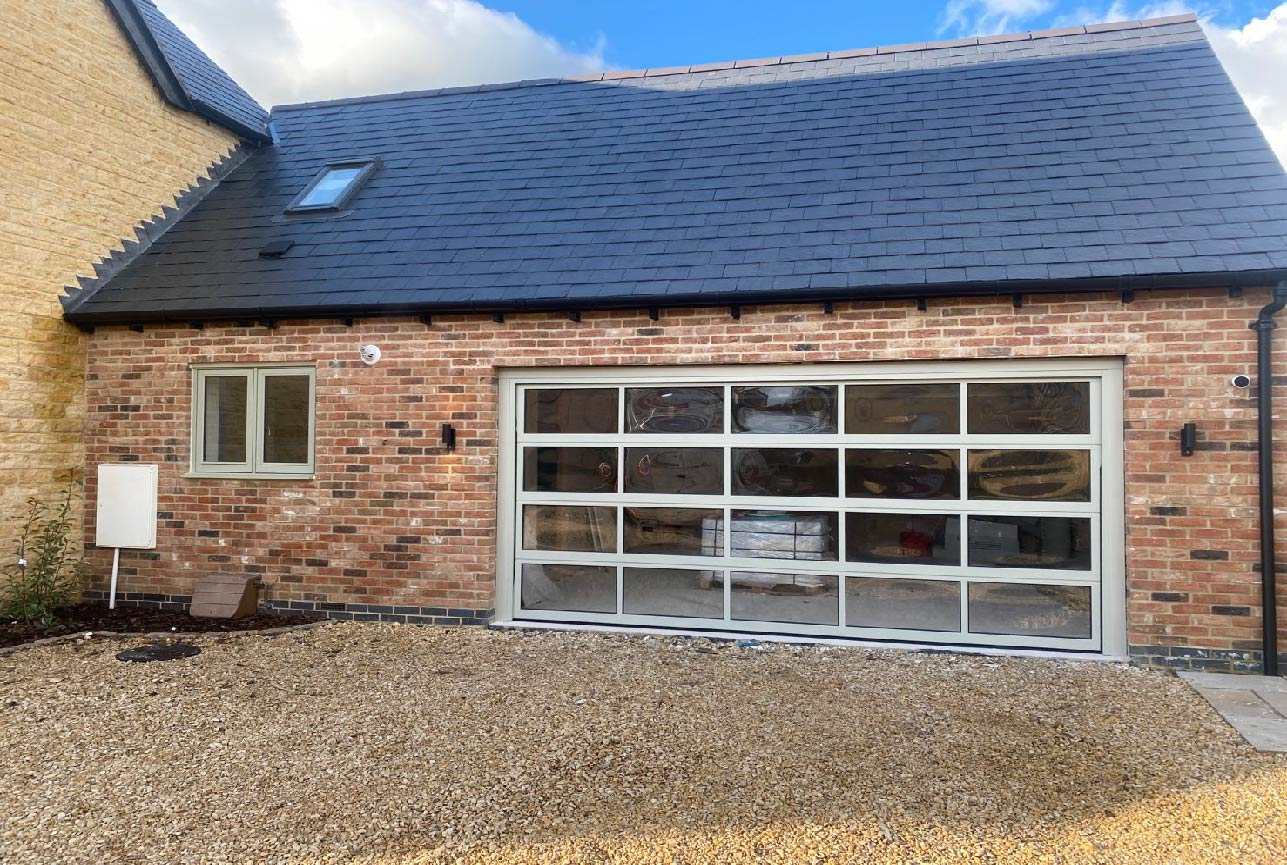 4.Easy maintenance
Sectional garage door also requires very limited maintenance, which saves your time and money on expensive repairs or replacements. These doors include simple mechanisms that can be easily maintained and fixed by a well-trained professional. In terms of regular maintenance, sectional garage doors typically require occasional lubrication of the moving parts to ensure smooth operation. Additionally, it is advised to routinely check the door for signs of wear or damage, such as frayed wires or panel cracks. Regular cleaning is also necessary to maintain the glass panels clear and free of dirt and debris, especially for doors that have windows. With regular maintenance, a sectional garage door could be a dependable and low – maintenance solution for homeowners.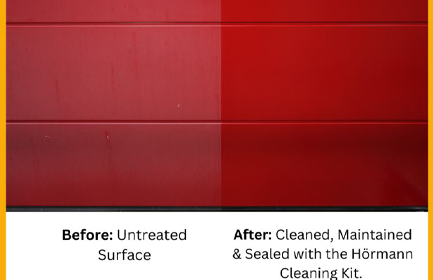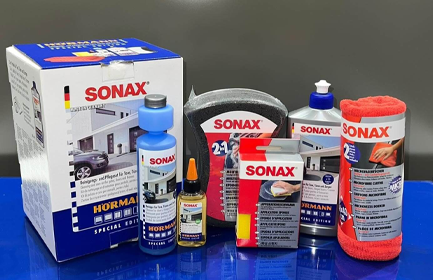 The Garage Door Centre is available with a largest collection of sectional garage doors in the UK. We provide a variety of sectional garage doors from different manufacturers in various styles, sizes and finishes and you could select the one that best suits your need. Contact us today if you have any enquiries.