Hormann Garage Doors and Operators…
Combining quality, reliability and outstanding durability.

Who are Hormann?
The Hormann Group came into being after the founder August Hörmann started producing steel doors from his workshop in Bielefield. After the war his son Hermann Hormann carried on the tradition in Steinhagen and from then on the Hormann family continued to show an innovative approach to business that has carried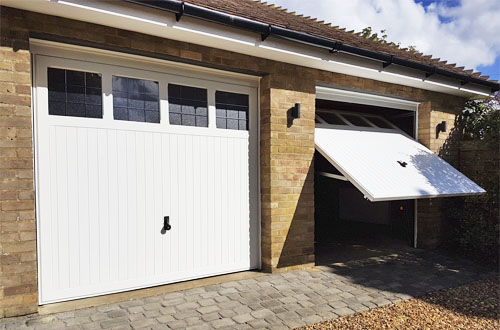 them through to their current position of being the leading manufacturer in and many parts of Europe for their range of garage doors, industrial doors and electric operators. In addition to garage door products they are also major manufacturers of fire and multi-purpose doors, folding and sliding doors, domestic entrance doors, gates and window systems.

And why should we buy from a German company?
Forget the nationality, just look at the products and the services. Hormann do not make empty promises regarding the lead times for delivery or the products themselves. With a total of 10 production plants in Germany and Belgium and further manufacturing facilities in the UK and of course their assembly plant in Coalville, Leicestershire (incidentally employing well over 100 people) they have the fantastic ability to carefully and accurately plan and monitor their production levels and lead times. Hormann also now manufacture in the U.S.A and for a home market, such is their commitment to purposeful design and innovative technology in garage and industrial door systems

Of course, if you choose not to forget their nationality, does have a sizeable reputation for engineering genius and superior steel products.

Are Hormann products any different – or better – than those of their competitors?
Yes, significantly so in some cases. Start with the basic product - up and over canopy and retractable steel doors. The steel door panel is pressed and formed with a return all around which provides a sturdier construction when inserted in to the sub-frame. The Hormann garage door sub-frame, which contains the panel, is welded and clipped for additional strength as opposed to pop riveted – a method used by several other manufacturers would generally be considered a weaker method of assembly. The operating gear – i.e. drums and cables are manufactured from steel (as opposed to plastic which is widely used) and the diameter of the cables is 3mm as opposed to the 2mm used in the main. The tracks and the rollers used on the canopy door are wider, thus giving a smoother operation.
The materials that the up and over ranges are available in are powder-coated pre-finished galvanised steel, timber and GRP panels in a powder-coated pre-finished steel sub-frame. The GRP panels are individually hand crafted and are of a deeper construction to resist impact damage and retain a rigidity that is so often lacking in many other grp garage doors.

Then take a look at their sectional doors – the range is totally unsurpassed by any one else. The combination of colours, styles, thickness of panels, finishes, gear types from which the final door can be conglomerated makes the Hormann range extremely versatile and pretty unique. The variation of sectional door panel design and size choice is far greater than any other manufacturer giving a door for almost every application required. The hinges and brackets are engineered to a tighter tolerance than other manufacturers, providing a quieter, smoother and more reliable operation. Available in polyester coated galvanised steel or two types of timber – Norwegian Pine or Hemlock. Although it is possible to purchase other timber sectional doors the gearing and quality of timber is arguably inferior to the Hormann.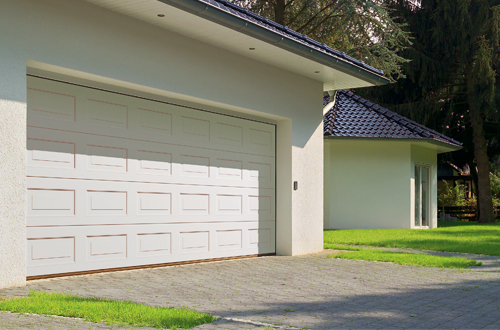 Hormann electric operators also boast the best of German engineering. Uniquely, a Hormann operator comes as standard with a secondary patented locking device. A variety of length of booms, control systems and accessories ensure that a Hormann operator will always fit the bill. The very latest technology for Homelink compatability is being offered in the Hormann operator range as well as increasingly unique and secure methods of access control such as various digital keypads through to fingerprint recognition systems. Market leading technology is the Hormann standard as one of the largest manufacturers in the world.
Whatever the application Hormann will have an appropriate electric motor and control method to ensure complete safety and peace of mind whilst offering peace of mind that the system is accurately specified to provide a reliable and trouble free package.

Okay – now you know why Hormann are a market leader – you need to consider carefully from whom you should buy their products from. Hormann only supply through approved distributors, however not everyone who sells Hormann products has a direct account. The Garage Door Centre is approved, applauded and preferred as one of the largest supplier and installer by Hormann. And understandably so!!!

The Garage Door Centre made a commitment to Hormann products many years ago when the first range of UK sized garage doors were produced alongside their existing European range. We have never looked back as continued growth of sales were assured by the sheer quality of the garage doors alone. The very competitive pricing of Hormann doors was a great bonus to all customers usually quite prepared to pay a higher price when comparing the Hormann doors to others available.
---
The Hormann Series 2000 range is a selection of up & over garage doors made exclusively available for members of the United Kingdom. It is produced with imperial dimensions in a selection of 3 gear types and a range of eye-catching designs.
---
The Hormann N80 & DF98 range (or European Continental Metric range) is an extension of the series 2000 range with additional sizes and designs.
---
The Hormann ET500 range of up & over garage doors are constructed for premises which require a high level of use. Doors are available in larger sizes to accommodate for unique installations. Recommended for commercial buildings, the Hormann ET500 up & over garage doors can also cater for residential premises.
---
Hormann Sectional garage doors offer a quick, efficient form of garage door security. Opening in a vertical fashion due to its different sections, a sectional door offers more driveway space than a traditional up & over garage door. Designs in the Hormann Sectional garage doors range are stylish, contemporary and suit any household.
---
Hormann Roller Shutter garage doors provide a neaty, tidy solution to your garage door problems. With a solid curtain offering protection, it rolls up into a shutterbox directly above the opening giving you additional driveway space and more headroom within your garage
---
Hormann manufacture a beautiful range of front entrance doors. Available with side elements and lighting as additional extras, each door is constructed to the highest quality and with a selection of over 90 designs, each taste is satisfied.
Doors in the TOP range are available as Top Comfort, Top Prestige and Top Prestige Plus. This demonstrates different levels of security and insulation offered.
---
If you would like to know more about the fabulous Hormann garage door range why not give us a call free on (0800) 525442 or Email for further details. We always have a promotional offer on one part of the extensive range so check out our promotions page - click here.