Most people take pride in their home inside and out and we know that the front of your home will give the first impression of what is to come. With a garage door there are many factors and decisions to make to pick the perfect door. From side hinged to sectional to the traditional up and over and roller, whatever you decide to choose you have peace of mind that our garage door experts will be with you every step of the way. See our tips below on how a garage door can improve your homes curb appeal!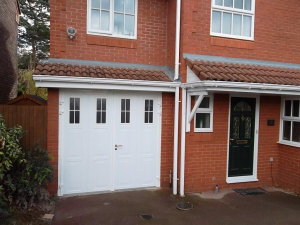 Harmony with the look of your home
Your garage often is at the front of your home and is something that everyone sees! Creating a seamless look between your home and garage means your home will look harmonious, from the colour to the style this will really make the look of the front of your home come together.
Homeowners put a lot of thought into the front door of their home because they're aware that everyone who passes by, sees it. Your garage door, which is more prominent, should receive the same attention. Let your front door set the tone for your garage door by closely matching it, or even have the option of upgrading your Garage Door and Entrance Door with matching colours and accessories. Matching Garage Doors and Entrance doors create a beautiful harmony for your home, not only increasing curb appeal but possibly adding value with extra security and a modern look.
Colour means everything
You may think that matching your garage door to blend in with the colour of your house would make it almost disappear and look as if it is part of the home, however we think that it detracts from the appearance of your home, our team of Garage Door experts are on hand to show examples of how a garage door can transform the look of your home. With options from steel to timber there is something for every house! Timber doors can really improve the look of a house and make it look more expensive. Our manufacturers offer many colours from the classic standard white which is ever popular to sage which fits in with the neutral trend many homeowners have gone for inside the home.
White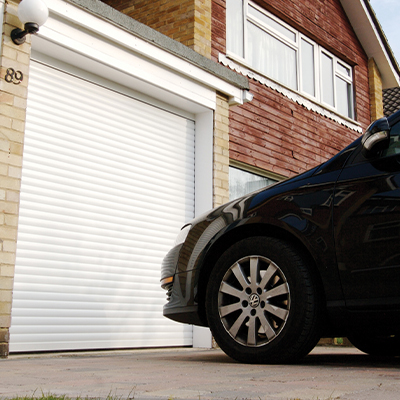 White is the most popular colour for garage doors and has been since the first garage doors in 1920, the crisp clean look of a white garage door gives a classic look to your home and keeping on top of cleaning and maintenance will give your home the classic feel curb appeal.
Grey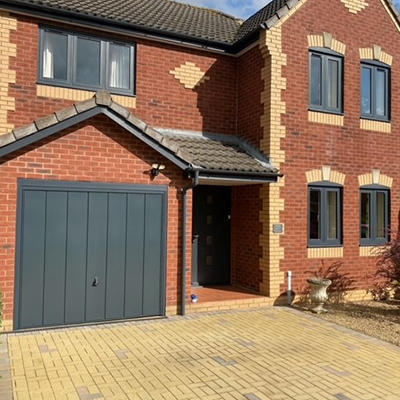 Over the last few years grey interiors have been a popular choice and this has spilled out onto the outside of the home too, from grey garden furniture to cladding we have seen a movement toward grey garage doors and entrance doors, less noticeable than the classic white the grey garage doors gives a very modern sleek feel to the front of your home.
Black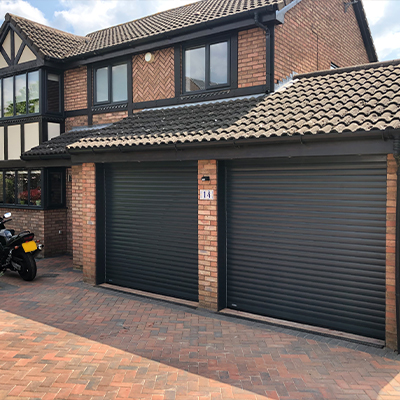 The hottest trend right now is black garage doors, and we can see why! Sectional doors in black are among the most modern looking especially on new homes! Offering a unique bold look, a black garage door can transform the curb appeal of your property and bring it up to date, paired with a dark front home this really is the hottest trend and we can see it sticking!
Wood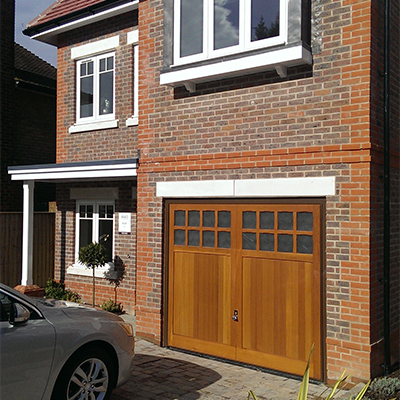 Being a renewable resource timber is more eco-friendly than any other material for your doors, along with being an eco-friendly option a timber garage door is timeless. Timber doors look and appeal is unmatched, we believe timber garage doors are among the best options for your home due to longevity, uniqueness, and security. Timber is a beautiful natural building material and is it always worth remembering that images in brochures, on websites or photographs of timber garage doors you have seen and like may not always be reproduced the same in another door. This is because natural graining, knots and shading will always vary from one door to the next and is highlighted more on lighter colour finished doors.
It's all in the detail
Some garage doors are very customisable with options of windows, hardware, and a choice of beautiful colours, you are bound to make an impact with the front of your home. Dress up the front of your home not only by adding a new modern garage door, enhance the space with fall potted plants and up down lights to really make your garage door a feature. Decorative stonework and lighting can transform the look of your garage from the outside and paired with a beautiful Garage Door from The Garage Door Centre you will be sure to have people gazing in awe at your home.
Matching Entrance Door
A stunning garage door can elevate your homes curb appeal, but a matching entrance and garage door is sure to bring your home to the next level. Choose from an array of colours, styles and options with your garage door and entrance door and have them sit in harmony on the front of your home.


Contact Us
Don't hesitate to contact our expert garage door team with any enquiries regarding our garage doors. They are luxury, high quality products that require expert specification from professionals.
Call us on 01933 229135, or follow the button below to fill out our online contact form.