When it comes to home energy savings, most of the homeowners usually look to insulation features including efficient appliances, smart thermostats, etc. Garages, on the other hand, are often overlooked areas that could have a huge impact on energy consumption. Insulated garage doors are known as a practical solution to minimise heat loss or heat absorption, making them a wise investment for anyone who wishes to save money on their utility bills. In this news, The Garage Door Centre will explore the benefits of insulated sectional garage doors and how they could contribute to energy efficiency.
In the past, garage doors were mostly made of timber or single steel sheets and insulation was not a significant consideration. The doors were designed simply to fill the opening, and having gaps around them was normal. However with advancements in technology, construction methods, and consumer needs, there are now many insulated and sealed garage door options available.
So what is an insulated garage door?
An insulated garage door is usually made up of two outer layers filled with an insulating material, such as polyurethane foam. The skins are often reinforced steel or aluminium. The thickness and construction of the panels as well as the type of foam used all impact the insulation properties of the door. For instance, Hörmann LPU 42 sectional door panels are 42mm thick, with each panel featuring a rubber seal that provides protection and insulation.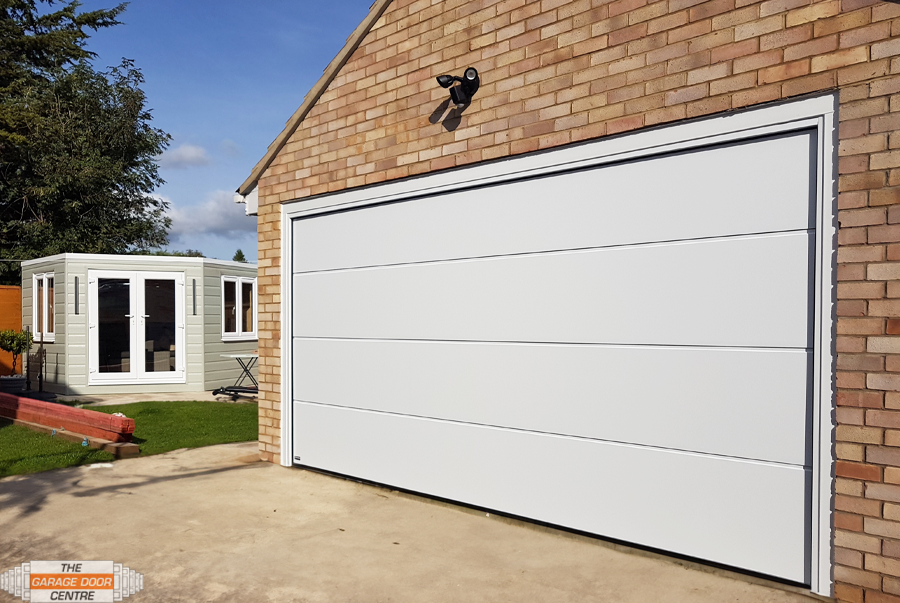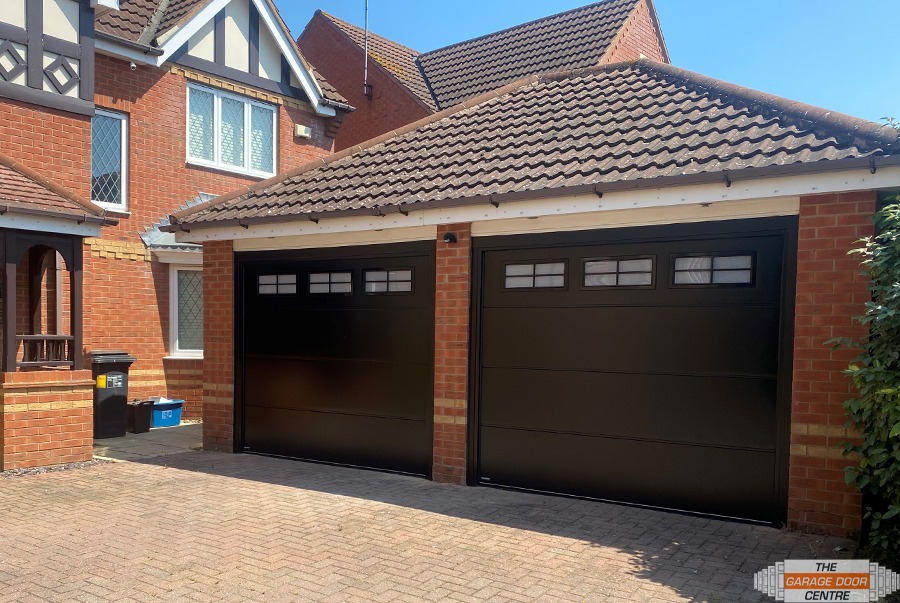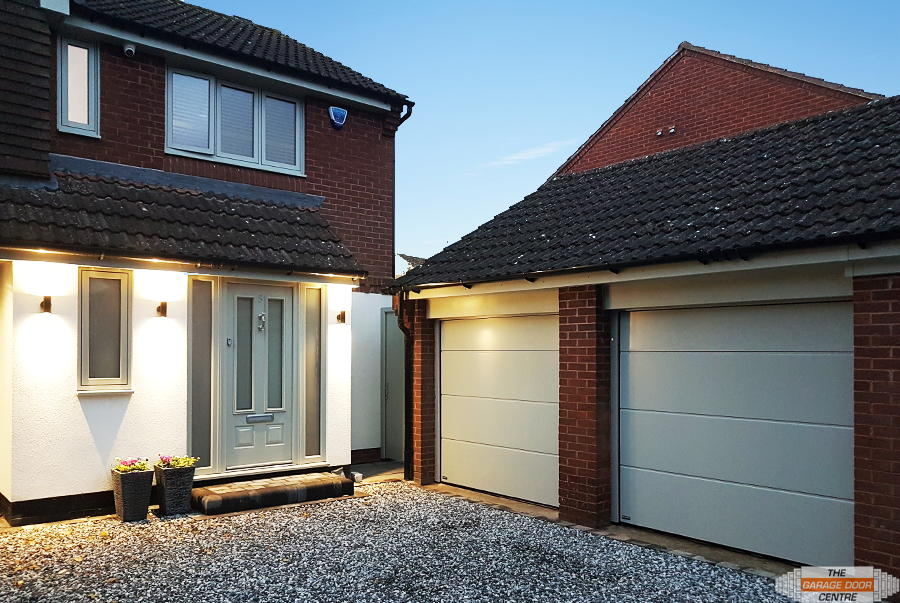 Why could an insulated door save your energy bills?
There are a number of methods for calculating and presenting a product's insulating properties, but the one referred to most frequently in the construction industry is a U-value. The U-value is a measurement that shows how much heat is lost through a particular material or a product. Currently, all doors including the glass and frame must have a U-value of 1.8/m2 or less to comply with building regulations*.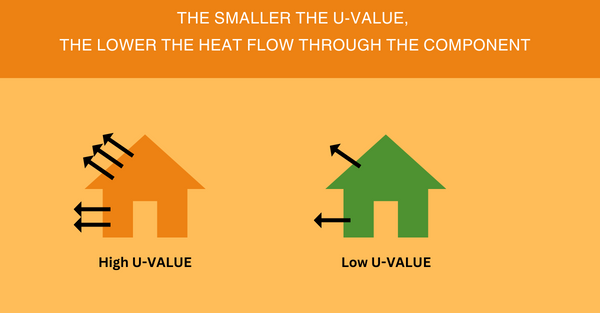 Here are some examples of how U-values are related to home applications:
- Single glazed window: 5.6 w/m2K.
- Double glazed window, with standard air cavity: 2.8 w/m2K.
- Hormann sectional garage door with double skinned steel panel: 1.4w/m2K
- Hormann entrance door Thermo 65 (65mm thick steel door leaf): 0.87w/m2K
Beware of misleading claims!
Many manufacturers of insulated garage doors may be slightly misleading and state the U value of the invidiual panel section and not the U value as a completely installed garage door in an opening. The difference of course can be enormous, so please be sure if you are requiring a stated and tested U value for the complete door.
Benefits of an insulated sectional garage door
Thermal Efficiency
Garage spaces are typically unconditioned areas, meaning they are not connected to the home's heating or cooling systems. As a result, extreme temperatures outside can easily penetrate the garage and affect the adjacent rooms, leading to increased energy consumption to maintain indoor comfort. One of the primary advantages of insulated sectional garage doors is their ability to enhance thermal efficiency, minimising heat transfer between the outside and inside of the garage and helping to maintain a more stable indoor temperature, therefore reducing the workload on your heating, ventilation and air conditioning systems.
Overall strength and security
A double skinned garage door with a foam core for insulation is a far stronger door panel and therefore offers greater security and intergrity overall. The panel is a very strong and stable construction whether it be an aluminium roller door slat or a sectional, round the corner, slidling or side hinged steel panel sandwich. The thickness of the panel also allows locking and other furniture to be embedded into the panel rather than be surface mounted, again adding to the overall strength and more pleasing aesthetically too,
Many of the garage doors sold more for security than anything else also happen to be insulated garage doors with is an added benefit of course anyway.
Environmental Impact
By reducing energy consumption, we could create a more sustainable future. Less demand on energy means less greenhouse gas emissions, which leads to protect the environment and prevent climate change.
With the large selection of doors available, you do not have to compromise on the garage door's quality or design to get the best insulation, here are some top picks from us for you.
| | | |
| --- | --- | --- |
| | | |
Teckentrup sectional garage doors
The Teckentrup GSW40 sectional garage door is manufactured in Germany to very high standards. With great looks and excellent performance, the doors perfectly combine security, style, insulation and safety as standard.
Ryterna sectional garage doors
Ryterna Sectional Doors are one of the best designed garage doors on the market with excellent safety and insulation. Our premium Ryterna sectional garage doors feature U Value 1.1W/(m2/K) and noise reduction -25dB. They are ideal for intergated garages and workshops where thermal insulation is important.
Hormann sectional garage doors
Hormann, the worldwide leader in garage and industrial doors, offers the most comprehensive range of insulated sectional doors. With sections suitable for commercial and residential use, safety, quality and technology are outstanding.
In short, the lower the U-Value of your garage door is, the less heat will be lost and your property will be more efficient which leads to money saving. With a variety of insulated sectional garage doors to choose from, what are you waiting for? Improve your energy efficiency and update the appearance of your home today!
Contact Us
Call us on 01933 229135, or follow the button below to fill out our online contact form.


* Source
https://www.gowercroft.co.uk/news/what-is-a-u-value/#:~:text=A%20U%2Dvalue%20is%20the,the%20centre%20of%20the%20pane.
https://www.solidor.co.uk/news/insulating-your-home-u-values-explained/2017/05/#:~:text=To%20put%20this%20in%20simple,fixings%20%E2%80%93%20such%20as%20the%20hinges.