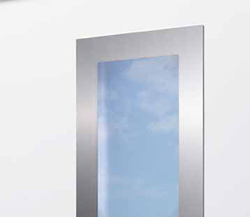 A new feature to our thermo front entrance door range - selected models can now be fitted with one-way plate glass!
This makes for effective privacy for the entrance of your home once the front door has closed, whilst still benefitting from the entry of natural light. Whilst one side of the glass, the light side, shows as a reflection, you are able to see through from the dark side, to the light side.
This is also available as an option for side elements and transom light where required - however this will not be to RC2 specifications.
Available from the start of April 2021, this glass is available for the Thermo 65 styles 610N, 700N and 810N.