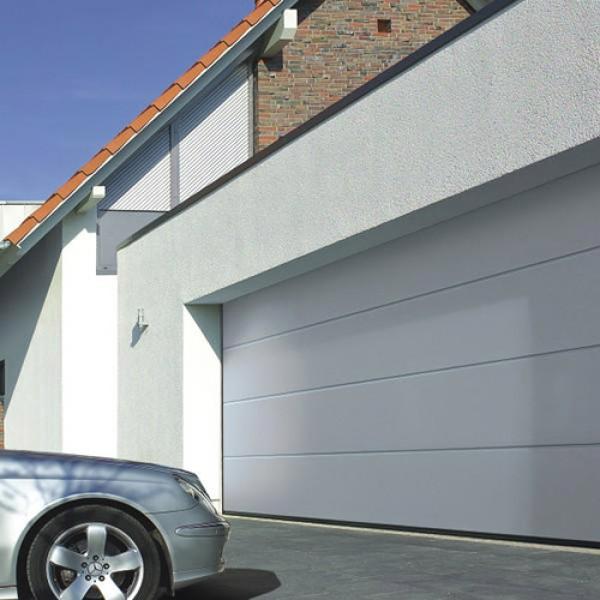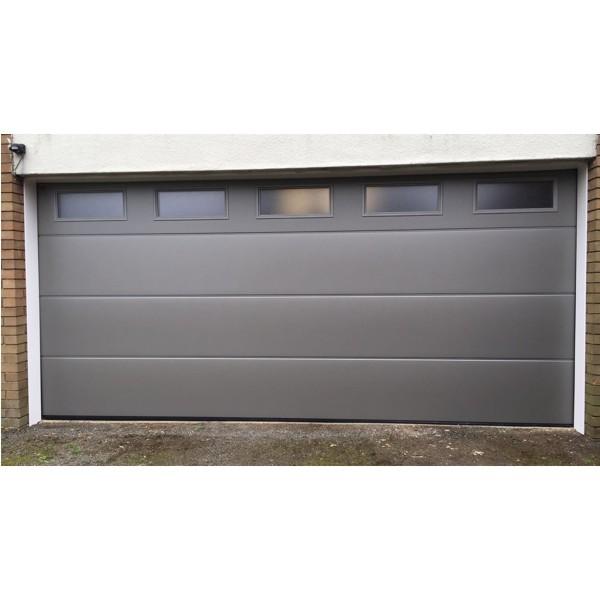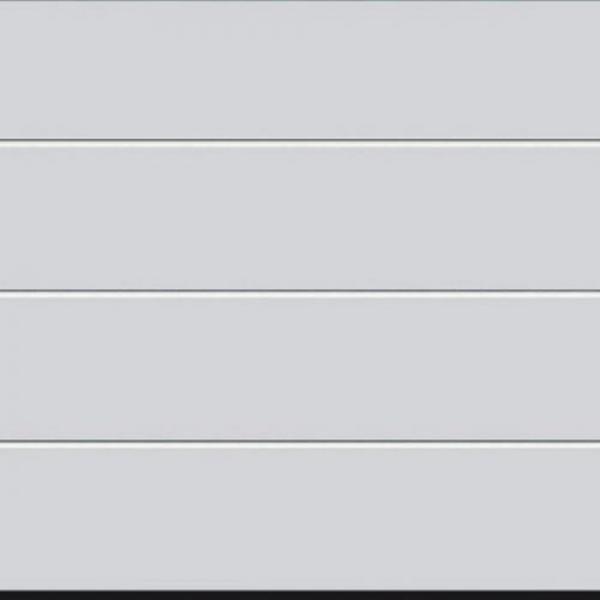 Hormann LPU 42 L Ribbed Silkgrain

Door Type:
Sectional Doors
Minimalistic and totally individualistic - a stunning garage door with many options to create a wide range of visual statements.
To make an enquiry about this product, please click the button "Make an enquiry" below this message, or call 0800 525 442
description
Colour Finishes
The Hormann LPU42 L Ribbed Silkgrain sectional garage door is the absolute ultimate in unconventional design – totally uncluttered door panels without any feature whatsoever. The very starkness of this door bestows an exquisite purity to its overall appearance. A classic example of less is more! And although the door is different to the rest of the Hormann range the same stringent engineering and manufacturing standards are maintained.
Fully insulated with the panels having a 42mm filling of CFC-free rigid PU foam and rubber weatherseals around the edges of the door and between the panels, the Hormann LPU 42 L-Ribbed Silkgrain® sectional garage door can make an amazing difference to the garage, especially if it is integral or has a direct entry to the main property. The consequential retention of warmth and stability of temperature will possibly render the garage suitable for other purposes, perhaps as a hobby room or workshop. Certainly, energy will be conserved which must be a plus if power is saved!
The finish of the Hormann LPU 42 L Ribbed Silkgrain® door is the most beautiful smooth surface, almost like velvet to touch. On a practical level, the rich appearance is protected with a high quality polyester primer paint finish. The standard colour is Traffic white with a further 15 factory finished colours and around 200 RAL colours options being available.
The short video below shows the unique features of a Hormann insulated sectional garage door
Designer Door
The LPU 42 Ribbed panel is used for most of the designer doors from the Hormann standard range of dor options. Its flat surface is ideal for optional stainless steel elements and ultra modern glazing elements too. Design a unique door for your own property and from the ultra high specification aluminium entrance door range you can also get a front entrance door to match the garage door. Many of the standard models offered in the designer doors have a front entrance door with the same glazing or stainless steel elements to perfectly co ordinate your front elevation with a door that you can rest assured is of the very highest engineering standards with the latest locking mechanisms available for ultra high security too.

Surface Finishes
The Hormann L Ribbed sectional garage door is available in a silky-smooth elegant Silkgrain surface finish.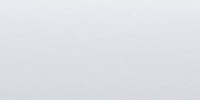 Thermal insulation
Double-skinned steel doors 42 mm
Section U = 0.50 W/m2 K
Door leaf U = 0.90 W/m2 K
Fitted door 1) U = 1.30 W/m2 K
Acoustic insulation
Double-skinned steel doors 42 mm R = approx. 22 dB
Wind pressure
Double-skinned steel doors 42 mm class 3

Maximum Door Sizes
Width 5500mm Height 3000mm

Glazing Options
16mm double pane in clear (DS) or crystal structure (DK)
Type D
Handles
The Hormann LPU 42 is manufactured with no pre-drilled handle hole as standard. This is to offer a smooth door finish on doors with electric operation which do not require a handle. If a handle is required, a selection of handles are available from the selection below at a surcharge.
Black
Synthetic Plastic

White
Cast Aluminium

New Silver
Cast Aluminium

Brass
Cast Aluminium

Polished
Stainless Steel

Brushed
Stainless Steel
Suitable Operators
Both the Hormann Promatic and the Hormann Supramatic are the perfect remote controlled operators for the Hormann LPU 42. They both come supplied with an integral receiver, automatic locking, automatic safety cut-out, emergency release from inside, and a soft start/soft stop function to minimise door wear and tear.
Hormann electric garage door operators are supplied with two transmitters as standard when purchased. Other remote transmitters and access control systems are available from the selection shown below and other controls are available to link in with Homelink systems and also vehicle transmitter systems.

HS 1 BS
Hand Transmitter
(1-channel)

HS 4 BS
Hand Transmitter
(4-channel)

HS 5 BS
Hand Transmitter
(5-button)

HSE 2 BS
Micro Hand Transmitter
(2-channel)
To view the whole range of Hormann remote control accessories, view the Hormann Remote Control Operators page.
Finishes
Hormann steel sectional doors are finished as standard in white polyester paint (RAL 9016) - a finish which if you wish can be lightly rubbed down and painted. Choice of 15 preferred colours:

RAL 7040
Window Grey

RAL 7030
Stone Grey

RAL 7035
Light Grey

RAL 1015
Light Ivory

RAL 5014
Pigeon Blue

RAL 8001
Ochre Brown

RAL 5011
Steel Blue

RAL 9006
White Aluminium

RAL 8003
Clay Brown

RAL 8028
Terra Brown

RAL 3003
Ruby Red

RAL 6009
Fir Green

RAL 6005
Moss Green

RAL 7016
Anthracite

RAL 9007
Grey Aluminium