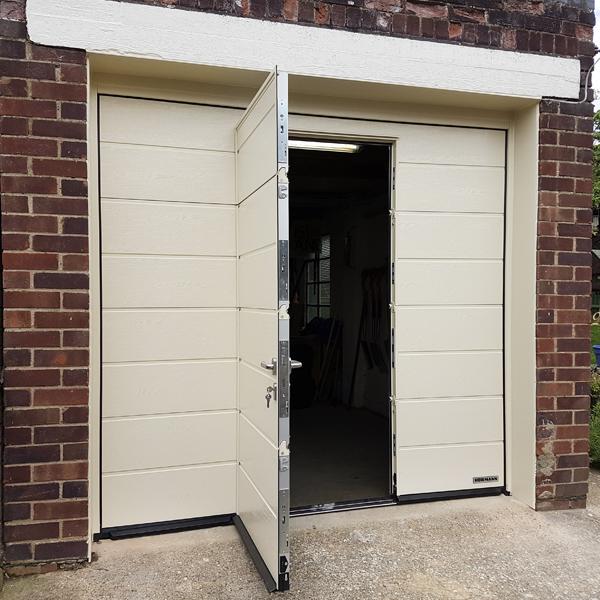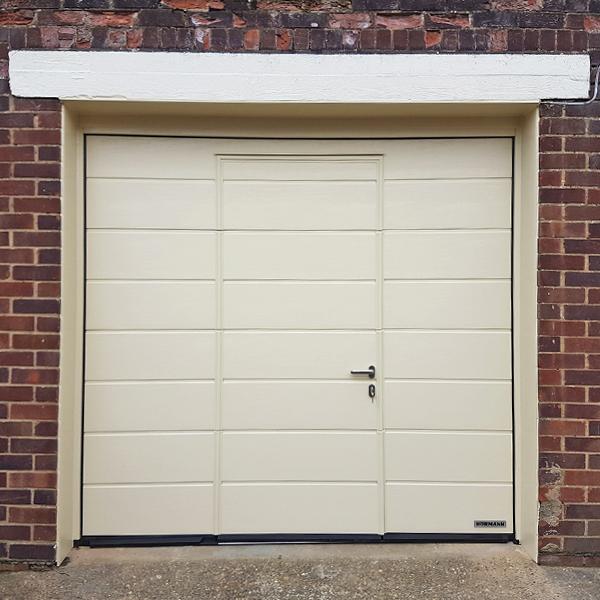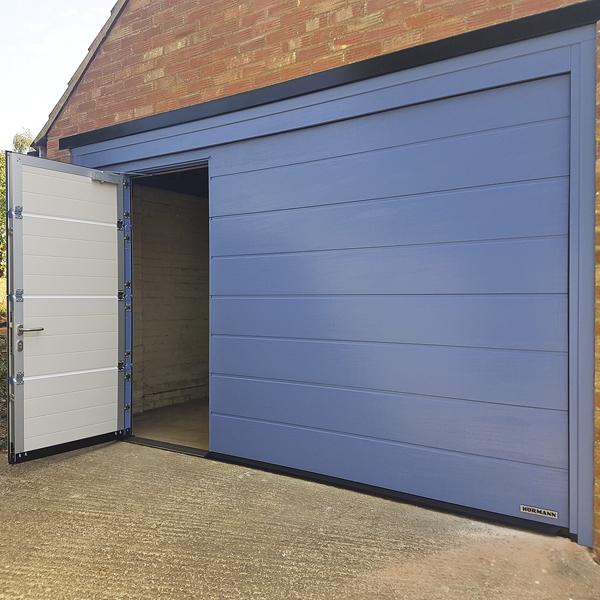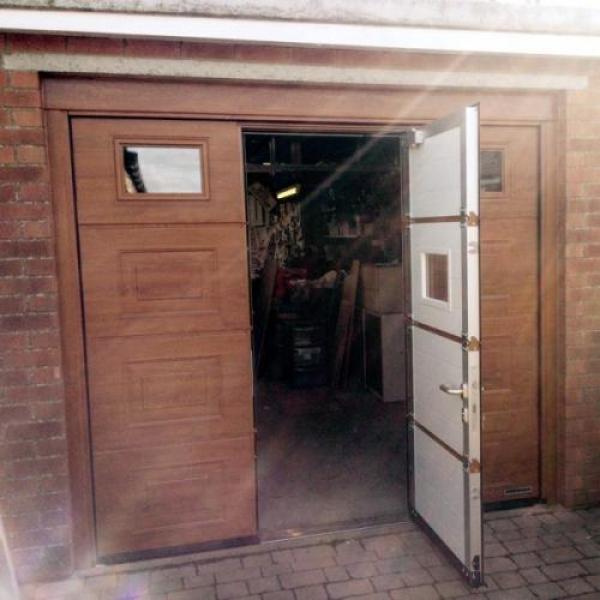 Hormann LPU 42 with Wicket Door inset

Door Type:
Sectional Doors
The Wicket door – the perfect solution when frequent pedestrian entry and exit to a garage is required. The perfect combination when inset into a convenient, insulating sectional garage door.
To make an enquiry about this product, please click the button "Make an enquiry" below this message, or call 0800 525 442
description
colour finishes
The Ultimate Convenience
Where there is a regular requirement to access the garage on-foot, the wicket door is a practical solution. If you use your garage to store cycles or gardening equipment you really don't want to be opening and closing the whole garage door every time you need such equipment. In this circumstance, a wicket door doesn't only provide convenience, but also prevents the considerable amount of heat loss every time the entirity of the door is opened, especially relevant if the garage is integral to the house.
Safety
When selecting a wicket door the first thing to establish is depth of the threshold. A trip free threshold is a must to avoid accidents and personal injury. The Hormann wicket uniquely boasts this feature, an extra flat stainless steel threshold – just 10mm high in the centre and 5mm at the edges. The Hormann wicket door and frame has the same Hormann patented finger trap protection as the entire door. The top garage door section, also in the wicket door area comes with a continuous lintel seal.
The short video below shows the unique features of a Hormann insulated sectional garage door

Attractive and stylish, the wicket door is normally centred in the garage door (although with certain sized garage doors this can vary, so position does need to be checked when ordering). The wicket door always opens outwards. The aluminium frame is anodised as standard in a natural finish, although where a wicket door is being fitted into a Hormann sectional door with a Decograin garage door, the frame can be painted to match the decorative finish by request.

When automating the sectional door with a wicket door the Hormann Supramatic P is recommended and a wicket door contact will be needed.

The wicket door can be fitted in the Hormann LPU 42 sectional doors within the size range shown:

> LPU42 S-Ribbed woodgrain door widths: 2250 up to 4000, door heights: 1875 up to 3000
> LPU42 M-Ribbed woodgrain/sandgrain/silkgrain/decograin door widths: 2250 up to 4000, door heights: 1875 up to 3000
> LPU42 L-Ribbed woodgrain/sandgrain/silkgrain/micrograin/decograin door widths: 2250 up to 4000, door heights:1875 up to 3000
> LPU42 D-Ribbed silkgrain door widths: 2250 up to 4000, door heights: 1875 up to 3000
> LPU42 T-Ribbed silkgrain door widths: 2250 up to 4000, door heights: 1875 up to 3000
> LPU42 S-Panelled woodgrain/decograin door widths: 2250 up to 4000, door heights: 1955 up to 3000
Anthracite Grey

RAL 7016

Anthracite Metallic

CH 703

Bassalt Grey

RAL 7012

Fir Green

RAL 6009

Grey Aluminium

RAL 9007

Jet Black

RAL 9005

Light Grey

RAL 7035

Light Ivory

RAL 1015

Moss Green

RAL 6005

Quartz Grey

RAL 7039

Slate Grey

RAL 7015

Stone Grey

RAL 7030

Terra Brown

RAL 8028

White Aluminium

RAL 9006

Window Grey

RAL 7040