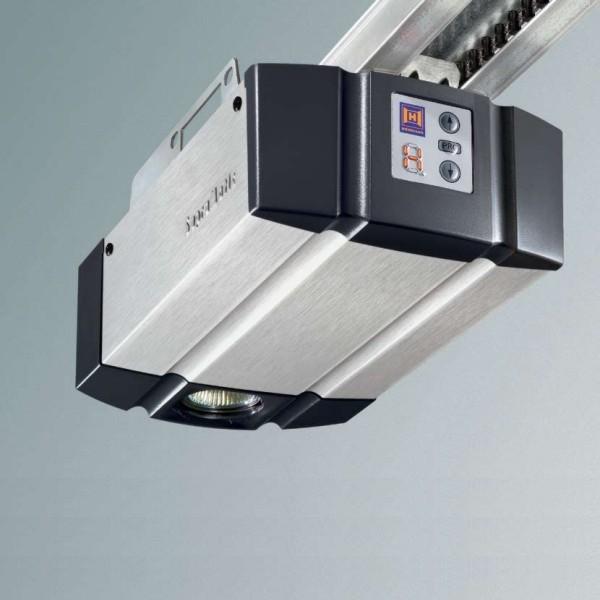 Hormann SupraMatic H

Door Type:
Electric Operators
To make an enquiry about this product, please click the button "Make an enquiry" below this message, or call 0800 525 442
Standard equipment
- Supplied with 4-button mini hand transmitter HSM 4, hand transmitter holder and integral 3-channel receiver in 868.3 MHz for functions impulse, operator lighting and second opening height. Each hand transmitter factory-coded individually from over 1 trillion combinations.
- Quick release operated from the inside, connecting cable with CEE plug,integral garage light with factory set 2-minute light, radio-operated.
- Door security kit as safety device.
- Universal installation bracket for up-and-over doors and sectional doors.
Housing
Aluminium and plastic
Temperature range
From - 20 °C up to + 60 °C
Operator details
24 V DC gear drive,mains voltage 230 - 240 V AC, 0.2 kW, push and pull force 1000 N, peak force 1200 N, opening speed 22 cm/s.
The SupraMatic H is the version for special requirements in underground and collective garages. For maximum 100 door cycles (open/close) per day. Contact us for more information on the SupraMatic H operator.
Operator boom FS 10
Self-supporting steel boom with polyester/polyamide toothed belt, plastic slide carriage and automatic belt tensioner. 1-piece, completely pre-assembled.
Electronic control unit
Microprocessor control, automatic adjustment of safety cut-out and travel limits, adjustable soft start and soft stop, 7-segment display, operator light and second opening height adjustable. Automatic timer adjustable, hold-open time 10 - 180 sec. after activation, impulse control.
Operator Accessories
Comes with LED light as standard.
The Supramatic is supplied with two transmitters as standard when purchased. Other remote transmitters and access control systems are available from the selection shown below and other controls are available to link in with Homelink systems and also vehicle transmitter systems.

HS 1 BS
Hand Transmitter
(1-channel)

HS 4 BS
Hand Transmitter
(4-channel)

HS 5 BS
Hand Transmitter
(5-button)

HSP 4
Hand Transmitter
(4-function)


HSE 2 BS
Micro Hand Transmitter
(2-channel)

To view the whole range of Hormann remote control accessories, view the

Hormann Remote Control Operators page.