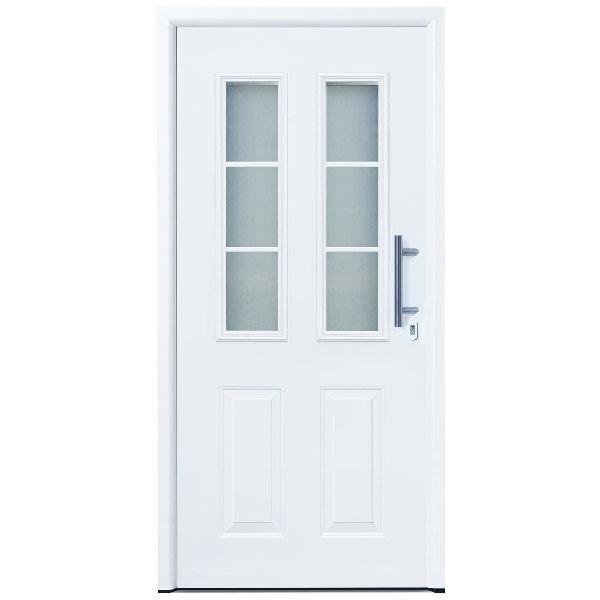 Hormann Thermo46 400 Entrance Door

Door Type:
Entrance Doors
A high quality Hormann front entrance door with glazing panels, ideal for various homes within the UK.
To make an enquiry about this product, please click the button "Make an enquiry" below this message, or call 0800 525 442
description
colour finishes
The Hormann TPS 400 is a traditional British front entrance door constructed using high-grade steel. The glazed window areas are uniformly split to create a harmonious design whilst still allowing sufficient light to pass through. They use double-pane insulated cathedral glass with a hammered finish.
Available with side elements and transom lights for that additional extravagance, your new Hormann Thermo46 continues to take full advantage of the natural light.
Side elements for the Hormann TPS 400 consist of a single panel high infill with a glazed upper half in a similar style to the door. The side element is a single panelled 46mm infill with cathedral-style insulated glass with surface-mounted rails.
Transom lights are available with double-pane insulated glass, clear laminated safety glass.
The Hormann TPS 400 comes complete with a HB 14-2 handle (as standard), with the option of HB 38-2 (long handle) at an extra cost.
All Hormann Thermo46 entrance doors have an elegant appearance. Each has a beautiful shaped smooth door leaf made of steel, without visible leaf frame, which simply looks good.
In the current economic climate, we are finding more common requests for additional insulation to help keep energy bills low; the Hormann Thermo46 definitely plays its part in energy saving. Thanks to a 46mm thick door leaf completely filled with PU rigid foam, these doors provide excellent thermal insulation. This ensures that all draughts are excluded and your energy bills remain low.
Heat preservation is also further ensured with help from double seals on all four sides of the door. With additional corner seals near the bottom, extra protection is provided against both heat loss and adverse weather conditions.
With the assistance of multiple-point locking as standard, this competitively priced front door gives you a feeling of security combined with an aesthetically beautiful appearance for your home. This allows you and your family to rest easy at night.
All Thermo46 doors from Hormann are manufactured in accordance with the ISO 9001(relating to quality standards) and regularly subjected to rigorous testing. A CE mark indicates the doors comply with EU directives in accordance with EN 14351-1. All of the door requirements laid out therein are adhered to. What do you gain?
- Water-tight under heavy rain
- Stable under heavy winds
- Airtight
- Acoustic Insulation
- Thermal Insulation
It has a thermal insulation U-value of up to 1.7W/m²K (dependent upon door size) to keep your home warm during those cold, winter months.
Thermo46 Steel Entrance Door Colours
Thermo46 entrance doors are supplied in a smooth white powdercoat finish (RAL 9016) as standard from the factory with the option of 10 other standard powdercoat colours available at an additional extra cost. Delivery from the factory in Germany will always be around 6-7 weeks from order.
The doors also have the option of the Decograin laminate woodgrain finish in Golden Oak, Dark Oak, Night Oak and Titan Metallic. These surface finishes are super tough and offer a match with the LPU40 range of sectional garage doors also available from Hormann.
Basalt Grey

RAL 7012

Clay Brown

RAL 8003

Cream

RAL 9001

Dusty Grey

RAL 7037

Flame Red

RAL 3000

Gentian Blue

RAL 5010

Grey Aluminium

CH 907

Grey White

RAL 9002

Pigeon Blue

RAL 5014

Purple Red

RAL 3004

Quartz Grey

RAL 7039

Light Ivory

RAL 1015

Moss Green

RAL 6005

Anthracite Grey

RAL 7016

Stone Grey

RAL 7030

Light Grey

RAL 7035

Window Grey

RAL 7040

Terra Brown

RAL 8028

White Aluminium

RAL 9006

Grey Aluminium

RAL 9007

Ruby Red

RAL 3003

Slate Grey

RAL 7015