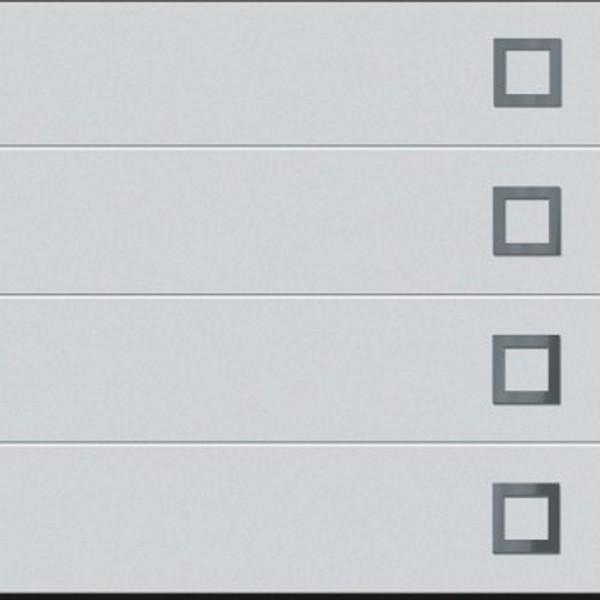 Hormann LPU 42 Silkgrain style 451

Door Type:
Sectional Doors
A combination of silk steel and stainless steel, makes for a modern and eye catching sectional garage door.
To make an enquiry about this product, please click the button "Make an enquiry" below this message, or call 0800 525 442
description
colour finishes
Innovative styling to say the least, the Hormann LPU 42 Design L Ribbed sectional garage door Style 451 and Style 461 are prime examples of unconventional design and creation. Brushed stainless steel profiles adorn the expanse of pure Silkgrain panels generating a glorious combination. Style 451 has a series of stainless steel frames running down each panel in line. Increasing the interest Style 461 has a synthetic glazing pane within the frames. Both Styles are complimented with matching side doors and front entrance doors – a truly startling manifestation! Precise alignment, exact uniformity of the panels and profiles all contribute to the overall harmonious appearance of the Hormann LPU 42 Design L-Ribbed sectional garage door.
The Hormann LPU 42 Design L-Ribbed sectional garage door possesses the finest qualities expected from the Hormann factories. Superb engineering and quality manufacture and a wealth of safety features such as finger protection, safety tracks preventing derailment, enclosed side frames. Fully insulated - CFC-free rigid PU foam filled 42mm panels and weather resistant seals around the all four edges and between the panels - render the garage that the Hormann LPU 42 Design L-Ribbed sectional garage door is fitted on extremely effective in temperature control and energy conservation particularly important when the garage is integral to the house or has a direct entry to the main property.
Surface Finish
The finish of the Hormann LPU 42 L Ribbed Silkgrain® door is the most beautiful smooth surface, almost like velvet to touch. On a practical level, the rich appearance is protected with a high quality polyester primer finish. The standard colour is Traffic white with a further 15 factory finished colours available.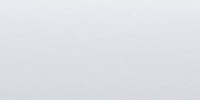 The short video below shows the unique features of a Hormann LPU 42 insulated sectional garage door
Thermal insulation
Double-skinned steel doors 42 mm
Section U = 0.50 W/m2 K
Door leaf U = 0.90 W/m2 K
Fitted door 1) U = 1.30 W/m2 K
Acoustic insulation
Double-skinned steel doors 42 mm R = approx. 22 dB
Wind pressure
Double-skinned steel doors 42 mm class 3

Maximum Door Sizes
Width 5000mm
Height 3000mm

Glazing Options
16mm double pane in clear (DS) or crystal structure (DK)
Type D

Handles
The Hormann LPU 42 is manufactured with no pre-drilled handle hole as standard. This is to offer a smooth door finish on doors with electric operation which do not require a handle. If a handle is required, a selection of handles are available from the selection below at a surcharge.
Black
Synthetic Plastic

White
Cast Aluminium

New Silver
Cast Aluminium

Brass
Cast Aluminium

Polished
Stainless Steel

Brushed
Stainless Steel
Suitable Operators
Both the Hormann Promatic and the Hormann Supramatic are the perfect remote controlled operators for the Hormann LPU 42. They both come supplied with an integral receiver, automatic locking, automatic safety cut-out, emergency release from inside, and a soft start/soft stop function to minimise door wear and tear.
Hormann electric garage door operators are supplied with two transmitters as standard when purchased. Other remote transmitters and access control systems are available from the selection shown below and other controls are available to link in with Homelink systems and also vehicle transmitter systems.

HS 1 BS
Hand Transmitter
(1-channel)

HS 4 BS
Hand Transmitter
(4-channel)

HS 5 BS
Hand Transmitter
(5-button)

HSE 2 BS
Micro Hand Transmitter
(2-channel)
To view the whole range of Hormann remote control accessories, view the Hormann Remote Control Operators page.
Finishes
Hormann steel sectional doors are finished as standard in white polyester paint (RAL 9016) - a finish which if you wish can be lightly rubbed down and painted. Choice of 15 preferred colours:

RAL 7040
Window Grey

RAL 7030
Stone Grey

RAL 7035
Light Grey

RAL 1015
Light Ivory

RAL 5014
Pigeon Blue

RAL 8001
Ochre Brown

RAL 5011
Steel Blue

RAL 9006
White Aluminium

RAL 8003
Clay Brown

RAL 8028
Terra Brown

RAL 3003
Ruby Red

RAL 6009
Fir Green

RAL 6005
Moss Green

RAL 7016
Anthracite

RAL 9007
Grey Aluminium