Roller Garage Door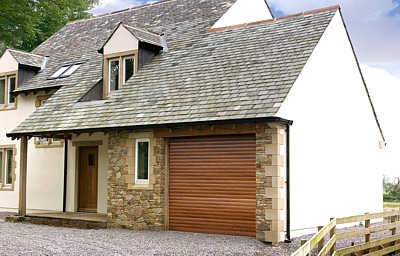 The roller shutter garage door is one of the neatest garage door solutions available, with smooth vertical operation and no internal tracking mechanism cluttering the inside of your garage.
The absolute minimum space required ultimately provides you with more room on your driveway for parking and additional storage space inside the garage where an up & over or sectional door would normally open into. You can park a vehicle right up to a roller garage door, outside or inside, and still operate it without having issues with obstruction from many larger, square backed, 4 x 4 vehicles.
The whole curtain roll for many of the very popular insulated aluminium roller doors available will usually open and roll into an average size of about 300 - 350mm diameter in a position directly behind, underneath, or in front of the garage supporting lintel.
The roll size for the continuous sheet curtain, single skin, steel roller door is usually a fair bit larger in diameter so check carefully before deciding on your door (average is 420mm - 480mm diameter). These doors can only be fitted behind a structure and not in between.
With an almost limitless selection of pre finished colours and woodgrain finishes, as well as most doors being made to order, the roller door is a garage door well worth looking at for your home, whatever the size or colour.
Benefits of a Roller Shutter Garage Door
Excellent security offered by the design of the door itself if specified correctly

Rubber seal to the bottom of the curtain to prevent dust, leaves, mice, etc.

Open and close the garage door at the push of a button

Excellent security when specified correctly

Ideal for driveways with little or limited space, due to vertical operation

No outward swing at all

Always made to measure for a perfect fit

Parked right up to the garage door and still able to operate

No internal tracking mechanisms
Top Tip
Do be careful when choosing as although roller doors may all look very similar on the internet or in printed colour brochures, the real differences for higher quality and long lasting reliability are generally in the numerous internal mechanics of these doors, where the components cannot generally be easily seen. A poor quality roller door will self destruct very quickly as there are so many small moving components - a compromise on price may make all the difference!
The roller garage door is the most diverse type of door in terms of installation positioning and can be installed on practically any shape or size of garage with careful planning as to the final results for drive through width and height.
Roller Door Types
Roller shutter garage doors are available in the UK as insulated double skinned aluminium or non-insulated single skin steel with the option of manual or remote control electric operation for either type.
The aluminium double skinned roller door is the most popular by volume and offers the greatest flexibility in installation position, sizing and control options.
We want to make sure you get the right roller garage door for your requirements so think carefully about what you want the door to do and how you want to control your new door. Also, what happens if there is a power failure and you have an electric door? Do you have the right override system for your garage? How does it lock? Is it secure against intruders? Is it legally compliant with the correct safety devices? Can it operate additional lighting when opening and closing? Can I operate the door with my smart phone? and so on....
We will never be the cheapest, but will make sure you get the right roller garage door!
Need higher security protection? The SeceuroGlide Excel is the answer

Safety Points
Some careful consideration must be given to the specification of an insulated roller garage door as there are many roller doors manufactured that still do not meet the stringent CE regulations in the UK, so are technically 'illegal'. They also do not meet the 'machinery directive' regulations created many years ago to bring total safety into products that are operated electrically and by remote control. Make sure you always buy a roller garage door with a bottom edge safety sensor as standard, as any form of infrared beams across the opening are not compliant on their own!! Also make sure the door has an anti fallback device of some sort for complete peace of mind. Nice smooth finished edges on the guides and the curtain are considered obligatory but some companies may try to sell you an industrial roller door with remote control and these can have some undesirable components for a domestic garage installation.
All roller garage doors are usually made to fit your opening perfectly with no specific off the shelf stock sizes available, unless offered as a special offer enticement.
The ideal installation position is normally mounting the entire roller door internally to provide the maximum width and height when open, but an aluminium roller door can fit in between and even externally of your structural opening with an optional hood enclosure to protect the door curtain whilst remaining visually appealing.
(When installed outside you should be aware you are viewing the concave side of the curtain and it does look different to the outside convex face)
The All Round Door?
There are very few applications when a roller type door will not fit and the only compromise is that the design of all the different types is always going to be horizontal lines. Small details do exist between different manufacturers slats and we can always clarify these differences as well as the major differences in the mechanics and security. We are happy to send samples out to you on request so you can see for yourself the quality and finished colour.
Applications
The roller garage door is the most versatile of garage doors as it can be manufactured to almost any size or colour (certain slat types only).
As the roller garage door rises vertically this means it can be installed behind any shape of structural garage opening such as archways, etc. Another very useful application is when a garage has a particularly high ceiling or when tracks into the garage would be running in front of a side entrance door, brick pier or similar obstruction.
If vertical lines are required due to certain planning restrictions or visual preference then why not consider the excellent Vertico round the corner garage door. Constructed from the same high quality insulated aluminium slats as the Seceuroglide but operating sideways as a traditional round the corner garage door.
A roller shutter garage door can be:
Ideal for arched garage openings to maximise drive through height.

Fitted onto double, triple or more garages with a multi channel remote control system - ideal for ease of use.

Specified with remote controls using the very latest rolling code technology for security. Your garage door can only be operated by your transmitter.
Finishes and Colours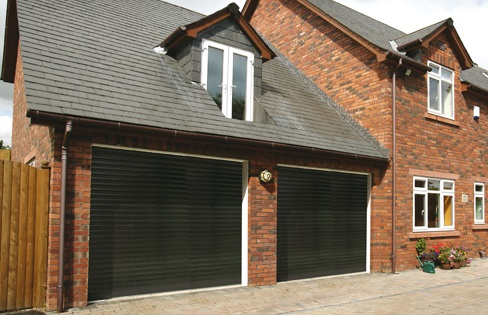 The single skin and insulated roller doors are available in a choice of standard factory finished colours as standard and not available to be painted on site. For an additional charge you can have almost any RAL or BS colour, as a powdercoat finish only, to both sides of the curtain. Guides, endplates and hoods can be matched or contrasted.
There are 17 standard Seceuroglide paint finishes and 4 standard laminate woodgrain finishes. There are tough vinyl coated woodgrain finishes available, specifically designed to match replacement Upvc windows and front entrance doors as well as giving an attractive maintenance free option to compliment many property styles. The woodgrain effects are very effective and make an excellent low maintenance surface finish.
Current standard woodgrain laminate finishes available are Golden Oak, Mahogany, White and Rosewood and another 42 Renolit woodgrain laminate finishes are also available ensuring you will find the perfect match! (Ask for details)
General Sizing Information
The domestic insulated aluminium roller door is available in sizes up to 5400mm wide and 4000mm high although we can provide many other types of heavier duty commercial specification roller shutter doors with all the necessary safety devices for domestic use in sizes up to 12000mm wide and 8000mm high.
The panels of our roller shutter garage doors are normally 78.5mm deep twin walled aluminium slats with CFC free foam for insulation and sound reduction (pictured right)
The only restriction that different sizes may impose is on the type and colour of slat used to construct the door. Please call or email your enquiry whatever the size as we have never refused any enquiry to date.
Security
Most roller shutter doors are secure as standard with manually operated versions having sliding bars internally locking into the side channels, and remote control electric doors using various different locking devices held from the barrel that the curtain is attached to. Some roller doors however are far more effective than others in stopping attempted forced entry from the bottom or side of the door curtain which is the usual place where an intruder will attack a roller door.
A cheap, basic electric aluminium roller door with basic internal mechanisms is quite easy to break into so make sure if you require security you know what you are looking for! Low price is pretty much guaranteed low security.
The Seceuroglide Excel - 'Secured by Design'
The U.K.'s first police and insurance approved remote control garage door is an SWS insulated roller shutter. The roller door has been tested to offer a level 1 'secured by design' rating and is approved by the LPCB giving a stamp of approval by insurance companies and police authorities due to its excellent resistance to forced entry attempts. Patented internal mechanisms make this roller door the one to have for anybody who needs a good level of security and peace of mind.
Click here for our Excel feature
Fitting Behind the Opening.
The diagram shows the typical installation position of a roller shutter door when installed inside the structural opening of the garage. When fitted like this the maximum width and height is normally achieved, although a loss of garage length has to be considered.
Fitting In between the Opening.
The diagram above middle shows a roller shutter garage door fitted inbetween the structural opening and would normally mean fitting underneath the lintel as well. This position is quite normal but will not give such a wide drive through width or height when open.
Fitting Outside the Opening.
The diagram above right shows the roller garage door installed outside on the front face of the garage opening. This is unusual but gives maximum length, width and height in most cases. A complete hood cover is required to protect the curtain roll and this will need powder coating along with the guides and endplates to complete the visual appearance.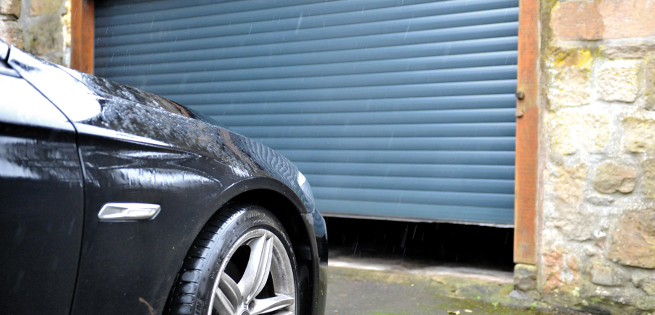 Key Features Summary For The Garage Door Centre Roller Garage Doors
Safety
Safety is a fundamental concern in the continuing development of the range. All Seceuroglide, SupaRolla, Gararol, Rollaglide, DuraRoll and Rollmatic roller doors are fully CE compliant and all come as standard with a leading Safety Edge, collision detection and Anti-Fallback devices. Infra red beams on their own as a safety device are not legal!!
Style
A wide range of low maintenance colours, including textured woodgrain finishes to exactly match the latest generation of UPVC windows and doors. Tough paint finishes withstand daily knocks and bumps.
Any RAL or BS finished colour is now available on any of the Seceuroglide roller doors for additional charge.
Space Saving
A tight coiling curtain design and discreet optional hood covers maximise the drive-through height of your garage - ideal for larger vehicles such as 4x4s or people carriers. There is no intrusion into overhead storage space within the garage, and without the kickout of traditional 'up and over' doors you can park safely inches from the door.
Insulation
Insulated foam-filled aluminium double skinned slats, combined with superior guide rail inserts, bottom slat rubber seals and a curtain that finishes higher than competitor designs help increase energy efficiency and reduce heating costs.
Security
Automatic anti-lift locking and SeceuroSense receiver units featuring rolling-code technology (On Seceuroglide doors) and ensure there is no other insulated roller door available more secure than a SeceuroGlide. For the very highest security specification in roller garage doors see the SeceuroGlide Excel. The Seceuroglide also uses a patented security system to assist holding the curtain in place when closed, a feature not available on any other roller door.
Peace of Mind

Each roller garage door is backed by a very comprehensive 5 year guarantee covering all manufactured parts.
In addition, the Somfy tubular electric motor is supplied with a full five year manufacturer's warranty, and textured woodgrain finishes carry a limited ten year guarantee.
Recommended high specification roller garage doors currently available from The Garage Door Centre:
Garador roller garage doors - Gararol
Seceuroglide Roller Shutters - Various models depending on requirements.
Gliderol Roller Shutters - Steel or Aluminium options
Non-Insulated - Continuous curtain steel roller shutter
Hormann Roller Shutters - Rollmatic
DuraRoll - Insulated or Steel single skin value for money
We have a sister company Samson Industrial Doors who specialise in all types of commercial and industrial roller doors and can provide roller doors for larger openings.
Industrial and commercial roller doors can be adapted to work in a domestic environment with all the necessary safety devices and remote controls.
Very specialised and high performance roller doors are available and can be used in a domestic situation where high performance may be required including high speed doors. Perhaps you need your roller door to open in under 2 seconds?
If you have an unusual installation, small or large and require some advice please Email us directly:

Be Very Aware of What You Are Buying with Roller Doors!!
If you are reading this then you may have already searched for roller doors on the internet and you may have noticed there is an unbelievable amount of roller garage doors being offered. If you are at all bothered about what you may potentially be buying that looks like a good deal then read on...
The electric roller shutter garage door is indisputably the garage door that has seen incredible growth in popularity in the UK; as a result, the number of manufacturers of roller shutters has also seen an increase, all competing for a share of the UK market. Unfortunately this always gives increases in rogue manufacturers that are willing to compromise safety legislation - and in fact blatantly ignore it - in an attempt to drive prices down to help compete in the market.
Many aluminium insulated roller garage doors sold in the UK are in fact illegal and you as a consumer should be very aware of what you are committing to before buying. The most common form of safety being offered on many low priced roller doors are different types of infra red beams sending a light beam across the door either in one or several places. These are not compliant in the UK and not safe! The single light beam only prevents the roller door closing if the light beam is broken and many items can obstruct a garage opening without necessarily blocking this beam so the door will still operate. Multiple beams also do not comply and many reflector infra red beam systems can fail in bright direct sunlight during summer months causing great frustration.
There have been a number of fatal accidents involving children in the last couple of years in the gate, blinds and shutters industry.
The DHF (Door and Hardware Federation) are anxious to avoid any similar occurrences in the roller door industry and are therefore strongly recommending that potential buyers of roller shutters read carefully before making any decisions.
Purchase with Confidence
Can you tick all of the points below?
Has the company that you are looking to buy from been established for at least 5 years? Remember - under the Sale of Goods Act your contract is with your supplier, not the manufacturer and most companies selling roller doors are not manufacturers even if they say they are.
Do make sure that the company you purchase from is established and not likely to disappear or cease trading. If you have a problem with your roller door you will not have legal rights with the manufacturer. Several companies went into administration in 2010 and left a trail of unfinished installations and warranty issues, we know as we get the phone calls for help!!
Does the roller door have a safety edge detection system on the bottom of the door? Do not accept any casual statement that infra red safety beams perform the same function - they do not and are not legal!
Is the roller door fitted with an anti-fall back system (size dependant) in case of internal failure on any part of the suspension or balancing system?
Will it be CE marked to signify compliance with relevant legislation accompanied by documents proving this?
Has it been wind load tested as per BSEN12424 & BSEN124440? (Not a requirement but desirable)
Does it possess sufficient protection to prevent entrapment when the door height is less than 2500mm?
If you have ticked all of the above the roller door in question should be compliant with current safety legislation.