Timber Round the Corner Garage Doors
There is certainly not an abundance of companies in the UK manufacturing timber side opening doors; essentially Rundum Meir is the only company in the UK that produces hardwood and softwood round the corner and side sectional garage doors that incorporate gearing and automation as a complete package so it is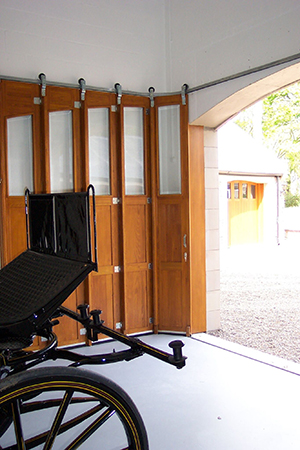 probably sensible to use their models to demonstrate the workings, benefits, options and disadvantages.
How the round the corner garage door and side opening sectional garage door works
The Rundum original round the corner door curtain comprises of a series of tongue and grooved vertical boards (lath size 80mm x 21mm), reinforced by a stainless steel flexible band; the side opening sectional garage door has the same configuration as a standard overhead sectional garage door (panels that are bracketed and hinged together). Both the round the corner curtain and side sectional panels have top roller wheel assemblies and bottom guide wheels attached (slightly differing in size and formation between the round the corner and the sectional). The curtain/panels are suspended from the top track. The bottom wheel guides run in either a 'u' channel which is let into the floor or a surface mounted inverted t bar. The hanging track and the floor track are both available in stainless steel.
Features and benefits
Side opening timber doors are something very special in the world of garage doors, arguably possessing the most character and class whilst offering incredible convenience. The side opening garage door provides the perfect solution in situations where a door swinging out during the opening and closing movement is unacceptable (or undesirable) and there is inadequate headroom for either a sectional garage door or a roller shutter garage door. A huge advantage is the bi-parting option for both types of these side opening doors, furthermore both doors lend themselves to variable opening position, particularly useful for energy conservation when regular access/egress to and from the garage are required for purposes other than parking the car.

The movement is beautifully smooth and quiet; even when on manual operation both the round the corner and side sectional doors are easy to open and close. There is very little maintenance required (apart from the treatment of the timber). You can really finish the garage opening and surrounds to an exceptionally high standard with matching fascias and panels. Glazing panels can be incorporated into the door panels.
Shaped openings can be accommodated – arched timber doors can made to suit any opening.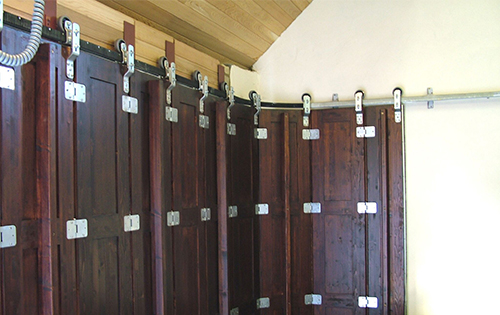 Timber types
The Rundum Meir Factory comes into its own with the delicious variety of timber options offered including Norwegian Spruce, Superior Spruce, Hemlock, European oak, Larch & Sapele, all which will be factory treated with a base coat stain and the bottom edges are sealed. The doors will then need a further stain applied.

Patterns and styles
The Rundum collection comprises of a fantastic selection – traditional to totally 'out of the box' designs. There is also a bespoke service where the doors are manufactured to suit a clients own drawing. The hand crafting is absolutely wonderful, the workmanship superlative and the precision engineering is exactly what you would expect from a quality German manufacturer.