What Electric Opener to Buy

Electric Garage Door Operators are readily available in the UK, but which one should you buy?
What mechanism do I need for my garage door?
The first thing to understand is that an electric garage door operator is NOT a quick fix solution for a heavy, badly fitted or old garage door. If the garage door is in a bad condition, it should be either properly serviced and repaired or completely replaced.
Any garage door operator fitted to an existing garage door turns that door into a machine, and because of this there are some basic safety functions required, but do keep in mind that these cannot ever properly work with a door that is simply past its sell by date.
The easiest and best types of garage doors to make automatic are:
One Piece Up and Over retractable type garage doors. These have horizontal runners going into the garage with springs at the sides.
Sectional Doors of any kind - they have the same basic requirements as a retractable door.
Side Hinged garage doors - only ideal if they are made to a good standard with sturdy chassis construction.
Roller Doors - only continuous curtain single skin steel roller doors are easy to make automatic.
Canopy Type Up and Over doors - only really Hormann and Garador are suitable for easy and reliable automation, but the commonest mistake to make with a canopy type door DIY installation is to omit the 'canopy bow arm converter'; the door will simply not work without this item. Also it is worth noting there are quite a few canopy doors that cannot be automated, this will be due to to their geometry differences and general panel construction being unable to take the canopy bow arm and the forces it applies. You really are best to take professional advice on the best type of electric operator of you have a canopy door of any sort.
Any other type of garage door generally becomes quite a specialised conversion, however it is not impossible by any means.
Call us for clarification with as many details as you can from the garage door – manufacturer, size, etc. and preferably a digital picture or two from your phone or digital camera. This extra information and guidance tells us most of what we need to know from the inside!


Electric Operator Safety
Safety for electric operators is always important. A garage door is a large, heavy, moving object and you must have the electric motor stopping immediately if the door hits an obstruction. Changes in the safety regulations in the UK require that garage door operators have as a minimum a system stopping the door immediately and reversing when obstructed using power surge technology. If the operator system does not incorporate a self-learning safety protection system, it must be fitted with some additional 'break-beam' safety device or a pressure sensitive safety sensor switch across the lower leading edge of the door. These extra products can be costly and awkward to fit, so it is best you choose an electric operator with a self-learning safety stop system that can automatically learn and memorise the various operating characteristics of your particular door, and stop the motor immediately if an obstruction is detected.
Security
Normal access control for nearly every domestic garage door operator is by a coded radio control signal, but electric operators with an anti-scan 'rolling code' remote control system gives the ultimate in security, totally eliminating 'code grabbing' (the practice of copying and duplicating the security code).
Security features for electric operators
The garage door itself as standard is held closed by the electric operator towing arm at the top of the door panel, and this is the only locking on a basic installation. It is relatively easy to add various active mechanical locking devices which usually add two extra locking points to a retractable up and over door, and this then gives three-point locking. This device is called a 'De latch mechanism', and uses the manual locking on the door in conjunction with the electric operator. It can also be added as a retrofit kit to older type doors if required. Without this device and on certain doors, it is easy to force the bottom of the garage door panel as there is quite a lot of slack, meaning access can be gained by being able to break the towing arm mechanism of the operator.
Electric opener security latch
For sectional type garage doors with boom type operators, a unique patented steel latch is incorporated into the towing carriage of the operator for Hormann operators only, giving physical locking even when the motor has been placed into the emergency override mode. This same hook latch provides extra resistance when the operator is in normal use as well.
Motor power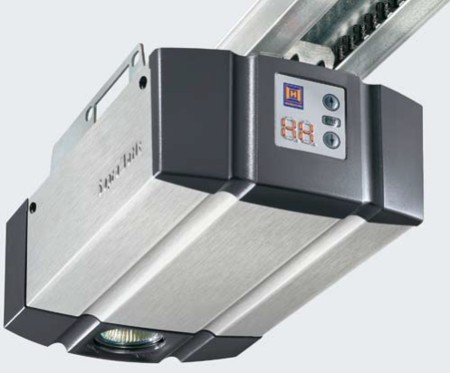 Which operator model do you need when presented with a range of operators with different power ouputs? The general rule of thumb is to pick an operator capable of lifting in excess of the force required to move the garage door, so that the machine is not constantly working at the limits of its capabilities. It is most important that the door is properly balanced before the operator is installed. A lot of manufacturers give 'newton pulling force', or tell you the capability of the operator based on weight, but of course it is impossible to weigh your garage door in situ. Some manufacturers offer advice based on the door size or square metreage of the door panel but do not refer to the door weight, so this advice is somewhat flawed. Our advice is to get as much information on the door from the inside and some measuerments too and email or call us for advice. A picture or two will also tell us most of what we need to know.
Belt or Chain Drive?
A lot of manufacturers offer a choice of one or the other, but generally both are fine as long as the chain is of good quality and preferably with auto-tensioning. Most belt drives are very good now, and give quieter operation with no maintenance required at all.
Operator Boom Length
Generally, this concerns ceiling-mounted boom type operators (except for the roller door), and this means you have many various lengths of boom for different height doors. Most standard operators will come with a boom capable of lifting a garage door up to 7 feet high, but above that be very wary of getting the right length to get full opening height for the door.
For roller garage door operators there are only a few choices and they are generally universal with adpator kits.
Soft start & soft stop
This concept was originally developed to reduce stress on the garage door panel and motor drive mechanism by gently accelerating the motor to full speed then slowing down for the closing or final part of opening. Soft start and stop electric motors are particularly beneficial on heavy garage doors to reduce stress on moving parts, but do also offer the added luxury of very quiet and gentle closing. The feature is also beneficial in circumstances where you may disturb rooms above the garage or nearby properties.

Emergency Release
Any garage door operator should be easily disconnected from inside the garage, this is done by using a short cord that releases the towing arm and carriage from the garage door panel, meaning the door can then be opened manually. In smaller garages, you should be aware that when the vehicle is parked inside, it may be difficult to gain access in order this pull cord. Please ask if you have any concerns, particularly if you are disabled. Battery back-up systems may be preferable to give several operations, even in a mains supply power cut scenario.
If your garage has no pedestrian access door, then some form of emergency release device will be required to allow the same disconnection from the motor, but externally, in case of power failure. Most garage door operators require an additional lock to be purchased, this can be then fitted into the door to enable it to be opened manually from outside, or attached to the existing garage door handle. Make sure you have everything covered with respects to a good, reliable emergency release system for your door.
Access Controls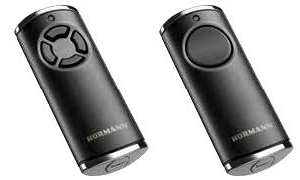 Although the standard control of a garage door operator is generally two hand held radio transmitters, many more methods of control are available. These include internal pushbuttons, external digital keypads, key switches, proximity card readers, finger readers and many more. Some operators will have built-in timers for automatic closing and the facility to add extra lighting onto the controls bringing lights on when the door is operated for a pre-determined time.
Power consumption
Most modern electric operators feature a fairly efficient low voltage DC motor, but the amount of power consumed while the door is in motion is unimportant as the motor usually only runs for about 15 seconds whilst operating the door. The important consideration here is how much energy the unit consumes during the remaining time in standby mode. Operators with low energy transformers can offer considerable savings in running costs due to the improved efficiency. Many American import operators still use 240v AC motors which are very noisy indeed, but are 'belt and braces' in technology. Many people ask us for an operator that is quiet and these will always be the 24v DC motor types.
Guarantee
Most leading garage door electric operators will have a 5 year guarantee with 2 years on the radio controls. Lower priced operators will have shorter guarantees. Always ensure that you buy from a reputable established supplier as that is who your guarantee is usually covered by, and should they disappear, you may well have no cover, which can obviously be problematic.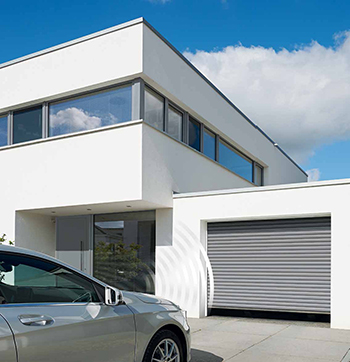 Availability of spare parts
The availability of spare parts has become very important across Europe as Far Eastern imports are more common and, in most cases, you may well get a low priced product but there will be no spare parts ever available if you need them. We have had many people contact us for assistance and found the electric operator was unfortunately a 'one off' bulk import that no longer exists.
What to pay?
Prices based on good quality operators with good guarantees and 24V DC motors
- Buy a basic electric operator for a light weight standard up and over retractable door and you can pay as little as £150
- For an operator with more functions and better pulling forces you may pay around £200 plus
- For larger double doors, sectional doors and the like expect to pay around £280 plus
- For roller garage doors operators are available from between £150 - £200 (external fitting only)
Installation usually involves servicing an existing door, and this can mean new parts as well but on average, without any extra parts and power readily available, installation will start from around £180 to include a guarantee.
The average price for a good quality electric operator, fitted with power supply connecting from an existing source, servicing the door, adding in a security de latch and 2 hand held radio transmitters will be about £450 for a single door and £550 for a double doors.
For up to date specifications and the very latest prices call us now and speak to one of our sales team - you can reach us via 0800 525 442.