Automate An Existing Garage Door

Adding Remote Control Electric Operation To Existing Garage Doors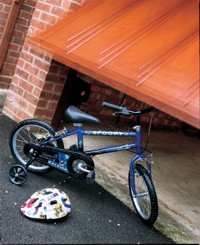 The thought of simply pressing a small button on a hand held radio transmitter to open and close your garage door is very appealing, especially if you have a larger than normal single width or a double width garage door of the older one piece up and over type, heavy to lift and awkward to manoeuvre.
Not only is it appealing but it can be very simple to achieve and there are many options now for controlling the mechanism too.
Garage Doors get trickier with age
You do need to genuinely be a professional weightlifter to open many older type garage doors. Quite often you need to run away fast when the door closes as it slams back down to the closed position. We started our business in 1985 by simply automating existing garage doors and soon learned you cannot make any old garage door remote control - sometimes you have to consider serious upgrades to the operating gear in order to make the geometry work and the door functional or even easier, get a new complete door...
Nowadays of course with advances in materials and technology it is genuinely often easier to just rip everything out and start again, however we would never argue with the benefits of automating a perfectly serviceable existing garage door and here are some tips to make sure it is taken seriously:
Automating any existing garage door should always be possible with a few exceptions on older garage door models with very odd spring and gearing arrangements. What you should be careful of however is not to assume the electric operator is going to help with either a worn out or badly fitted garage door, both of which are heavy as they are usually not balanced correctly.
AN ELECTRIC OPERATOR IS NOT A SOLUTION TO A BADLY BALANCED GARAGE DOOR!!
Electric Garage Door Operators Bring Both Safety & Convenience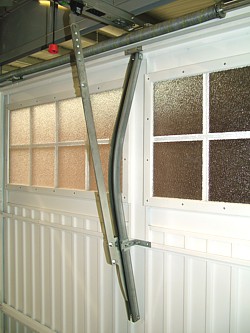 An electric garage door operator should incorporate safety features which ensure the garage door will stop if an obstruction is met during its operation and reverse to prevent damage. This safety feature is built into all proper CE compliant modern electric operators and relies upon the garage door being properly balanced as a manual door so the safety reverse feature does not receive false readings due to 'heavy' or 'sticky' spots in the door operation. This will give you a remote control door that keeps stopping for no apparent reason and defeat the object of door automation - convenience.
Do not even consider any electric operator that does not have an auto reverse facility. Ideally it should reverse if it meets an obstruction when opening as well, such as a car parked in front of a closed door.
A simple rule of thumb with a lot of garage doors is to stand inside and pull from the top of the door (once the door has balanced springs) and and see if you can open the door fully without too much resistance. This genuinely won't be possible ona double width door and they do need a more powerful motor drive fitted.
Automating Retractable Up & Over Garage Doors
Retractable one piece Up & Over garage doors are the easiest type of Up & Over type dppr to add electric operation to. It consists of the installation of a boom above the structural opening with an electric operator motor installed at the other end. This is simple, easy and straightforward and should be the most cost effective too. The action is simple and smooth and also allows the addition of extra locking mechanisms for added security.
Automating Canopy Up & Over Garage Doors
To add automatic operation to a Canopy Up & Over garage door, you will require a bow arm conversion kit. Shown in the second picture above, a bow arm conversion kit allows for the simple and easy operation of a canopy garage door. Due to their difference in opening with a retractable garage doors, canopy garage doors would struggle to give the same results with a retractable garage door electric set up. The bow arm conversion kit is fitted against the door and attached to the operator boom. The boom pulls the garage door and the bow arm kit is able to slide and adjust which allows the garage door to fully open with the only loss of headroom being about 120 -150mm of the bow arm itself.
NEW from Hormann and Garador: The canopy lifting arm, a fantastic alternative to the bow arm conversion kit due to it causing un-restricted drive-through heights and simple installation.

Automating Side Hinged Garage Doors
Nearly all side hinged garage doors can be automated using 2 tried and tested methods. These methods are: Swing Arm Kits Electromechanical or hydraulic operators Swing Arm Kits work in the same way a retractable up & over operator would work, however two pivotable arms are fixed to each side of the side hinged garage door and the boom. As the boom pushes the garage door, the sides separate and the door opens freely. Electromechanical Operators can use a series of cogs and mechanical elements to open the doors, or use a smoother more powerful hydraulic motor. Each operator uses the basics of electromechanical operation and work effectively. Details on these methods can be found on the links below.
Automating Sectional Garage Doors
For sectional garage doors they can all be automated by the very nature of their simple and consistent smooth operation method. All they require is the addition of a boom and an operator and they are good to go. Using a good quality motor system with a sectional door will generally give you a very high level of security particularly if the door is double skinned. Generally sectional doors all come into the garage a lot further than normal up and over doors and therefore need longer booms for the electric operator to give full opening height.
Automating Roller Shutter Garage Doors
Most Roller Shutter garage doors can be automated however this sometimes requires a severe level of de and reconstruction. Due to the compact nature of the average roller shutter and the fact that most roller shutter electric motors are situated inside of the curtain roll, the garage door needs to be taken apart to allow the installation of the roller shutter. This is a time-consuming exercise however it is possible. Most single skin continuous curtain type roller doors can have a motor bolted onto the shaft on one side to automate and all you need to do is make sure you have the right motor and gearing. These motors are readily available off the shelf.