NEW Electric Operator for Canopy Garage Doors!
Both Hormann and Garador have launched a world-first in automating the operation of up and over garage doors: the canopy lifting arm.
After two years of research and development, the manufacturers have released operators that are able automate up and over doors with a canopy mechanism, but without the disadvantages that this has typically caused in the past.
Until now, when a canopy up and over door is automated, a bow arm conversion has to be fitted, which not only reduces the amount of drive-through space available, but can also prove to be quite unsightly.
However, this new, innovative system provides unrestricted drive-through heights as the canopy activating arm sits behind the top edge of the door, rather than directly beneath it. This of course solves any issues regarding the height of your car affecting the ability to drive into your garage.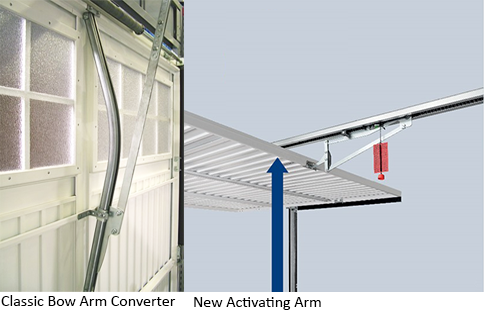 The lifting arm is simply fitted to the shutter within the boom, enabling the operator to be installed easily and quickly. This new system can be fitted to a newly installed door, or even a door that is currently operated manually that you wish to automate.
As canopy doors are certainly still one of the most popular types of garage doors throughout the UK, most likely due to retractable up and doors restricting the width of your drive-through space, this fresh invention is good news to all who are planning to install an electrically operated up and over garage door.
Hormann and Garador Electric Operators
The new activating arm can be offered with the ProMatic by Hormann and the Garamatic by Garador, both operators that can be trusted for reliable operation.
Having the luxury of electric operation allows you to sit in your car upon returning home, simply pressing the button on your handset whilst your garage door opens.
Interested?
If you have an existing canopy door that you wish to operate, or require automation for a newly installed door, simply give our team a call on 01933 229135.