Somfy Home Automation
New to The Garage Door Centre range is Somfy's collection of smart products designed to automate your home, all from an app on your smartphone.
The Modern Lifestyle
We have been committed to providing modern, effective solutions for over three decades, and we are excited to offer this new range to add further convenience and security measures to your home and garage.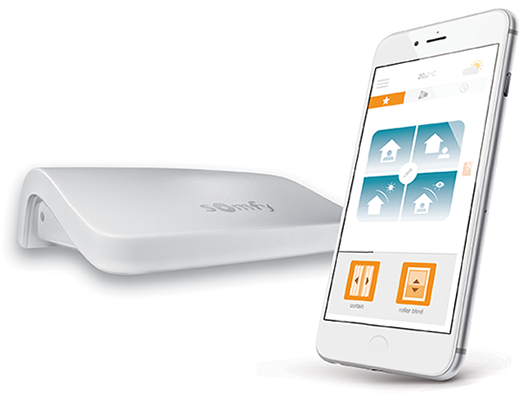 The Somfy range not only allows you to control the operation of your garage door, but we now provide options to add additional security measures, such as cameras and motion detectors, all of which can be accessed and controlled via one handy application.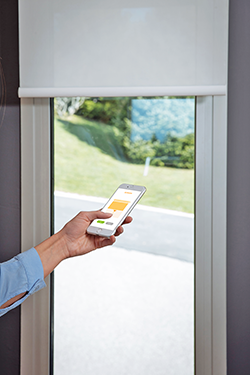 We have worked with Somfy for many years as a trusted supplier of garage door operators. We are now pleased that they have utilised and enhanced their relevant skills, and are now evolving their product range into the very modern and relevant sector of home automation. Such products are likely to coincide with many door orders where security is a priority - we can now offer that little extra piece of mind.
What Features Are Available?
All of the automation can be accessed via the Somfy app on your smartphone. There are various items throughout your home that can be automated with Somfy, including doors, lights, cameras, blinds, your garage door, and much more. Each of these technologies communicate to the hub - Somfy's Connexoon, which is simply connected to your router.
From a security pespective, not only does this allow you to see your home when you are away, you are also able to set up 'scenarios', which can simply consist of altering the temperature or blinds at a certain time of day. Or, you can use this system to automate your lights and blinds whilst you are away, conveying the facade that someone is in fact, at home.
Find out More
To find out more about our brand new Smart adventure, click below to check out our new page on the subject.

Contact us
0800 525 442
Wellingborough Showroom:
6-8 Meadow Close,
Finedon Road
Wellingborough,
Northants. NN8 4BH
Telephone: 01933 229135
Facsimile: 01933 442676
Opening Hours:
Monday-Thursday 8:30am to 6pm
Friday 8:30am to 5pm
Saturday 9am to 1pm