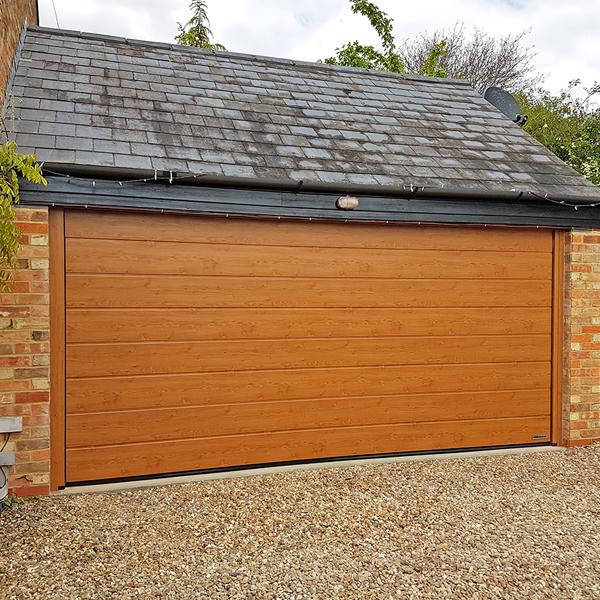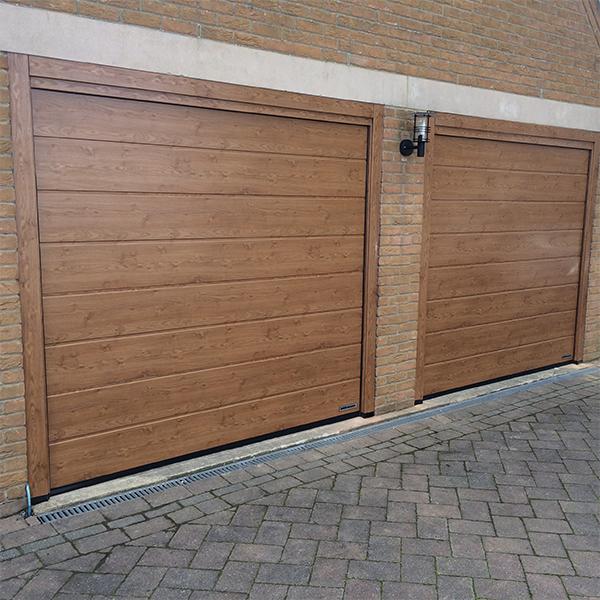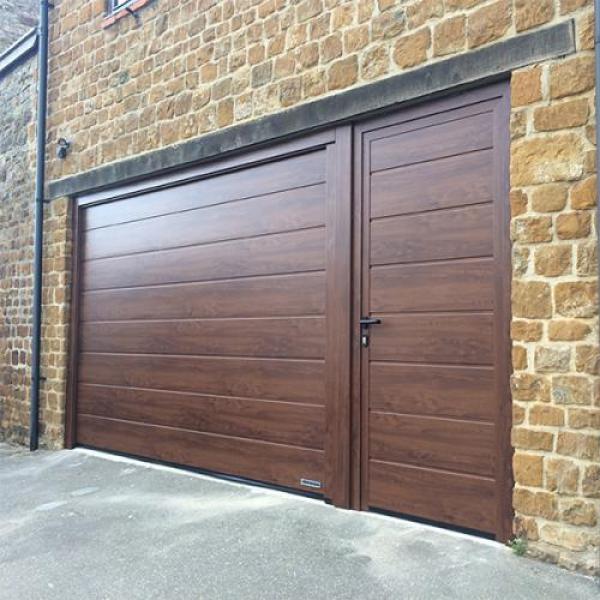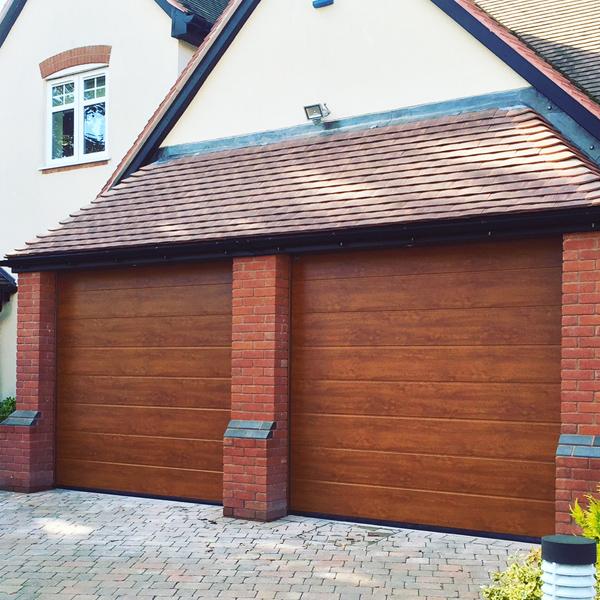 Hormann LPU67 Thermo M Ribbed Decograin

Door Type:
Sectional Doors
Not only are the 67mm door panels exceptionally insulating, but the authentic decograin finish creates a beautifully warm appearance.
To make an enquiry about this product, please click the button "Make an enquiry" below this message, or call 0800 525 442
description
wood design
Video
The Hormann LPU 67 Thermo Sectional Doors offer everything that is expected from modern construction.

The excellent thermal insulation, with a U-value of 0.33 W/ (m²·K)* is achieved by sections with thermal break. The sectional door has very good seals on spaces between sections with double lip seals and an optimum floor connection using double bottom seals, which also compensate for floor unevenness and energy loss.
*U-value of door (5000 × 2125 mm) = 1.0 W/(m²·K).
With the optional ThermoFrame you can improve the already high insulation values, especially of the double-skinned sectional doors. The black plastic profile is fitted together with the door frame. Insulation is improved by 15%** thanks to the thermal break between the frame and brickwork.
**For a double-skinned sectional garage door LPU 42 size 5000 x 2125 mm.

Thermal Insulation
Section 67mm U = 0.33 W/(m2 K)
Fitted door 67mm (without ThermoFrame)* U = 1.00 W/(m2 K)
Fitted door 67mm (with ThermoFrame)* U = 0.88 W/(m2 K)
*without glazing, door size 5000 x 2250mm

Maximum Door Sizes:
Width 5000mm Height 3000mm
Prepared for Hormann Garage Door Operators - Supramatic.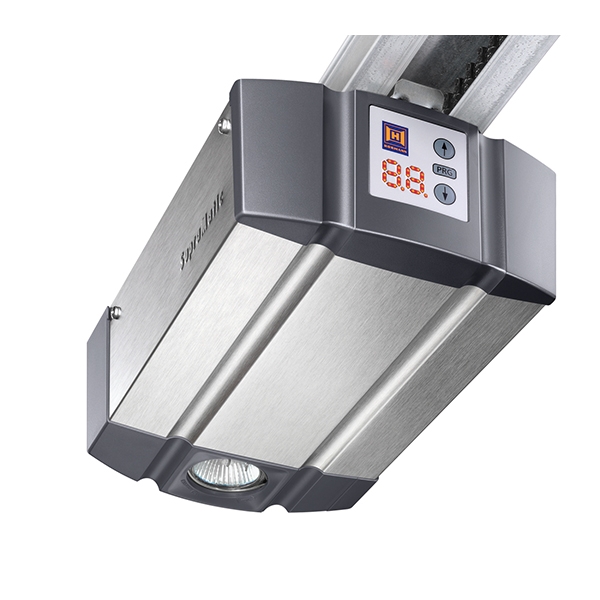 Standard equipment: Supplied with 1 No 5-button hand transmitter (HS 5 BS) in Black and 1 No 2-button hand transmitter (HSE 2 BS) in Black (868 MHz). Integrated Receiver (868 MHz) - Bi-directional 3 channel receiver BS. Control Buttons - Next to the display on the operator cover. Hand transmitter holder and integral 3-channel receiver in 868.3 MHz for functions impulse, operator lighting and second opening height. Each hand transmitter factory-coded individually from over 1 trillion combinations.
Quick release operated from the inside, connecting cable with CEE plug,integral garage light with factory set 2-minute light, radio-operated.
Door security kit as safety device.
Universal installation bracket for up-and-over doors and sectional doors.
Housing: aluminium and plastic
Temperature range: from - 20 °C up to + 60 °C
No. of parking spaces: max. 25 door cycles (open/close) per day or 12 parking spaces.
Operator details: 24 V DC gear drive,mains voltage 230 - 240 V AC, 0.2 kW, push and pull force 650 N, peak force 800 N, opening speed 22 cm/s.
Operator boom FS 10: self-supporting steel boom with polyester/polyamide toothed belt, plastic slide carriage and automatic belt tensioner. 1-piece, completely pre-assembled.
Electronic control unit: microprocessor control, automatic adjustment of safety cut-out and travel limits, adjustable soft start and soft stop, 7-segment display, operator light and second opening height adjustable. Automatic timer adjustable, hold-open time 10 - 180 sec. after activation, impulse control.
Colour Options
3 beautiful woodgrain laminate finishes with unique embossed graining offering either Dark Oak, Golden Oak & Titan Metallic CH 703 as a fully finished surface.

Dark Oak
walnut-coloured oak decor


Golden Oak
medium brown, golden yellow oak design


Titan Metallic CH 703
Anthracite with a metallic effect
The inside of the doors are finished in RAL 9002, which is an off White colour.
Check out the operation and quality of the LPU 67 in this helpful video: