Round the Corner Sliding Garage Doors
Overview
Round the corner garage doors are often overlooked as a door type, however often prove to be the solution to many issues whilst offering a very strong, secure and stable type of door.
A round the corner (RTC) door does what it says, and slides along the floor horizontally to then turn and go along the inside wall of the garage. They require minimal headroom to operate, and can be manufactured by certain companies up to very large widths. As the door opens horizontally, when the door is partially opened you also have a pedestrian access without opening the door fully, a feature particularly useful for any garage which is frequently accessed on foot.
The Garage Door Centre can provide several different RTC doors, and the main differences apart from materials are whether the door is manufactured from relatively narrow slats or much larger panels which are often called 'Side Sectional Doors'. When a panel is used you have a greater choice of design than a simple vertical slat which would usually be around 70 - 90mm wide and either flat or slightly curved.
An RTC door will require minimal maintenance as there are no strains on any moving parts generally and no spring tension systems, cable or pressures from lifting up or down.
Materials
Steel
The steel models available break down further into double skinned extruded slats and insulated double skinned foam filled panel options. The double skinned insulated models are better described as 'side sectional doors' as the panels are wide to incorporate various designs within the panel itself.

The extruded steel models are simply flat vertical slats which are about 90mm wide each to give a vertical tongue and groove design only.

​

Timber
The timber RTC models are still one of the most popular as they are so traditional in design and generally on properties where timber is a main feature or even necessary.
You can have either vertical timber slats or joinery made panels (side sectional) in almost any design when using a modern routing technique, or in traditional joinery designs such as raised and fielded panels or tongue and groove sections. The timber RTC doors are available in many different timber species depending on the requirements on site. Timbers such as Superior Spruce, Nordic Pine, Oak, Cedar, Iron and many others are all available.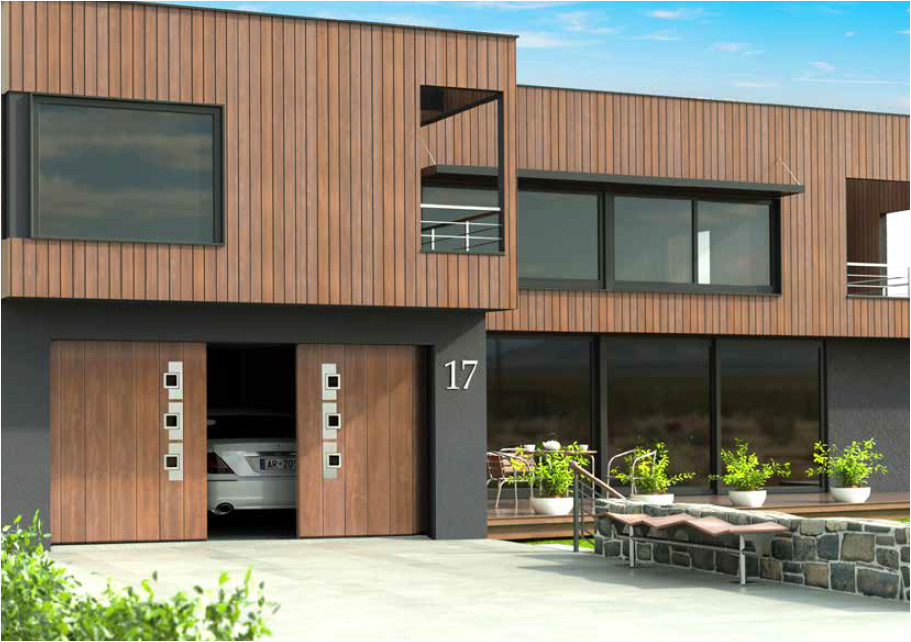 Aluminium
The aluminium models are available in ether foam filled insulated slats which are approximately 75mm wide or extruded aluminium slats without an insulated core at a slightly wider dimensions and a flatter profile. Aluminium is great for a long lasting, trouble free door being such a stable material. Almost any colour is available in RAL or BS references as well as some incredible laminate foil coatings replicating woodgrain effects.
Mechanism
All round the corner doors rely on the door weight being carried by the top track so the fixing for the tracking is very important. The bottom of the door is generally only guided by a surface mounted channel which may not even be a full mirror of the top track. An in ground channel is available on many door models but can be a trap for dirt and small stones as well as rainwater if the drainage isn't sufficient or gets blocked. The surface mounted track systems are the best and can also form a weather barrier too and accommodate out of level floors to some degree.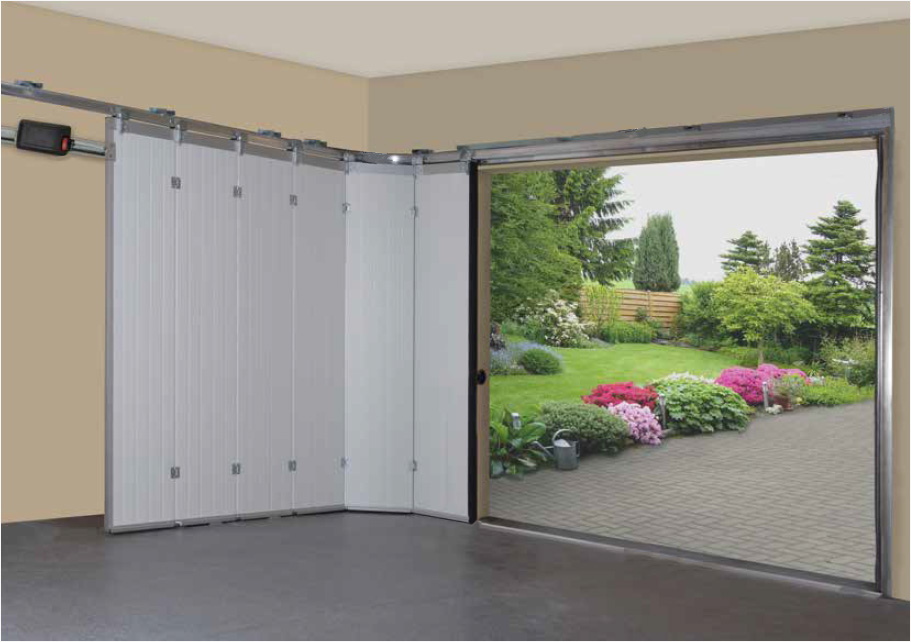 Sizes
All the round the corner doors sold by The Garage Door Centre are made to order both in width and height with additional flexibility using infill sections where necessary for the perfect fit and finish.
Some models will go up to almost any width at all with restrictions more on the height.
RTC doors are ideal doors for very wide garage openings.
Electric Operation
All modern RTC doors can be either manual or electric operation with a range of remote controls and other access control methods such as digital keypads, key switches, transponders and even mobile phone apps. There are generally 2 motor drive methods a wall mounted traditional boom type operator pushing and pulling along the internal wall or in some cases above the door and driving above the lintel. The other method is a door mounted motor system driving the door using a rack and pinion system along the top tracking.
All motor drive methods will also have a manual override system in case of power failure and if there is no other door into the garage this override system has to be directed to the outside wall of the garage to enable access from outside.
With the motor drives it is possible with most models to have a pedestrian door setting on a 2 or 4 button hand transmitter so one button will open the door partially and another button opens the door fully. the operators will perform the locking for the door too when closed but for extra security you can also have the manual locking in place to engage when required, such as for long periods away on holiday, etc..
Manufacturers
Hormann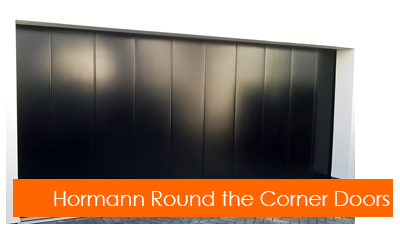 Hormann manufacture the HST round the corner garage door system.
This is a side sectional, manufactured with steel, using the tried and tested panel designs from their world leading sectional overhead doors.
The result is a 42mm thick, foam-filled, double-skinned insulated door panel.
Not only are the door panels designed to offer fantastic levels of insulation, there is also a choice of outside designs in panels and vertical ribs, with a variety of surface finishes, as well as many colours and laminate foil coatings.
These doors are available as manual or electric operation in standard and purpose made sizes.
SWS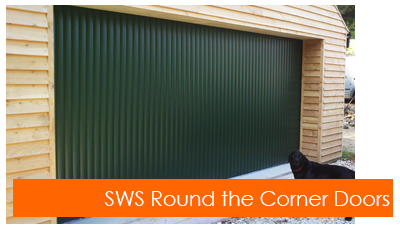 SWS manufacture the Vertico system.
This is a door constructed from their very successful insulated aluminium slat which is used for thousands of roller garage doors each year.
The slat is presented vertically in the RTC door and is 77mm wide with a slight curve to the face.
The choice of colours is enormous, as well as the best selection in woodgrain laminate foils coatings for a tough finish and traditional look.
The Vertico is only available as an electric operated system with a wall mounted electric drive.
Remote control is standard with standard safety features built in such as auto reverse and a courtesy light which switches on when operating.
Rundum Meir

Rundum Meir manufacture timber round the corner garage doors.
There are various options on either a vertical slatted system or a side sectional using solid timber panels with traditional designs or modern routed designs cut into the face of a composite timber panel.
Many options are offered for the timber species used.
The doors can be manual or electric operated using either a wall mounted or door mounted system.
Almost any size can be accommodated.
Silvelox manufacture a bespoke timber RTC door using the same timber panelling as used in their furniture like up and over or Overlap garage doors manufactured for over 40 years. Many factory fully finished timber options are available.
For any details, brochures, technical information or prices call one of our sales team directly on (01933) 229135, or email us with as much detail as possible.