Type and Price Guide

The Garage Door Centre - Price & Door Type Guide
Our garage door type and price guide helps you understand the likely installed prices for various types of garage doors and other products and includes average costs for installation and accessories to finish the installation. Most garage doors will vary in some way or another on every installation and online headline prices offering low prices are ultimately very misleading. Specialists in garage doors for over 34 years now, our aim is to get you the RIGHT garage door for your application.
ALL THE PRICES SHOWING ARE FOR A FULLY INSTALLED DOOR AND FIXING SUB FRAME WITH FURNITURE AND LOCKING
If you are a trade buyer or on a DIY project we can also supply and deliver any of the doors we offer, for you to install, and we make sure you get the right size, colour and specification of door!
We would really prefer to speak to you in person as it is the fastest way to get the most accurate price and recommendation, call us on 01933 229135 during normal working hours and we can talk you through all options.
Double Width Steel Door
Material:
Size:
Electric Operation:
Description:
Prices Range:
Steel
Double
from £450.00 extra
Double Size Steel Up and Over Door
£2,000.00 - £2,500.00
Contact us for advice
01933 229 135
Trade
01933 448 855
Request a Callback
Please complete all requested fields.
Application Notes:
Up & Over garage doors are still the most common garage door type installed within the UK but not so much in the double width sizes as the sectional and roller type doors make more sense and are easier to operate as a manual door and offer far higher performance in insulation, security and weathersealing properties

Double width up and over garage doors are only ever available with fully retractable operating mechanisms and can be reasonably heavy to operate even when the springs are perfectly balanced. Nearly all the double sized up and over doors we install have electric operation fitted unless the use of the door is infrequent.
Replacing an existing up and over garage door that is one of the old double width standard sizes of either 14' x 6'6" or 14' x 7' is one of the most common installations for this category of door and size but do expect many variations in the fixing sub frame sizes if it needs replacing as they do vary.
A design like the Horizontal or Vertical ribbed in a standard white powdercoat finish with modern euro profile cylinder locking and retractable gear is a standard specification.
Prices
Expect to pay between £2000 and £2500 inc. VAT Installed for a basic high quality horizontal or vertical ribbed steel door at the standard 14'0" width with one of two standard heights of 6'6" or 7'0"
This will be in a standard white factory finish with a ten year guarantee and always using fully retractable operating gear, perfect for adding a remote control electric operator.
Add around £200 for any panelled type door.
Diagram of a Doube Width Up & Over Equipped With Retractable Mechanism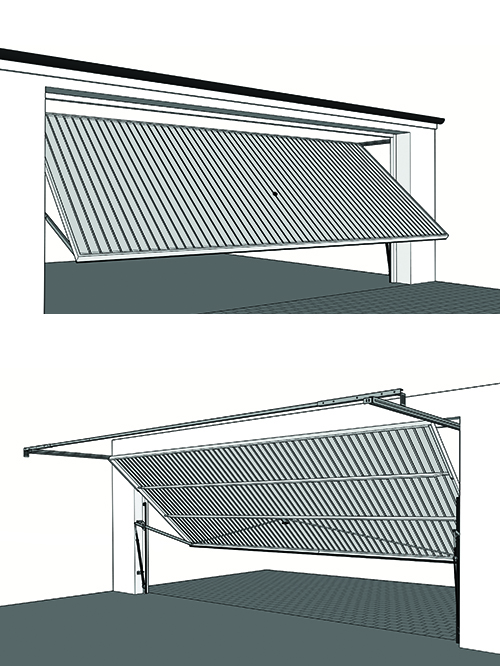 Additional Costs
Other Sizes
Impossible to generalise on the price of other sizes as there are so many standard UK and European sizes to choose from and a double door category here is from 10 feet (3048mm) up to 5 metres wide with options on the height up to 8 feet (2438mm) as well all at extra cost.
Steel Fixing Sub Frame
Always recommended to replace an old sub frame and always required on a new garage opening without a sub frame already in place – about £140 - £200 more for a steel factory finished option.
Timber sub frames can be used if required where maybe the sizes need to be different to accommodate an odd sized opening or shape. These will vary from about £150 to £350 in different timbers at the standard 70 x 90 or 90 x 90 finished sizes and then more for different profile sizes.

Different Colours
Limited factory finished colours are available and normally add about another £160. The basic colour for nearly all steel doors is white RAL 9016.
Higher Security Locking
This usually means getting 4 locking points on the door rather than 2 and does make the door very secure if fitted with a steel sub frame as well - about £50 more
Remote Control Operation
This will depend on more factors with a double sized door but allow between £450 - £650 for a good quality European manufactured electric opener model with 2 transmitters and appropriate safety mechanisms. (This assumes the operator is being fitted at the same time as the door for the price)
There are many electric operators available in the UK but we do recommend you stick to operators manufactured in Europe to ensure complete compliance with CE regulations and a trouble free remote control operation on the frequencies recommended. Many of these European operators also now have some excellent security features and bi directional radio transmission to allow the user to see the status of the door even when out of sight.

A de latch security mechanism is always recommended for an electric up and over door and for a double door is usually about £60 and provides extra locking by using the manual locking of the door with the locking provided by the electric operator itself.