Type and Price Guide

The Garage Door Centre - Price & Type Guide
Our online garage door type and price guide helps you understand the likely installed prices for various types of garage doors and other products and includes average costs for installation and accessories to finish the installation.

We can also supply only any of the doors we offer if required and we make sure you get the right door!
Please note prices will also vary by location and not all the doors are shown in this guide, some garage doors and other products are too complex to give guide prices and more information is required.
Use the filter below to help narrow down your search or if you know what door type you want click on the images below for examples.
For an accurate price on a specific garage door please go to our 'Online Quotation Form' and send us your full details.
Please tick here to only show doors with an electric option.
Insulated Double Skin Aluminium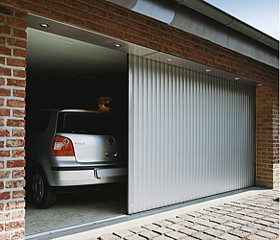 Aluminium Insulated Round the Corner Door System - Double Size
Application Notes:
A round the corner aluminium sliding garage door is a brilliant solution for any garage with little or no headroom and for anyone who regularly enters their garage on foot as you can partially open the door to behave like a pedestrian door. The only design is vertical slats so this is ideal for traditional style properties in listed or conservation areas where the design is often required to be vertical.
Of course the sideways action also offers other benefits - It does not swing out at all during operation meaning short driveways are not a problem for vehicle parking. It is very well priced at the double size widths compared to any insulated and fully finished door type with remote control automation. You can have this door in almost any colour whether that is a paint or laminate foil coating finish.
All Vertico doors are remote control electric operated with a manual override facility in case of emergency.
The curtain is manufactured from 77mm wide double skinned foam filled slats offering great strength and a reasonable degree of insulation although the door is not sealed to the floor in any way.
Price
You will pay anywhere between £3,500 and £5,000 inc. VAT installed for a Vertico rounbd the corner door system at around the 4200 - 5000mm width and around 2200mm high. This size is the approximate double door size for the structural opening for many garages. The door is also priced using the structural opening plus the return size of the garage to give the total amount of curtain required
The short video below shows the main features and sizing requirements for a Vertico round the corner garage door system with a good level of tolerance for the floor being out of level with the special surface mounted steel tracking system.