Type and Price Guide

The Garage Door Centre - Price & Door Type Guide
Our garage door type and price guide helps you understand the likely installed prices for various types of garage doors and other products and includes average costs for installation and accessories to finish the installation. Most garage doors will vary in some way or another on every installation and online headline prices offering low prices are ultimately very misleading. Specialists in garage doors for over 34 years now, our aim is to get you the RIGHT garage door for your application.
ALL THE PRICES SHOWING ARE FOR A FULLY INSTALLED DOOR AND FIXING SUB FRAME WITH FURNITURE AND LOCKING
If you are a trade buyer or on a DIY project we can also supply only and delivery any of the doors we offer and we make sure you get the right size, colour and specification of door!
We would really prefer to speak to you in person as it is the fastest way to get the most accurate price and recommendation, call us on 01933 229135 during normal working hours and we can talk you through all options.
Steel Roller Door - Single Width
Material:
Size:
Electric Operation:
Description:
Prices Range:
Steel
Single
from £390.00 extra
Single Size Basic Steel Non Insulated Roller Door
£600.00 - £800.00
Contact us for advice
01933 229 135
Trade
01933 448 855
Request a Callback
Please complete all requested fields.
Application Notes:
Roller garage doors are one of the most popular replacement garage door types installed within the UK.
We advise that although they may all look the same please do ask a lot of questions when it comes to the basic build, security and safety features as well as the guarantee periods and get it in writing. There are a lot of low quality, even illegal roller garage doors selling on the UK market which have been purely manufactured down to the lowest possible specification and they will potentially waste your money.

Roller garage doors fall into two main categories - Steel single skin and double skin aluminium and this steel roller door type is perfectly suited for a lower security budget application, especially if you only want a manually operated door.
Price
Expect to pay between £600 and £800 inc. VAT installed (subject to location) for a single width size door with a height of approximately 7'0" (2134mm) and a standard fit behind the opening. This price will cover all sizes of up to about 8'0" (2430mm) wide and about 8'0" high

This will be a fully finished coloured surface from a choice of colours and with a tough plastic coating.
locking will be included and is a basic centre positioned thumb turn type placing 2 bars into the side guides internally. The door curtain is balanced by an internal spring system inside the barrel the curtain rolls onto and this makes the operation easy

Replacing an existing garage door with a roller shutter type door usually ends up giving quite a bit more width and potentially height so we consider a standard size for a roller door to be about 7'6" wide and up to 7'0 high. This also means they are installed to the inside face of the garage with the roll going up behind the lintel space. A sub frame is not necessary, only steel guides for the curtain fitted directly to the garage structure.
Most roller doors are made to order anyway but for a general price for a standard finish colour option.

Manual locking as standard is by 2 locking bars internally that locate into the side guides.
This lock can be operated by a key externally and also internally and the lock can also be specified even if you have the electric option to provide additional security or security in a power cut situation.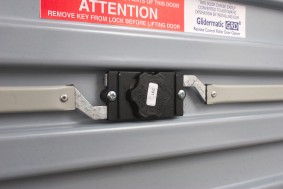 Additional Costs
Other Sizes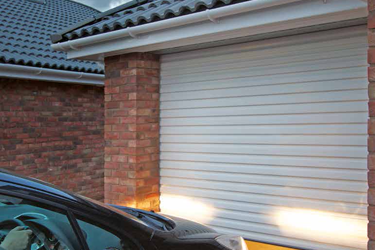 To generalise on the prices here is relatively easy as the scale of pricing simply climbs as you go up through the sizes to choose from and a single roller door category is right up to 11 feet wide and although there are standard price band breaks the doors are always made to order in width and height to maximise your garage opening.
Optional Woodgrain Laminate Colour
Finishes to the front surface in a choice of finishes such as Golden Oak or Rosewood laminates – about £90 - £120 more
Remote Control Electric Operation
This will depend on a few factors but for a standard motor with 2 hand held controllers it will add another £350 - £450 for a good quality model specific to the door model. (This assumes the operator is being fitted at the same time as the door for the price)
The motor drive can be on either side of the roller door and comes complete with an internal manual override system as standard.
The power required is minimal at the standard 240V with about a 3-4 amp power draw. The safety for this type of motor is in a kind of power surge protection with the curtain stopping almost immediately when obstructed.
*Important Note*
We are fully aware that there are many roller doors advertised all over the internet at lower prices than this and also for supposed insulated aluminium double skinned doors, but be very careful and do your research on any type of roller garage door that looks too good to be true on the price. It will be!
There are many roller doors being manufactured and sold which are not compliant with UK regulations and are technically illegal for use in more than one way. The other problem we see almost daily are roller doors being sold which have very dubious construction methods leading to a very short lifespan.
Be careful what you think you are buying!!