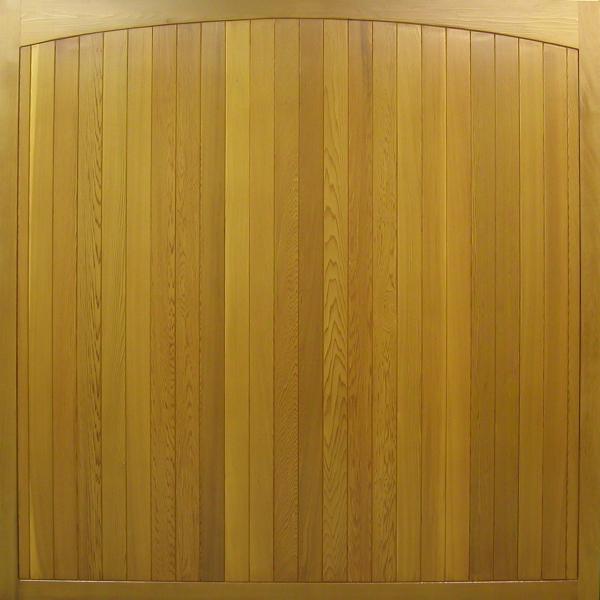 Cedar Door Haddon

Door Type:
Up and Over Doors
Material:
Timber-Cedarwood
Cedar Haddon is a vertically panelled timber garage door with an ornimental arched border.
To make an enquiry about this product, please click the button "Make an enquiry" below this message, or call 0800 525 442
The Cedar Haddon is an arched top garage door. It has an outer solid frame housing and vertical tongue & groove boards which are glue bonded to the rear solid cross rails of the door. All doors are supplied basecoat treated as standard.
An attractive tongue and grooved boarded door, manufactured in the highest quality Western Red Cedar boards which are glue bonded into a solid cedar frame.
Matching timber frame option if fitting between is recommended. Contact us for more information on
Retractable Door Gear
The top tracks of a retractable gear are shaped in a 'C' profile to prevent the rollers from slipping out. The 'C' shaped tracks run horizontally into the garage and are suspended from the ceiling.
Steel top weatherstrips are included for strength and additional security along with heavy duty lifting arm brackets which support the strong boxed profile lifting arms. Attached to the arms is a multi-spring arrangement with finger safe springs; these are adjustable to counter balance the weight of the door to ensure a smooth and easy operation. Below the lifting arm brackets is the lower rubber weather strips which minimize draughts.
Locking System
Locking system on retracting doors includes two steel spring loaded slam latches located at the bottom corners of the door with cables attached to the internal swivel handle. Due to the nature of the top steel weather strips interlocking behind the lifting arm brackets, the door is fixed in four points when closed.
Door Construction
Using traditional jointing and door construction methods together with modern assembly and gluing techniques, Cedar Doors are able to build a door panel which is both strong and durable whilst requiring very little maintenance.
Handle Options
Cedar Doors come with a black 'T' handle as standard. Euro locking is available as an optional extra in a choice of five finishes. These can be seen below:
Standard Black

'T' Handle

Euro Locking

Antique Brass

Euro Locking

Black

Euro Locking

Brass

Euro Locking

Chrome

Euro Locking

Aluminium
Protection & Finishing
All timber door panels are fully dipped in a tank of Sikkens light oak dip-coat stain which gives a mild seal coating and roughly lasts up to 6 weeks after installation. We recommend that the door is top coated immediately after installation with our optional Sikkens top coat system however you can choose to coat the door yourself.
Finishes
| | | |
| --- | --- | --- |
| Light Oak | Medium Oak | Golden Oak |
| Dark Oak | Mahogany | Rosewood |
| Teak | Ebony | Walnut |