Silvelox Securlap

Vertical Operation - Completely Trackless - Sleek, Tidy Interior
High Levels of Security and Insulation - Smooth, Innovative Technology - Space-saving Properties
The Garage Door Centre are proud to present the Securlap, manufactured by Silvelox. An enitrely trackless, sectional garage door, the Securlap incorporates flawless design alongside innovative technologies to produce one of the most impressive doors available on the market.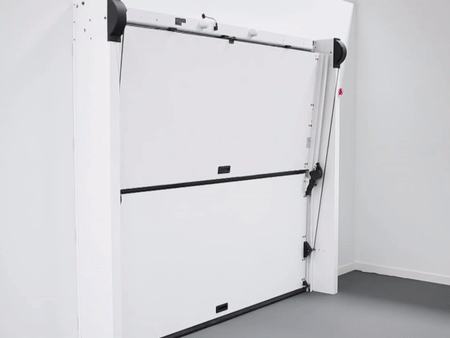 Operation
The door consists of two door panel sections that are hinged and perfectly joined in the middle when closed, yet during operation simply split and fold in half to rest above the lintel of the garage.
This is achieved using a counter-weight system of steel-cased weights and pulleys.
As the weights are on either side of the panels, the cables run over the top to lift the door on both sides.
The door is installed as an electrically operated system as standard, however it is possible to installed for manual use if required.
Silvelox Securlap Designs:
The designs, colours and finishes available with the Securlap allows for the oppurtunity to optimise the appearance of your home.
Click on the images below for more information.
Silvelox Securlap: The Trackless Sectional
The entirely trackless sectional garage door... the Securlap.
The Silvelox Overlap Plus is an exceptionally unique product. Unlike the average sectional door, the Overlap is entirely trackless and comprises of only two solid door panels. The door's movement appears sleek with every operation, coinciding with its trackless properties to enhance its minimalistic aesthetic. It offers every requirement of a garage door, however optimisation of modern and unique technologies ensures a sleek operation and aesthetic, inside and out.
How does the door's unique operation work?
The two solid door panels are centrally hinged and lift vertically upon opening, halving the usual amount of internal space required to operate. The door panels are lifted using a counter weight system which uses the tried and tested system of weights and pulleys. The weights, situated on either side of the door panels, are enclosed in steel casings with the cables running over the top, which lifts the door panels from either side. Only 200mm of headroom is needed and the operator is situated in the head-bar.

Security and Insulation
The Overlap Plus offers the same excellent levels of security and insulation as the standard range of Silvelox doors, exceeding the security of competitors. Safety is also a paramount priority to the Silvelox trackless, including features such as a manual release as standard for overriding in the event of a power failure. The construction of the wooden panels also contributes to the significant amount of strength of the door, and the standard locking system is comprised of a 2-point steel mechanical latching system; this has integration into the electric operation for releasing when operating the motor drive.
Being purpose made, you can utilise the interior dimensions of your garage for whatever its intended use may be; whether it stores your car, or is a gym, playroom or office, the Overlap's space-saving qualities exist for whatever your requirements may be.