Wessex

Purpose Made Door Sizes | Tough, Durable Fibreglass Panels | No Painting or Staining Required | Manufactured in the UK
Fully Finished Door Panel Surface | Steel Sub Frame Options for Faster, Easier Installation | No Rot, Paint Peeling or Warping

Wessex Garage Doors are top-class producers of high quality GRP doors. Based in Dorset, UK, Wessex have been trading since 1974, setting out to provide a range of maintenance free door panels in both a high gloss white finish and a faithful reproduction of real timber that would be the pinnacle in garage door design. The Garage Door Centre have been working with Wessex Doors since the late 1980's, when GRP doors were at their most popular.
Wessex are the premier GRP garage door manufacturing company in Europe and has the largest range of GRP door styles and finishes available anywhere.
All Wessex door products are CEN compliant and conform to European quality standard EN 13241-1, which encompasses stringent safety and performance requirements for the construction and operation of garage doors.
GRP is the material of choice for the sailing industry – look how many GRP yachts are out there. Wessex uses the finest softwood timber masters to create moulds with enhanced grain and detailing that no exterior grade timber can match. The hand applied antiquing completes the transformation into a door that looks just like wood but with the added benefit of minimal maintenance.
Wessex Range
Wessex produce a few different kinds of doors, and to view these, please see below and choose the type that most suits your need.
Wessex Up and Over

Wessex up and over garage doors, like the side hinged, are based on a black, brown or white steel chassis depending on the door colour. Wessex boast a wide variety of fine styles and colours for you to select, and are available in two build types: the Three Crown and Four Crown Range.

The Three Crown Range doors are their standard build, offering durable and strong qualities due to their corrosion protected steel chassis. The Four Crown Range consists of doors whose rears are covered with a coating of resin for a neat and rigid finish. Both come with optional windows of your choice and either canopy or retractable gear.

Wessex Platinum Side Hinged Range

Wessex Doors provide you with strong, durable garage doors; each is built on a steel chassis, which can be either white, brown or black. They are made with softwood timber, creating the accurate impression of wood, but conveniently with far less maintenance. These side hinged doors have one active and inactive leaf, the active operated by a black lever handle and the inactive secured in place with a shoot latch bolt.

Installation is simple with a ready fit steel frame, the frame uprights 60mm wide and head 60mm high. The reverse of the door is available in either white or brown, while the chassis is either white, brown or black.


Long Lasting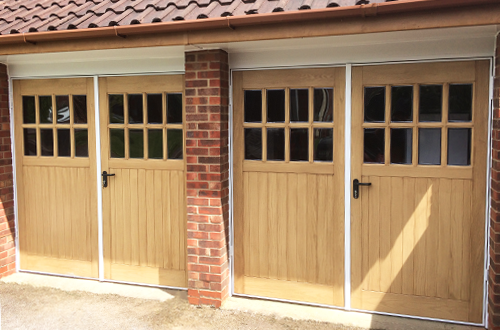 Wessex Garage Doors are all made using GRP material (Glass Reinforced Plastic), a material that has a number of huge benefits. Often called Fibreglass, it is stronger than carbon fibre, and also stronger than many different metals of the same weight, as well as being easily moldable.
Due to its strength and water resistance, it is used in many different applications, from surfboards and fishtanks, to cars, planes and boats.
GRP doors replicate to detailed levels the beauty of timber by using the real timber doors as moulds in the first place. The timber door is made first then a mould is taken of the door to use for the GRP panel. It is a handmade process so although there is far more consistency in the design the actual finish can be slightly different for each door.
They require far less maintenance that timber doors, and this is especially true for coastal properties, where the sea air often corrodes gates, garage doors and more. GRP is very resistant to this, and is a favourite in seaside properties for this reason.
With GRP doors, there is no rotting, no corroding, no warping and no paint-peeling, and this means that there is little to no maintenance and no painting or staining will be required at any point.
Installation
The sub-frame for this door is made of steel, and this makes the installation is both safer and easier. Alongside this, all the doors are purpose made and this aids installation, making it far faster and problem free to install.
CONTACT US!
Any questions? Give The Garage Door Centre a call where we are able to guide you in regards to your requirements, as well as discuss and answer any questions you may have.