Wessex Up and Over GRP

Handmade GRP up and over garage doors from Wessex offer almost any size width and height in a wide choice of beautiful woodgrain and smooth gloss white designs up to 16 feet (4877mm) wide and 8 feet (2438mm) high.
GRP (Glass Reinforced Polyester) garage doors are quite simply the best doors that you can buy. GRP has a better strength to weight ratio than steel, is a natural insulating material, it won't warp, shrink or rust and is virtually maintenance free.
Wessex Woodgrain GRP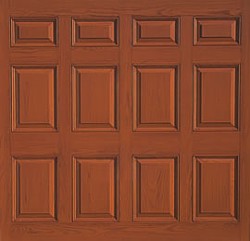 Wessex Woodgrain G.R.P doors faithfully replicate the beauty and ageless appeal of real timber, but offer the time and labour saving benefits of a modern low maintenance finish.
These doors require no staining or painting and their outstanding stability ensures that, unlike timber, they will not warp, shrink, peel or crack.
Compare G.R.P. door profiles with other materials and nothing comes close for depth or detail.
Summary for woodgrain GRP doors:
Natural looking low maintenance Woodgrain finish

Wide or close grain effect offered dependent on style

Choice of build qualities and gear options

Wide choice of styles available in 19 standard colour finishes
Wessex Up & Over Gloss White

The Wessex range of brilliant White High Gloss G.R.P doors are designed to complement any home. With a variety of traditional and premier designs made soley to order, each door is hand-built and specified to your requirements. With a low maintenance surface there are no unsightly seams, welds or joins to detract from their carefully crafted styling.
A wide range of options allow you to refine your door choice to enchance your individual house style.
All Wessex hand finished G.R.P. garage doors are fully finished and require no maintenance to retain their good looks other than an occasional wipe down... ...All the appeal, none of the effort.
A modern composite laminate, G.R.P. is a versatile and well proven construction material that has been in use for over 50 years in a huge variety of applications, from boatbuilding, to motor vehicles, to building materials.
GRP is an inherently dent resistant laminate, able to withstand knocks and blows that would easily damage a traditional steel garage door.
Wessex GRP doors are tested to, and exceed, the same stringent impact resistance requirements as those stipulated under BS6206:1981 as it applies to Safety Glass and Safety Plastics for use in critical locations in buildings, thereby confirming and guaranteeing the toughness of the product.
GRP is probably the ultimate material from which to manufacture a garage door.
Unlike steel, GRP door panels will not rust or corrode, and are particularly suitable for areas close to the coast where steel doors are severely tested and often have a disappointingly brief life span.
Unlike timber, GRP door panels will not shrink, swell, warp or twist and do not require the regular attention needed to ensure a timber door retains its good looks.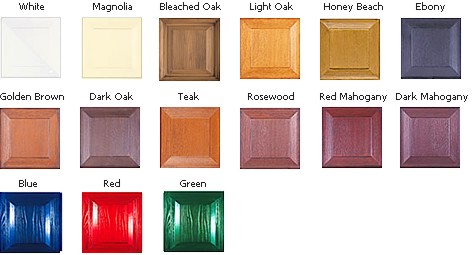 Wessex GRP Colour Range
GRP can be moulded in smooth gloss finishes or with a stunningly life like Woodgrain finish, using moulds taken from real high quality solid timber door designs to give an authentic and faithful finish to your garage door that will even deceive the experts.
GRP doors are manufactured by skilled laminators and finishers in the Verwood factory where each door is built to order. Unlike mass produced 'synthetic' machine applied finishes, Wessex timber effect doors replicate nature in that, when completed, no two GRP doors are ever identical, each having been built and finished by hand.
When cured, each GRP door is a single homogenous composite panel that includes galvanised steel stiffening for strength and solidity as an integral part of its structure.
One further significant feature of GRP is its' ease of repair. Should a door panel become scratched or damaged, GRP, more than any other material used in garage door construction, is easily and effectively restored leaving a repair that would pass the closest inspection.
The reproduction of woodgrain detail in a G.R.P. Garage door is quite something. Whilst our doors look like timber you won't find they rot, warp, shrink or split... often the fate of uncared for timber.
Wessex Up & Over Operating Gear Types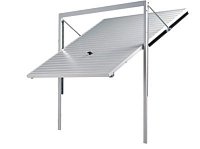 Canopy Operating Gear
Single door canopy gear combines compactness with simplicity up to 8 feet wide (2438mm).
It is ideal for manual only operated doors where internal tracks might be an issue.
Retractable gear offers smoother operation with lower maintenance and is ideal for electric operators.
Fully Retractable Operating Gear (Slideaway)
Single door canopy gear combines compactness with simplicity.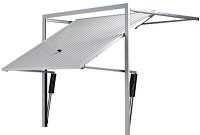 Retractable gear offers smoother operation with lower maintenance and is ideal for electric operators.
Doors over 8'0" (2438mm) wide and over 7'0" (2134mm) high are only supplied on retractable gear.
For further details on GRP garage doors call free on (0800) 525442 or E-mail us