Timber Garage Doors Information
Timber Garage Door Types
Click the buttons below to find out more about our types of garage doors available in timber:
Notes on Timber Garage Doors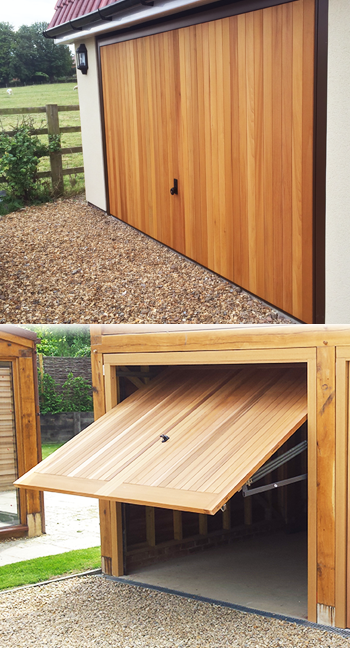 Welcome to our Timber Garage Doors information pages. Select from the different timber garage door types above to find out some basic information on the different mechanisms, timber species, sizes, pro's and con's and other useful information.
We are one of the largest UK suppliers and installers of Timber Garage Doors to the home owner, house builder, trade, DIY and self build market, as well as offering expert advice and professional installation if required for any of the timber garage doors available.
Many timber garage door manufacturers now offer fully finished panel options from the factory, meaning there is no need to be concerned over the decoration or treatment of your new timber door. Modern microporous stain treatments offer very long lasting finishes if applied correctly in the first place from manufacturers such as Sikkens and Sadolin. You do not need to be concerned that a timber garage door requires more care than a steel door would, it just needs to be kept clean like many other household items kept outside in all seasons.
Why Choose Timber?
Timber is an ideal material for garage doors thanks to its strength and natural insulating abilities. Whether its used on a simply constructed timber or sectional garage door or used when creating complex bespoke garage door designs, the unique feel and appearance of timber adds both maturity and class to any home.
Bespoke Timber Garage Door Types
We offer bespoke timber garage doors in Up & Over, Sectional and Side Hinged garage doors as well as a range of round the corner doors. By bespoke, we mean we can accept any image or design and replicate this in any shape onto your chosen timber garage door.
This service is offered by both Hormann and Woodrite Doors. For more information, call us:
Build Your Own Garage Door
Proven manufacturers Hormann have designed a garage door as part of their N80 & DF98 which enables you to design your own garage door. The door is supplied as just a solid steel frame chassis allowing you to unleash your creative freedom and create something that is unique only to your home. The ET500 up and over door system allows the use of some of the heaviest types of timber to produce a very smooth operating door in made to order sizes up to 5000mm wide and 3000mm high.

Quality Timber Doors
Always choose the very best timber garage door you can afford as a poorly constructed door or timber garage door manufactured from inferior timber will inevitably give you a lot of grief very soon after being exposed to our very diverse UK weather. Low grade timber will warp, crack, split and rot far too easily and even faster if not treated correctly leaving you with a door you can do nothing with. Much of the long term life of timber is assured by correct treatment before installation and further enhanced by keeping the door panel clean and in good condition afterwards. Most modern external timber treatments involve microporous breathable timber coatings letting the timber breath naturally in all the ever changing atomospheric conditions we experience in the UK.
Contact Us
Discover what the best timber garage door for you is by contacting our expert team on 01933 229135, or send us over a Contact Form.